From the Open-Publishing Calendar
From the Open-Publishing Newswire
Indybay Feature
Related Categories:

East Bay | San Francisco | Police State & Prisons | Racial Justice
No Badge for Johannes Mehserle - California Appeals Court Rules Felony Shall Stand, 6/8/12: PDF
Convicted killer and felon Johannes Mehserle will not be petitioning the BART police department for his job back, nor will he be applying for law enforcement work at any other police departments. The Court of Appeal of the State of California, First Appellate District, in San Francisco has ruled that Mehserle's conviction should not be overturned (full PDF below). While the
Involuntary Manslaughter conviction
was considered grossly unjust, far too lenient and an affront to East Bay residents all too familiar with historic and ongoing police violence against communities of color, this denial of Mehserle's appeal surely comes as something of a relief for
Oscar Grant's family and the Oakland community
. The conviction prevents Mehserle from ever again wearing a badge and a gun.
[Pictured above: Oscar Grant memorial in front of Oakland City Hall on
Mehserle's sentencing day
. Photo by
Jay Finneburgh
]
Some key passages offering an overview of the Appeals Court decision handed down today:
Defendant Johannes Mehserle served as a police officer for the Bay Area Rapid
Transit District (BART). Shortly after 2:00 a.m. on January 1, 2009, while responding to
a report of a fight on a BART train, he shot and killed BART passenger Oscar Grant
during a tense confrontation. Defendant was attempting to arrest and handcuff Grant for
misdemeanor obstructing a police officer (Pen. Code, § 148), while Grant was lying face
down on the BART platform. Defendant shot Grant, who was unarmed, in the back.
Defendant contended he meant to pull his taser and shock Grant to subdue him, but
accidentally drew his handgun by mistake and fired the fatal shot.
After a trial involving many witnesses, the jury found defendant not guilty of
murder or voluntary manslaughter. The jury convicted defendant of involuntary
manslaughter (Pen. Code, § 192, subdivision (b)), thus necessarily finding the shooting
was not accidental, but criminally negligent. The trial court sentenced him to two years
in prison. Defendant raises several contentions on appeal, including the evidence was
insufficient regarding criminal negligence to support an involuntary manslaughter
conviction, the jury was improperly instructed, the trial court erred by not granting a new
trial due to newly discovered evidence, and the trial court erred by denying probation.
We disagree with defendant's contentions and affirm the judgment of conviction. We
first examine the facts in detail and then review the issues.
I. FACTS
The People charged defendant with the murder of Oscar Grant (Pen. Code, § 187,
subd. (a)).1 They also alleged three firearm enhancements: personally and intentionally
discharging a firearm causing great bodily injury and death (§§ 12022.7, subd. (a),
12022.53, subd. (d)); personally and intentionally discharging a firearm (§ 12022.53,
subd. (c)); and personally using a firearm (§§ 12022.5, subd. (a); 12022.53, subd. (b)).
Under applicable standards of appellate review, we must view the facts in the light
most favorable to the judgment of conviction, and presume in support of the judgment the
existence of every fact which the jury could reasonably find from the evidence. (People
v. Barnes (1986) 42 Cal.3d 284, 303; People v. Neufer (1994) 30 Cal.App.4th 244, 247.)
...
E. The Verdict and Sentence
As noted, the People had charged defendant with murder. The jury found
defendant not guilty of murder or voluntary manslaughter and convicted defendant of the
lesser-included offense of involuntary manslaughter (§ 192, subd. (b)), and found true the
enhancement that he personally used a firearm. (§§ 12022.5, subd. (a); 12022.53, subd.
(b).) On a motion for new trial, the trial court dismissed the firearm enhancement in the
interests of justice (§ 1385), finding there was insufficient evidence to support it. The
court denied probation and sentenced defendant to two years in prison for involuntary
manslaughter.
...
We conclude there is sufficient evidence from which the jury could legitimately
have found that defendant acted with the requisite criminal negligence to support his
conviction for involuntary manslaughter.
But defendant, relying primarily on out-of-state authority, asks us to fashion a
higher standard for involuntary manslaughter for police officers who kill in the line of
duty. Defendant argues an officer should not be criminally liable for an on-duty
shooting unless his conduct was ―such a departure from the norm of reasonable police
conduct that it may fairly be characterized as ̳extraordinary and outrageous[,]'. . . [and]
qualifies as a ̳wanton and abandoned disregard of human life.' (Pagotto v. State
(Md.App. 1999) 732 A.2d 920, 966 (Pagotto).)11 This court is not blind to the stress and
danger of police service; but neither can we ignore established California law of
involuntary manslaughter. That law established the definition of criminal negligence and
makes no exceptions for any particular occupation. Such an exception would, we
presume, be a matter for the Legislature and not for the courts.
...
Defendant contends the trial court relied solely on Grant's death to deny
probation. He also suggests the trial court's statement of reasons for denying probation
was inadequate. It may be the statement of reasons was not sufficient, since (1) Grant's
death alone is not sufficient to deny probation and (2) the trial court's reference to the
probation report was also not sufficient. (See People v. Turner (1978) 87 Cal.App.3d
244, 247; 3 Witkin & Epstein, Cal. Criminal Law, supra, Punishment, § 280, p. 369.)
But any error here would be harmless in the context of the record. (See People v.
Fernandez (1990) 226 Cal.App.3d 669, 679.)
The record is clear the trial court considered factors other than Grant's death. The
―needlessly died reference should not be taken out of context. The court considered
competing sentencing memoranda and a probation report recommending against
probation, in large part based on the emotional impact to Grant's family. Of more
significance is the court's consideration of the statements to the court by Grant's
relatives, who described the impact of the killing on them, on their attitudes toward police
officers, and on the emotional life and financial status of Grant's fatherless young
daughter. A sentencing court may consider the emotional and financial impact of the
offense on the victim's family in deciding whether to deny probation. (Weaver, supra,
149 Cal.App.4th at p. 1317.)
The trial court did not abuse its discretion.
III. DISPOSITION
The judgment of conviction is affirmed.
- Marchiano, P.J.
We concur:
- Margulies, J.
- Banke, J.
TRIAL JUDGE: Honorable Robert Perry
TRIAL COURT: Alameda County Superior Court
(Trial held at Los Angeles County Superior Court by change of venue order.)
ATTORNEYS:
Rains Lucia Stern, Michael L. Rains and Dylan Schaffer for Defendant and Appellant.
Kamala D. Harris, Attorney General, Dane R. Gillette, Chief Assistant Attorney General,
Gerald A. Engler, Assistant Attorney General, Laurence K. Sullivan and Amy Haddix,
Deputy Attorneys General for Plaintiff and Respondent.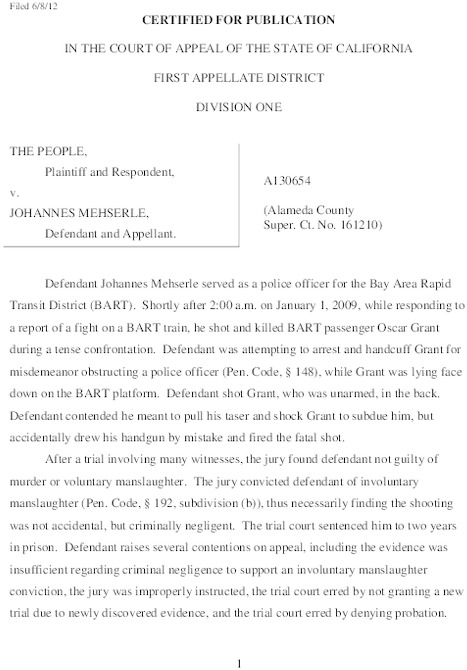 Download PDF (283.4kb)
(38-page PDF)

We are 100% volunteer and depend on your participation to sustain our efforts!
Get Involved
If you'd like to help with maintaining or developing the website, contact us.