From the Open-Publishing Calendar
From the Open-Publishing Newswire
Indybay Feature
Groups call for canal cost-benefit analysis despite AB 2421 defeat
Adam Scow, California Campaigns Director of Food & Water Watch, said the Assembly Appropriations Committee's failure to pass AB 2421 to require a basic cost-benefit analysis of the peripheral canal "demonstrates the power of Corporate Agriculture over our State representatives."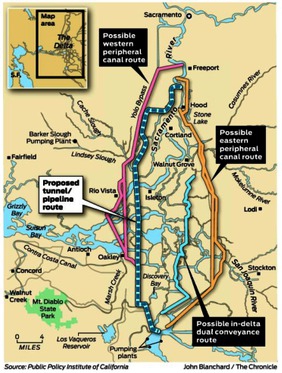 Groups call for canal cost-benefit analysis despite AB 2421 defeat
by Dan Bacher
After the failure of the Assembly Appropriations Committee to pass AB 2421 in Sacramento today, representatives of environmental and consumer groups reiterated their call for ran independent cost-benefit analysis before committing the public to pay tens of billions of dollars to build a peripheral canal or tunnel to export Delta water to corporate agribusiness and southern California water agencies.
AB 2421 (B. Berryhill) required that an independent third party costs and benefits of the Bay Delta Conservation Plan (BDCP) to build the peripheral canal or tunnel be submitted to the Legislature prior to the BDCP's inclusion in the Delta Plan, or by June 30, 2013, whichever comes first.
"Urban water users would pay billions of dollars for a massive Peripheral Canal or Tunnel," said Barbara Barrigan-Parrilla, Executive Director of Restore the Delta."Those who'll pay deserve to know the cost and how ratepayers would benefit. We will continue to pursue this important taxpayer and consumer safeguard."
Adam Scow, California Campaigns Director of Food & Water Watch, said the Assembly Appropriations Committee's failure to pass AB 2421 to require a basic cost-benefit analysis of the peripheral canal "demonstrates the power of Corporate Agriculture over our State representatives."
"The peripheral canal, estimated to cost between $14 and $30 billion, will allow Westlands Water District and the Kern County Water Agency to grab more water at the expense of California taxpayers and the environment," said Scow. "It is incumbent upon the people of California to put an end to this wasteful and unnecessary canal, as they did 30 years ago in June of 1982."
A diverse coalition of Southern California ratepayers, consumer and environmental groups, fishermen, family farmers and elected officials backed AB 2421, while agribusiness groups, the California Chamber of Commerce, Westlands Water District and southern California water agencies including the Metropolitan Water District opposed the bill.
On Thursday, Restore the Delta and an array of consumer and environmental leaders protested the announcement by the Brown administration that it plans to ignore massive negative impacts and go ahead and build a peripheral canal or tunnel and "figure out the damage afterward."
In a series of phone conversations with Delta local county representatives and environmental groups, the California Natural Resources Agency, headed by Natural Resources Secretary John Laird, is announcing a framework based on "decision trees" that will determine how much flow and habitat is needed in the Delta over a fifteen year evaluation period after the project is under construction, according to a news release from Restore the Delta and Food & Water Watch (
http://www.restorethedelta.org/1852
).
"It's outrageous to go ahead and try to build a Peripheral Canal and say you will decide how to operate it and address the problems it causes afterwards," said Bill Jennings, Executive Director of California Sportfishing Protection Alliance. "A peripheral canal or tunnel will kill striped bass, salmon, Delta and longfin smelt and other fish. The striped bass, like salmon and Delta smelt, will be sacrificed on the altar of massive and unwise water exports. The administration's actions would result in declining water quality and would be colossal mismanagement by the state and federal government."
Resnicks contributed $99,000 to Jerry Brown's campaign
It is no surprise that Brown is pushing so hard for the construction of the canal, since one of Brown's biggest campaign contributors is Stewart Resnick, the Beverly Hills billionaire agribusiness tycoon who owns Paramount Farms in Kern County. Resnick is a big advocate of the canal and increased water exports from the Delta - and has waged a relentless campaign to exterminate striped bass and to eviscerate Endangered Species Act protections for Central Valley salmon, Delta smelt and other species.
Resnick and his wife Lynda contributed $99,000 to Jerry Brown's 2010 campaign (
http://californiawatch.org/dailyreport/brown-and-whitmans-contributions-glance-5779?appSession=772187602630348
).
"It's ironic that the Resnicks, among California's wealthiest 1 percent, contributed $99,000, since it's the 99 percent that will pay for the peripheral canal," said Adam Scow.
The Resnicks are known not only for their inordinate influence over California water politics, but their deceptive business practices. An administrative law judge recently upheld a Federal Trade Commission ruling that the Resnicks engaged in deceptive claims promoting pomegranate benefits.
The FTC ruled that POM Wonderful LLC, its sister corporation Roll Global LLC, and principals Stewart Resnick, Lynda Resnick, and Matthew Tupper violated federal law by making deceptive claims in some advertisements that their POM Wonderful 100% Pomegranate Juice and POMx supplements "would treat, prevent, or reduce the risk of heart disease, prostate cancer, and erectile dysfunction."(
http://www.centralvalleybusinesstimes.com/stories/001/?ID=21104
For more information on the Resnicks' contributions to political campaigns, go to:
http://blogs.alternet.org/danbacher/2010/02/15/big-ags-power-couple-are-banking-on-brown-feinstein/
.
We are 100% volunteer and depend on your participation to sustain our efforts!
Get Involved
If you'd like to help with maintaining or developing the website, contact us.