From the Open-Publishing Calendar
From the Open-Publishing Newswire
Indybay Feature
Elephants and rhinos face extinction according to experts
According to a new report which has been put forward by experts, tens of thousands of elephants were killed last year and both elephants and rhinos face the threat of extinction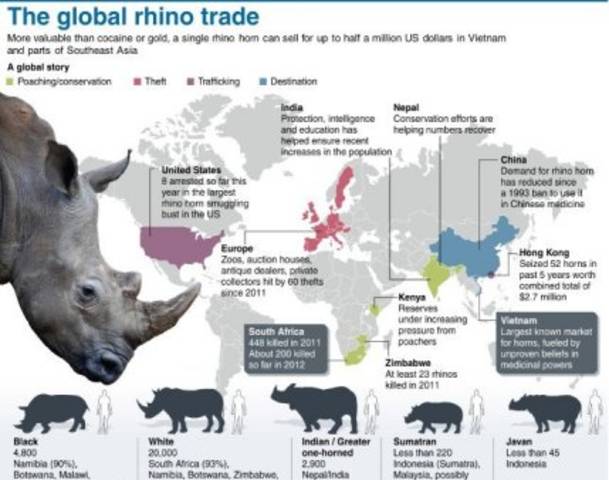 The African wildlife crisis is clearly on the high as alarm bells have already started ringing in the case of the extinction of elephants and rhinos. According to a new report by the global body tracking endangered species organization, around tens of thousands of elephants were likely slaughtered just last year. The reason for their slaughtering is their tusks. Rhinos are also a target for these killings as their horns are in high demand due to their medicinal benefits.
The report was presented on Thursday to the U.S. Senate Foreign Relations Committee, calling for action so that this mass slaughter of these animals can be stopped.
The reason why poachers are after these two animals is that prices of their horns have sky-rocketed due to demand in Asia. In Asia, the elephants' tusks are used as ornaments and are considered exquisite while the rhino horns are used in traditional medicines.
The poachers attack these animals and kills them and later just chop of their tusks and leave the corpse behind. The trade of these animal's tusks and horns is illegal but their demand is pushing the illegal trade and putting these animals to extinction. John Scanlon, the secretary-general of the C0nvention on International Trade in Endangered Species said that there are just 25,000 rhinos left in this world and their extinction could come 'during the lifetime of our children'. He further noted that in Africa alone, around 448 rhinos were killed last year, whereas this number had just been 13 in 2007.
In a recent smuggling incident, Kenya said that around 359 elephant tusks had been caught at Sri Lanka and it was identified that the shipment had come from Kenya.
"We have slid into an acute crisis with the African elephant that does not appear to be on many people's radar in the U.S.," added Iain Douglas-Hamilton, founder of Save the Elephants, according to a report by msnbc.com. "What's happening to the elephants is outrageous, and the more so since we have been through these ivory crises before and should have found solutions by now."
All the participants in the conference urged the U.S. to take notice of this problem and take timely action. The U.S. can help by pressing other nations, particularly China and Thailand to crack down on this trade and impose strict punishments and restrictions on it.
We are 100% volunteer and depend on your participation to sustain our efforts!
Get Involved
If you'd like to help with maintaining or developing the website, contact us.