From the Open-Publishing Calendar
From the Open-Publishing Newswire
Indybay Feature
Demonstrators Confront Wells Fargo Shareholders
SAN FRANCISCO, CA (4/24/12) - Thousands of angry homeowners, immigrants, union members, Occupiers and community groups converged on the annual shareholders meeting of Wells Fargo Bank. In a carefully choreographed protest, simultaneous marches left Justin Herman Plaza on the city's waterfront, site of the Occupy San Francisco encampment last fall. Demonstrators walked up parallel streets into the financial district, where they encircled the block in which the meeting was set to take place, in the Julia Morgan ballroom of the Merchant's Exchange Building.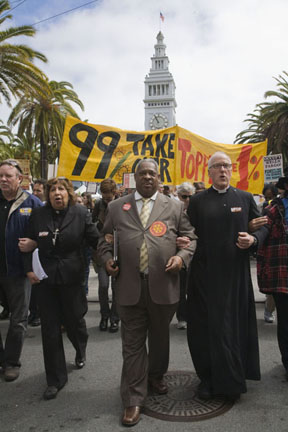 Beforehand, some demonstrators had moved into the building's lobby, while others chained themselves together, putting sleeves around their arms to make it hard for police to cut them apart to arrest them.
A group of religious, union and community representatives had purchased shares of stock in the bank beforehand, supposedly allowing them to attend the shareholders meeting. Some even held proxies, allowing them to vote the stock belonging to others. As the rally swirled outside, and speeches and songs filled the streets now vacant of their normal traffic, the police closed off the building and refused to let the shareholders inside.
Maria Poblete, from the housing rights organization Just Cause, and Cinthiya Muñoz, from Alameda County United to Defend Immigrant Rights, spoke from a flatbed truck in front of the bank, reminding the crowd of the reasons they'd brought their protests to the bank's doors. "Shareholders want to meet about how to best reap profits from foreclosures, for-profit prisons and detention centers, student loans, and tax evasion," Poblete shouted. "Today the bank can see that there's no more business as usual. We say no!"
Wells Fargo CEO John Stumpf, however, closed the meeting to the shareholders kept at bay by the police outside. "Wells Fargo's actions today demonstrate what communities across this country have been experiencing for years: Wells Fargo is indifferent to the havoc they are wreaking in our communities and they do not want to be held accountable," said Wallace Hill, whose home was foreclosed on by Wells Fargo in Oakland.
Earlier in April, housing rights activists met with Jon Campbell, Wells Fargo's executive in charge of social responsibility. They proposed a series of measures to meet the crisis faced by families whose homes are underwater, and a moratorium on foreclosures. Campbell refused to consider any of their demands. The bank is the U.S.'s largest servicer of home mortgages. "We are the 99%, and we won't take no for an answer!" Muñoz shouted from the flatbed truck.
Fifteen protesting shareholders were finally permitted across police lines, and went into the meeting. When Stumpf began a presentation congratulating the bank for making a $15.9 billion profit last year, in the midst of foreclosures and a recession, they interrupted him. Police converged on them, took them out of the meeting, and cited and released them. Nine others were arrested outside.
Afterwards, the remaining shareholders approved a $19.8 compensation for Stumpf's last year's labor. "The bank is pleased with the progress we've made in a tough economy," bank Vice President Oscar Suris told the media. "We'll continue focusing on our customers, and that includes our customers who are going through difficult economic times."
--
For more articles and images, see
http://dbacon.igc.org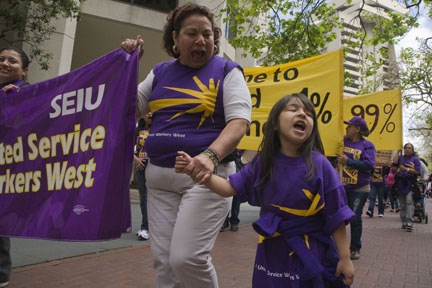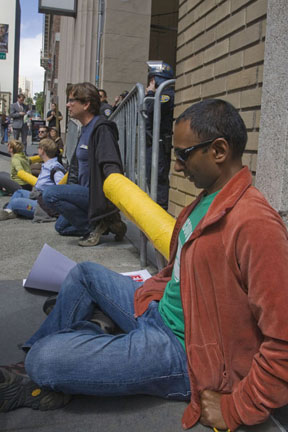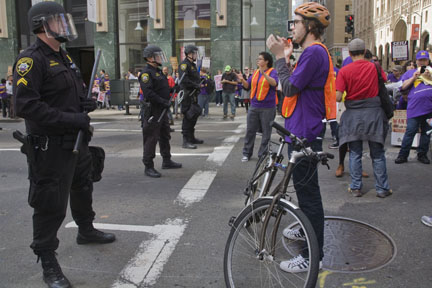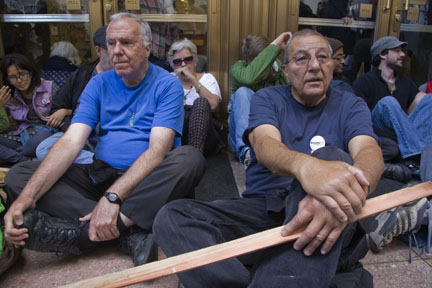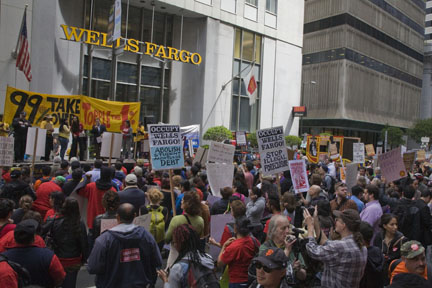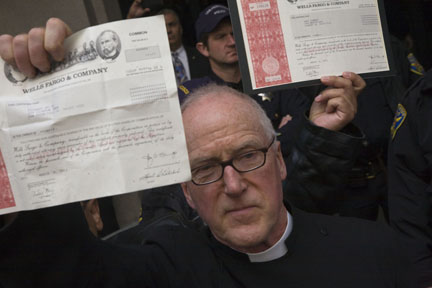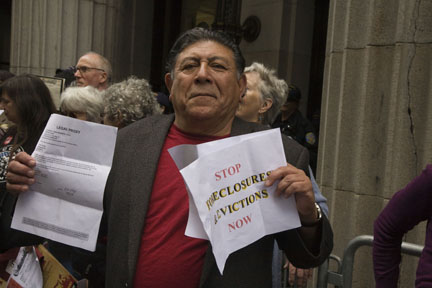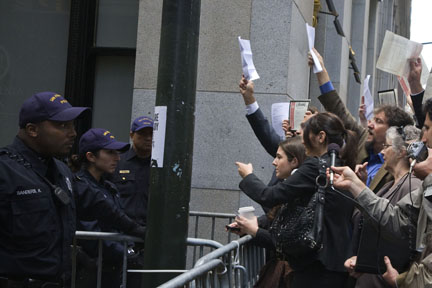 We are 100% volunteer and depend on your participation to sustain our efforts!
Get Involved
If you'd like to help with maintaining or developing the website, contact us.