From the Open-Publishing Calendar
From the Open-Publishing Newswire
Indybay Feature
Report and Fliers from HUFF Tabling at Project Connect
Four of us, jointly Occupy Santa Cruz activists and HUFF (Homeless United for Friendship & Freedom) activists tabled and fliered for half of an all-day event at Santa Cruz's Civic Auditorium Included are the fliers and a brief report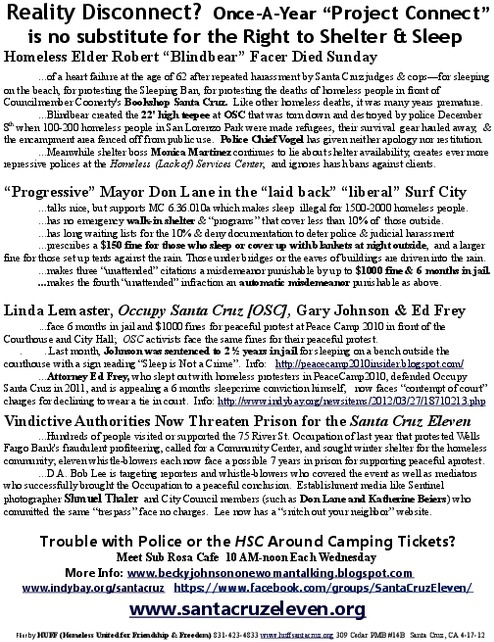 Becky, Tom, John, and I found us a table and chairs and set up in the parking lot of the annual Project Connect event, encouraging people to consider justice and services for the homeless the other 364 days of the year when the massive charity drive has retreated.
While no one can doubt that provided service contacts, clean socks, spaghetti and meatballs, etc. for one day is a good thing, the real issue is why isn't the funding being put into ending criminalization of the poor, costly Winter Armory Shelter (that restrictively serves few), and highly limited homeless services at the Homeless (Lack of) Services Center.
We passed out a variety of fliers (which hopefully are appended). We provided folks who wanted them with "Vacant buildings ARE the crime. Support the Santa Cruz Eleven" stickers.
I interviewed a number of folks and will be playing the interviews Thursday April 19th 6-8 PM at 101.3 FM (streams at
http://audio.str3am.com:5110/listen.pls
). The show will be archived at
http://www.radiolibre.org/brb/brb120419.mp3
.
Among these were Don Lane and a variety of others. Monica Martinez, Homeless (Lack of) Services Center Director, and Bob Lee, D.A. in charge of busting homeless protesters under PC 647e, were also there parading about and standing by with painted smiles. I asked a few questions on tape, but they needed to be confronted whereever they appear and that I didn't do much of (e.g. "Mr. Lee, aren't you the D.A. that tried to put a homeless man in jail for sleeping in front of the courthouse with a "Sleep is Not a Crime" sign?).
The event was severely regulated in terms of an overwhelming number of security guards and volunteers. They were generally pleasant, but I felt a little like someone in the former Soviet Union being led around by "guides'. Each homeless person was apparently assigned a "guide" or that's what it looked like.
Maggie McKay, a chief organizer, urged me to stop giving out fliers in the building, but backed off when I pulled out my tape recorder. She declined to identify herself, but I was later able to put a name to her face through others there. She was the only one who tried to pull authority to interfere with any leafleting or organizing activity.
All in all the weather was great, the food was passable, and the people were friendly.
Robert "Blindbear" Facer, the man who set up the Occupy Santa Cruz teepee in San Lorenzo Park died Sunday of heart failure at the age of 62. He was also the principle motivation behind Ed Frey's 3-month long PeaceCamp2010 at the courthouse and city hall year before last. I wished we could have led a march of people over to City Hall to set up a teepee encampment in his honor, and, of course, as shelter for homeless people outside now that the Winter Armory Shelter is closed. Police have reportedly been ticketing freely in spite of the lack of shelter.
A brief flier emphasizing the latest "Call to Snitch" by D.A. Bob Lee. Lee posted video and photos of "suspects" (i.e. peaceful activists) at 75 River St. last November at the same time as his underling Rebekah Young was failing to turn over comprehensive photos and video the defendants. We are expecting to hear more excuses this Friday at 9 AM when there is "Preliminary Hearing" readiness for seven defendants---which will probably postpone the 4-23 Preliminary Hearing for the 7.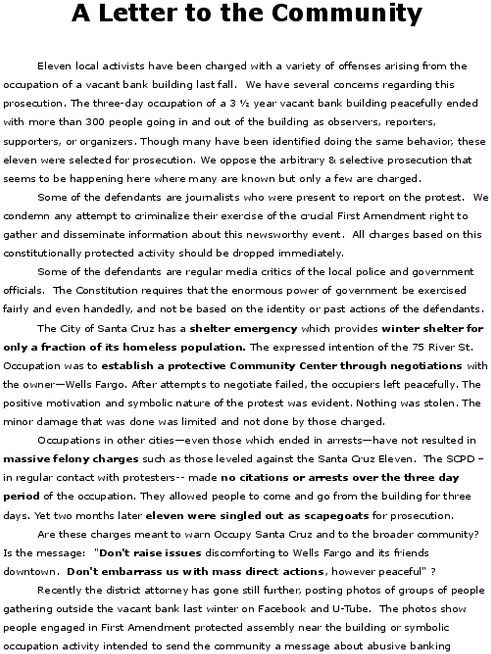 This letter is part of the ongoing outreach that some of the defendants are putting together to mobilize community legal and political support against these absurd and vicious prosecutions.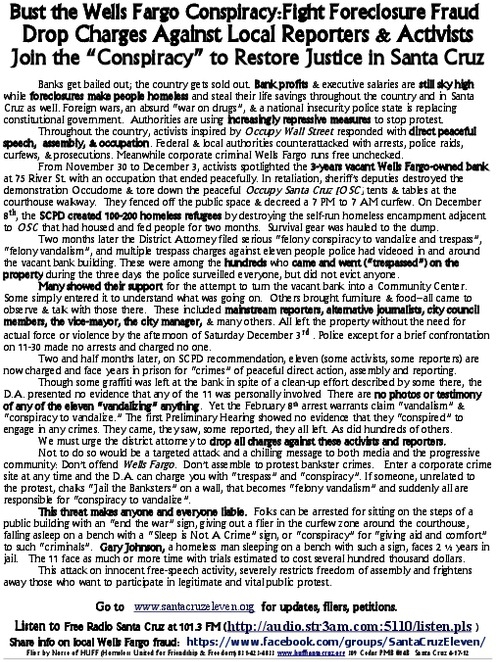 This is a longer flier with updated links for further info and action.
Two letters to D.A. Bob Lee written at the time Alex Darocy and Bradley Stuart were going up for Preliminary Hearing, since revised. Please circulate and support!
We are 100% volunteer and depend on your participation to sustain our efforts!
Get Involved
If you'd like to help with maintaining or developing the website, contact us.