From the Open-Publishing Calendar
From the Open-Publishing Newswire
Indybay Feature
Court dates today, tomorrow, and Monday for two of us. A website soon to go up. Interesting articles to check out. Disclaimer: I in no way speak for anyone else among the Santa Cruz Eleven. These observations are mine and any errors my responsibility.
Court stuff: Today at 9 AM in Dept. 7 (to be moved to 6 probably), a Pitchess motion by Cameron Laurendeau's attorney. This is a motion to get the judge in his chambers to look over old complaints against police officers who are witnesses in the D.A.'s witchhunt and determine if there any allegations of false representation (i.e. lying). The judge can then decide to give contact info of the complainants to the defense attorneys.
Tomorrow at 9 AM in Dept. 6. Becky and I go in for "readiness" for the Preliminary Hearing which is (tentatively) scheduled for Monday 4-16. I will be changing attorneys and requesting a continuance (i.e. delay in the Preliminary Hearing). The D.A.'s office, perhaps busy grooming informants in the community, has failed to provide any of us with the actual video that police took at 75 River St.
As far as I'm concerned that would clearly indicate both selective enforcement, selective prosecution, and police opportunistically using "illegal" activities which they ignore when they happen, but then months later use to target those they choose.
I'll be posting more info on whether the Preliminary Hearing is actually going forward next week and when that is. Folks needn't come down, though I'll be at both the hearing today and tomorrow (hopefully my Monday date will be cancelled through a continuance). Becky's case is likely to go forward.
The other seven defendants have "readiness" on Friday April 20th at 9 AM, and their sure-to-be-a-circus Preliminary Hearing on Monday April 23rd at 9 AM in Dept. 6.
Bradley and Alex go to trial May 29th.
The new
http://www.santacruzeleven.org
website should soon be up if it isn't already.
Interesting articles:
http://www.goodtimessantacruz.com/index.php/good-times-cover-stories/3686-occupy-santa-cruz.html
http://www.cityonahillpress.com/2012/04/05/facing-foreclosure/
http://socialistworker.org/2011/12/06/closed-bank-put-to-good-use
http://beckyjohnsononewomantalking.blogspot.com/2012/04/empty-buildings-are-crime.html
The victims of this backdoor attack on Occupy Santa Cruz needs to have all the video to determine if the prosecution is suppressing exculpatory evidence or perhaps visual proof that the police officers lied, were mistaken, or were incomplete in their reporting.
Cops are the ones who provide the testimony at the Preliminary Hearing where the judge decides if these phony felonies will be dignified with more public time and money.
Sign the on-line petition demanding these charges be dropped at
http://www.thepetitionsite.com/549/146/902/11-people-are-facing-2-felonies-each-sign-the-aclus-statement-of-support/
. Get friends you know to do likewise.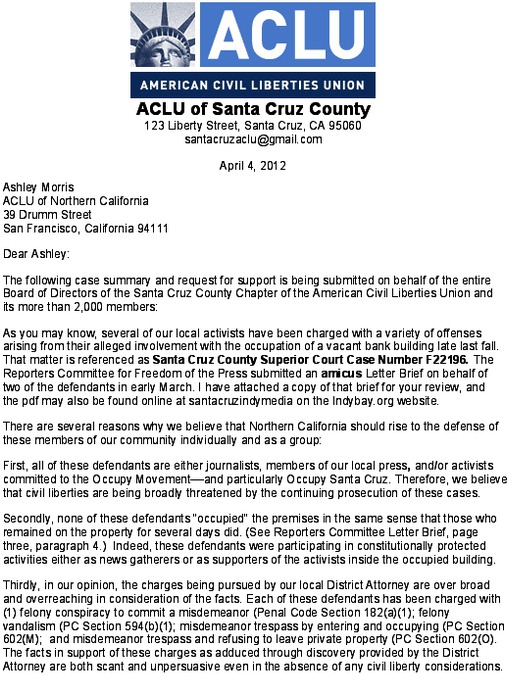 Becky and I went before Judge Burdick today in Dept. 6.

Thanks to Nasren, Brent, Gail, and Linda (among others) for showing up in solidarity!

D.A. henchwoman Rebekah Young still didn't have the videos and police reports together, so Burdick agreed to a continuance--a postponement of our Preliminary Hearing until May 29th at 9 AM (readiness on May 25th at 9 AM).

Unfortunately that's also around the time Bradley and Alex's actual trial is scheduled to start--but it's possible their dates may change.

When Young declined to specifically answer the question as to when she would actually really really really have the long-promised audio, video, and reports available for us, Burdick set May 18 at 8:15 AM in Dept. 6 as the hearing date on the Motion to Compel Discovery.

My previous attorney, Nicole Lambros, had tried repeatedly to get the 20 hours of video, supplementary reports, any audio, fingerprints, etc. and gotten lots of promises and then drips and drabs. I dropped her because she wouldn't make an early motion to postpone the Preliminary Hearing until we had the discovery.

Young did turn over a bunch of video--whether it was anywhere near 20 hours, I have yet to hear from my attorney, but I'll keep folks posted.

Brent, Becky, and I met afterwards with supporters to chat (and celebrate Linda Lemaster's birthday--she has a 647e case that is coming up for hearing at the end of the month, sounds like) as well as to CONSPIRE as to who should go to what group to get support for an ACLU statement denouncing the prosecution.

Tip of the hat to Steve Pleich for that statement. I'm attaching it, and it can also be found at the petition website mentioned in the story above. Keep those signatures coming!
Sentinel Reporter J. Pasco wrote the following blurb in the Sentinel about Friday's hearing:
http://www.santacruzsentinel.com/localnews/ci_20392035/hearing-postponed-two-charged-takeover-former-bank-santa
.
Becky and I had our Preliminary Hearings moved ahead a month and a half. Why? Mainly because D.A. Rebekah Young continued to refuse to provide "discovery"--the videos, the lease, the supplemental police reports, and other information required by law.
This material should have been provided more than two months ago when Becky was handcuffed at home and taken to jail. Or rather a day later when she was released on her own recognizance and briefly represented by attorney Ed Frey at her arraignment.
At that time, at several subsequent points, and again at the hearing, Young promised it would "soon" be forthcoming but declined to give a date. In response Judge Burdick set a hearing for a Motion to Compel Discovery in early May. Young's endless excuses and broken promises show a mixture of incompetence and mendacity--hard to tell which is uppermost.
This refusal to provide the SC 11 with the evidence it needs to expose and defeat the charges is coming at the same time as D.A. Bob Lee is putting out bits and pieces of video, not previously provided to the SC 11, on his website as "snitch-bait". All the group photos on Lee's facebook page (
http://www.facebook.com/media/set/?set=a.10151482832190094.829511.235639840093&type=3
) are of people OUTSIDE the bank. In essence, Lee seems to be broadening his net, looking to charge people who were assembling outside with protest signs, as observer, as supporters, or as reporters. The suggestion is that these may all be "criminals" and the community is urged to finger them. This sounds like an expanded witchhunt.
I haven't reviewed all the video clips fully yet. But if the first two are any example, the D.A. is definitely misrepresenting what is going on as "criminal" in a manner that seems designed to spread fear among the many and garner informants among those who are hostile to the protest.
What I've seen of the selective video clips released (at
http://www.youtube.com/user/SantaCruzDAs
) focus generally on the outside of the vacant bank suggesting that assembly there is criminal activity.
The video of people going in and out of the bank in the first video (75 River 5.avi at
http://youtu.be/eQMJAfaVmDM
) is not evidence of criminal behavior as Officer Winston's testimony at the Preliminary Hearing of Bradley and Alex was that there was no warning given (and then only heard by a few) until after dark. Moreover, police milling about are making no effort to stop, cite, or arrest anyone coming or going giving the impression that there is no crime scene there. Do we see any "do not cross" tape? Any "no trespassing" signs?
The "No Trespassing" signs, according to PH testimony were put up the next day. This is shown without a time or date stamp in the 2nd video (75 River 13.avi at
http://youtu.be/5YPXKH_JUVg
) Even as the officers post signs, you see them ignoring people coming out of the building, not attempting to ID them, cite them, arrest them, or tell them to leave. On this day there no crowd, no threat to the officers. Had they wished to clarify the people coming and going were "criminals", they could have done so.
The general point is that the police objective was to persuade and pressure people to leave peacefully--which was what ultimately happened. According to police accounts and published stories, police negotiated, held meetings, gave them a cell phone, made ultimatums, gave the protesters more time to leave (while denying they were doing so),, and eventually achieved their objective of getting protesters to leave. According to second-hand accounts, protesters delayed leaving because they wanted to clean up as much as possible, which was made more difficult by the building power being turned off. But the police objective was ultimately achieved: according to news accounts, the protesters left with no arrests, citations, or violence on Saturday. To now seek to prosecute those who got the impression that they were not regarded as criminals at the time seems to be untenable as a matter of law and deceptive to the community.
To use video to pillory hundreds of people as "criminals" is to libel them publicly without proof.
That it was clear there was no sense that being in the building or on the property was considered criminal at the time most of these videos and photos were taken was reinforced by the presence of City Council member Katherine Beiers in the building, a Sentinel photographer in the building, City Manager Martin Bernal there, and even Mayor Don Lane on the property. Hundreds of people came in and out--with no police stopping them. Now, months later, the D.A. leads a witchhunt.
It's encouraging that every comment posted but one seems to be strongly critical of Lee's new McCarthyism. Perhaps there's more hope for Santa Cruz than I'd thought.
We are 100% volunteer and depend on your participation to sustain our efforts!
Get Involved
If you'd like to help with maintaining or developing the website, contact us.