From the Open-Publishing Calendar
From the Open-Publishing Newswire
Indybay Feature
Point Reyes National Seashore belongs to all Americans, and their opinions matter
The Marin Independent Journal ran an op-ed March 25 by Maureen Finnerty, chair of the Coalition of National Park Service Retirees, on the vital role of citizen involvement in the management of national treasures like Drakes Estero in Point Reyes National Seashore. She noted that nearly 50,000 Americans submitted public comments on the future of Drakes Estero, with the vast majority calling for wilderness, as prescribed over 35 years ago by Congress.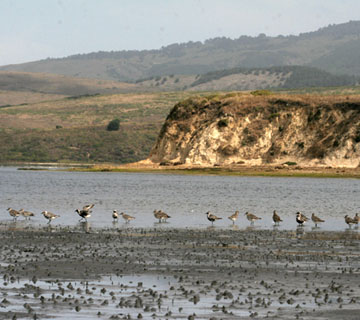 A FEW YEARS AGO, our country witnessed a great debate about how our national parks should be managed. At that time, the Bush Administration was proposing fundamental changes to the National Park Service management policies. These proposals would have revised the original and long-standing purpose of our National Park System, and hindered the ability of the Park Service to fend off inappropriate commercial use.

Thankfully, those reckless changes were abandoned due to the public's resolve to retain the park system's core values. A critical communications channel through which citizens were able to voice their concerns was the public comment process, a process that is now under attack by some who wish to circumvent what Congress and the public intended for Drakes Estero in Point Reyes National Seashore.

The National Environmental Policy Act is one of our bedrock environmental laws, and guarantees that every American can have a voice on major management decisions affecting our taxpayer-owned lands. When citizens were invited to weigh in on whether a commercial oyster company should be allowed to continue its for-profit business in Drakes Estero, the West Coast's only marine wilderness area, tens of thousands from across the country spoke up in favor of ending the "non-conforming" special use and realizing the park wilderness in 2012, all as prescribed over 35 years ago.

It is not at all surprising that Drakes Estero received national attention and support. National park areas such as Point Reyes have a national constituency; they are owned by all Americans. And it is also not surprising that most Americans across the country do not support allowing a private for-profit business to take precedence over the national public interest in park wilderness in this magnificent natural setting.

An oyster company advocate has questioned the motivations of nearly 50,000 people who made the effort to submit comments. This advocate has implied that these comments should be disregarded. Not only would this be illegal under NEPA, but it would ignore the intent and purpose of this public process on a major federal action affecting a nationally significant resource.

As required by NEPA, the Park Service will respond to the comments in the Final Environmental Impact Statement. Through that document and the decision itself, all interested parties will learn how the numbers of comments and their contents were weighed and assessed by the decision-maker. It will almost certainly be significant that so many across the nation took the opportunity to comment, even if many of the comments express similar ideas.

On one point we can agree. The NEPA comment process communicates public sentiment and informs but does not dictate the decision. The numbers of comments for or against an action are not necessarily determinative of the correct or best outcome, because the final decision must consider the facts, policy, and law.

Secretary Ken Salazar is tasked with making a decision that will have implications far beyond Drakes Estero. This decision is truly a test of the limits of commerce in our parks, and the sustainability of hard-won agreements of the past.

In the debate over the commercial oyster business in the national park and potential wilderness waters of Drakes Estero, as with any debate over inappropriate schemes that threaten our national parks, it will be the consistent focus on a long-term vision that will keep our parks and their intrinsic values sustained for the enjoyment of generations to come.

Citizens have an important role in keeping that focus intact, and their participation should be encouraged and respected in our democracy.

Maureen Finnerty is the chair of the Coalition of National Park Service Retirees, a non-partisan, non-profit organization comprised of former employees of the National Park Service to study, educate, speak and act for the park areas and programs of the Park Service
We are 100% volunteer and depend on your participation to sustain our efforts!
Get Involved
If you'd like to help with maintaining or developing the website, contact us.