From the Open-Publishing Calendar
From the Open-Publishing Newswire
Indybay Feature
RACHEL MADDOW "DRIFT: The Unmooring of American Military Power"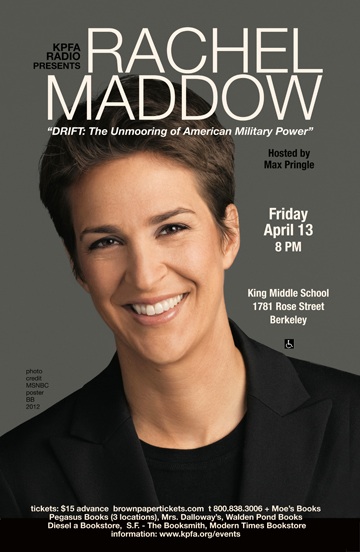 Import event into your personal calendar
Date:
Friday, April 13, 2012
Time:
Event Type:
Speaker
Organizer/Author:
Ken Preston
Location Details:
King Middle School
1781 Rose St, Berkeley
---
Hosted by Max Pringle
$15 advance tickets available March 9: t: 800-838-3006
or: Pegasus Books (3 locations), Mrs. Dalloway's, Moe's Books, Walden Pond, DIESEL, A Bookstore SF – The Booksmith, Modern Times Bookstore ($18 door)
Information:
http://www.kpfa.org/events
KPFA benefit
Written with bracing wit and intelligence, Rachel Maddow's Drift argues that we've drifted away from America's original ideals and become a nation weirdly at peace with perpetual war, with all the financial and human costs that entails.
Rachel Maddow is host of the Emmy Award-winning "The Rachel Maddow Show" broadcast weekdays on MSNBC, the most successful show launch in MSNBC history when it debuted in September 2008. She had first gained national prominence as a host on Air America Radio.
Since then Rachel has won numerous awards, including being named "Breakout Star of 2008" by the Washington Post, Best of Television 2008 by the Los Angeles Times, and one of the
Top Ten Political Newcomers of 2008" by Politico.com. In 2010 she was honored by the Interfaith Alliance with the Walter Cronkite Faith and Freedom Award. Her documentary, "The Assassination of Dr. Tiller" received a 2010 Grace Award.
Comments on her first book, "Drift: The Unmooring of American Military Power"
"With her savage wit, dazzling command of facts, and eye for the absurd, Maddow tells the epic story of how American warfare came to be both never-ending and practically invisible. In the process, she revives a radically old-fashioned idea: waging war should be wrenchingly difficult for a nation, for that is what prevents unnecessary battles from being waged. This courageous book deserves to spark a national debate about the purpose of war." --NAOMI KLEIN, author of The Shock Doctrine
America is in urgent need of a real debate over its addiction to sprawling militarism and endless war. It affects, and degrades, every aspect of national life: political, cultural, and economic. Nobody is better positioned to trigger that debate than Rachel Maddow, and that's exactly what she does in this startlingly insightful and well-written book. By stripping away the propaganda that distorts national security policy and laying bare its reality, Maddow has written one of those rare political books that can transform Americans' understanding of what their government is actually doing."
--GLENN GREENWALD, columnist for Salon, author of Liberty and Justice for Some
"In Drift, Rachel Maddow brings her passion, wit, cool common sense and intellectual firepower to the epic and darkly farcical story of how America has declined into an overfunded and unchecked national security state – one that inflicts more damage on America's assets, our military included, than it does on our adversaries. At a crossroads when Americans of all stripes are rethinking their country's priorities, Maddow's compelling take on how we drifted into the costly habit of perennial war – and how we might yet reverse it – could not be more timely." --FRANK RICH, writer-at-large, New York magazine
"Here's this conservative's assessment of Rachel Maddow's Drift: It's scathingly funny, deeply insightful, and informed throughout by a deep and abiding sense of patriotism. Bravo, Rachel!"
-- ANDREW J. BACEVICH, author of Washington Rules: America's Path to Permanent War
"Written with the flair for scintillating satire that has endeared Rachel Maddow to liberals and moderates alike--and infuriated neo-conservatives, evangelicals, and some tea partiers--Drift is funny, rich, and right. But at its end, when you put it down, you will be troubled. We are losing our republic and Ms. Maddow tells you why."
--LAWRENCE WILKERSON, Professor of Government and Public Policy at the College of William and Mary and former chief of staff to Secretary of State Colin Powell
"Rachel Maddow's Drift is a long overdue and provocative examination of the abuses, excesses and just plain foolish elements in our national security systems. These are issues that deserve our attention.
--TOM BROKAW, NBC News Special Correspondent
"In Drift, people who love Rachel Maddow will discover that her gift for finding amazing anecdotes and funny, revealing details totally translates to the page. People who hate her may be surprised by how often in Drift she espouses some of the most conservative values: a suspicion of big government and unbridled federal power, a zeal to cut wasteful spending and a yearning to return to the intentions of the Founding Fathers."
--IRA GLASS, host of public radio's "This American Life"
Added to the calendar on Thu, Mar 8, 2012 6:58PM
We are 100% volunteer and depend on your participation to sustain our efforts!
Get Involved
If you'd like to help with maintaining or developing the website, contact us.