From the Open-Publishing Calendar
From the Open-Publishing Newswire
Indybay Feature
This is how we celebrate Bill of Rights Day in Fresno - the 220th anniversary of the ratification of the Bill of Rights.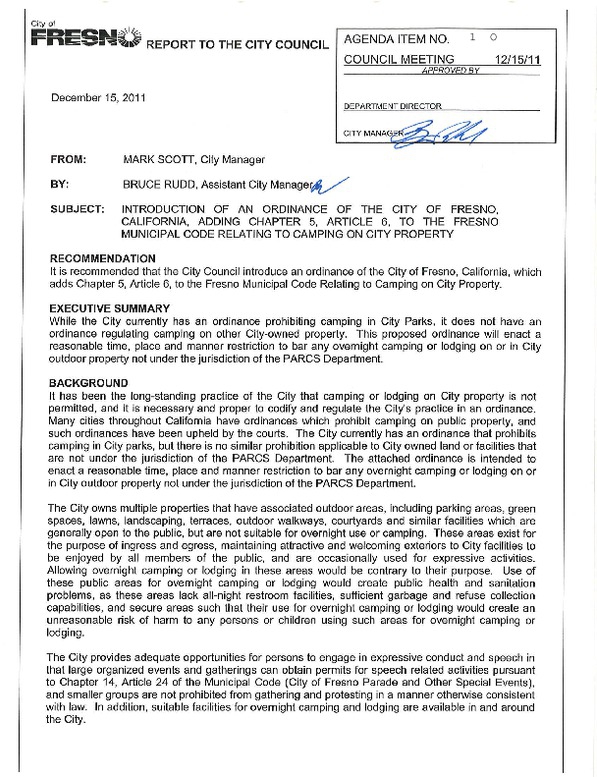 Today, the homeless in Fresno experienced some of the "tough love" that Larry Arce of the Rescue Mission likes to talk about. As the City Council was discussing an ordinance that would make it illegal for the homeless to camp on city property (ie. City Hall, an alleyway, sidewalks, etc) a crew of city workers was busy destroying homeless peoples property.
While reports are still coming in about what exactly happened on Santa Clara and F street this morning, there are a couple of common themes in what people say happened. Police, garbage trucks, and a flat bed truck arrived this morning on Santa Clara - there were no signs posted and no warning of this clean up. Shopping carts were collected - there are conflicting reports about whether the contents in the carts were immediately dumped or if people were told to remove their property. The shopping carts were then put on the flat bed truck and taken away.
The homeless people living on Santa Clara (in front of the Poverello House) were told to take what they wanted and the rest would be destroyed. Some people, who were away for the day or inside the Poverello House, had no opportunity to save their sleeping bags, blankets, clothes, and other personal possessions. Reports that I have heard said the city workers then took everything that people could not carry away - throwing it into garbage trucks, where it was crushed and taken to the dump.
Judy Hess, a homeless advocate who went down to talk to the homeless people after this incident, told me that not only did they take their blankets and sleeping bags, but they took their firewood too. Since the city destroyed all of the shelters that the homeless people had built (the city did this over the last 6 weeks) they were keeping warm at night by building fires. Judy also said that one person lost an urn that held his grandfather's ashes.
Bobby Gray who first alerted me to this situation said they had taken all of her clothes and bedding materials - she had not been on the street at the time because she was inside the Poverello House making Christmas decarations. Ms Gray also said that one man had been injured when he was pushed off a couch by a city worker. Fortunately, one of the homeless people had a video camera which shows what happened. I have just previewed that video and it confirms the reports above. In the video you see police telling homeless people to remove their property and that what is left will be destroyed. You see city workers throwing a couch into a garbage truck and crushing it.
While the "clean-up" on Santa Clara and F was going on the Fresno City Council was discussing the adoption of an ordinance that would make it a criminal offense for anyone to camp on city property. The item, which originally appeared on the Consent Calendar, was pulled, and a 3+ hour discussion ensued. About 20 homeless advocates and a couple of homeless people spoke out against the proposed ordinance. Several Occupy Fresno activists spoke out against the ordinance, saying that it appeared that the city was trying to stop them from "occupying" city property.
Some of the reasons given for opposing the camping ordinance were:
1. City Council member Oliver Baines asked homeless advocates to propose a plan that would establish safe and legal homeless encampments. If this ordinance passes it would be illegal to use City of Fresno property for that purpose.
2. It is wrong to criminalize the poor.
3. Criminalizing the homeless for sleeping does not help them. It makes their situation worse by giving them a criminal record and fining them.
4. The City of Fresno can't put violators in the Fresno County Jail - it is too full already.
5. The Jones decision in Los Angeles ruled that you can't arrest homeless people for sleeping if there are not enough shelter beds to accommodate the homeless population. See:
http://www.law.harvard.edu/students/orgs/crcl/vol42_1/gerry.pdf
. There are not enough shelter beds in Fresno for the homeless.
6. This ordinance is an admission of failure and runs contrary to the city's 10 year plan to end homelessness.
7. While it claims to be revenue neutral, it is unlikely that homeless people will be able to pay for fines and clean up costs if they can't even afford a place to live.
8. The ordinance says there are campsites in Fresno where the homeless can stay, but it does not say where they are at. We are aware of no such campsites.
After the public presentations, in which everyone called on the city not to pass the proposed ordinance, City Council members spoke. Council member Sal Quintero said he was undecided until he received a letter from Larry Arce at the Rescue Mission (which he read aloud) talking about how the homeless needed to have their shelters destroyed - that the tough love would bring them into the programs they needed to get off the streets.
District 3 City Council representative Oliver Baines insisted that the camping ordinance was not directed at the homeless. He speculated that the ordinance was directed at the Occupy Fresno movement. That sentiment was repeated by other City Council members and staff.
The vote on the proposed ordinance was carried over to the afternoon so Mr. Quintero could participate - he had left during the morning discussion. In the afternoon session councilmember Andreas Borgeas, who had pulled the item from the Consent Calendar, announced that he would support the proposed ordinance, but that he wanted to see the City and County of Fresno get together to try and write some compatible legislation.
Councilmember Westerland argued that if changes were made they would have to start the process all over again. It was agreed to vote on the original proposed ordinance. If passed, it would have to be discussed and voted on again at the January 5 council meeting, the mayor would have 10 days to sign or veto it, and it would become law 30 days after she signed it. A vote was taken and the motion failed in a 4/3 vote. Voting no were Olivier, Baines, Quintero and Xiong. Borges, Westerland, and Brand voted yes.
Following the vote, the council took another vote to discuss the proposed ordinance at the January 5 City Council meeting. Between now and then, a city representative will meet with a county representative to discuss compatible wording for the ordinance. There was more talk about also including representatives from Occupy Fresno at this meeting. That vote passed 6/1 with councilmember Clint Olivier voting no.
What a way to celebrate this year's Bill of Rights Day - the 220th anniversary of the ratification of the Bill of Rights.
We are 100% volunteer and depend on your participation to sustain our efforts!
Get Involved
If you'd like to help with maintaining or developing the website, contact us.