From the Open-Publishing Calendar
From the Open-Publishing Newswire
Indybay Feature
Occupy KGO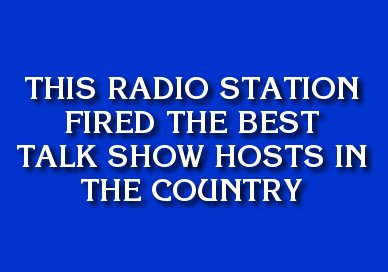 Import event into your personal calendar
Date:
Thursday, December 15, 2011
Time:
Event Type:
Protest
Organizer/Author:
Location Details:
OCCUPY KGO RALLY
THURSDAY DEC. 15
900 FRONT ST.
SAN FRANCISCO 11:30AM-2:00PM
---
One of the most important public forums for Bay Area residents (and web streaming listeners around the world) has been silenced by corporate raiders. On December 1, 2011, KGO's parent company, Cumulus Media, fired most of its on air-talent and other valuable staff without warning. This sends a message that large corporations do not care about progressive and free media in the Bay Area. Let's band together to send a message to Cumulus and other media monopolies that this is not OK with us.

Corporations don't care about preserving locally produced content - it's all about the bottom-line. Cumulus Media decided to save money by switching KGO away from the talk radio format to a syndicated, from-the-wire, all news format. News that most of us already get elsewhere. In this way they don't need to pay for top talents that have been giving the Bay Area a voice for many decades.

We can't let them get away with this. LET OUR MESSAGE BE HEARD: BRING BACK THE REAL, ONE AND ONLY KGO NEWSTALK 810!

-------------------------------------------------------------
*When kgo was KGO; How a community lost his vital heart and soul stolen by corporate raiders*

I grew up in the 70's; an era that brought us Watergate, the end of the Vietnam War, Win buttons, Jerry Ford, Saturday Night Live, All in the Family and Archie Bunker.

Locally, we had our share of triumph and tragedy. The Milk-Moscone assassinations, Patty Hearst, the SLA, People's Temple, Guyana and the like. Fortunately, we had Herb Caen, Dr. Donald "D" Rose from the old KFRC and the Rockford Files to get us through all the bad stuff.

We also had a local listening board, a semi-virtual bar, a gathering place where we could all vent, celebrate, commiserate, and console one another. It was situated on the radio dial at 810 AM, yes that KGO Radio, the KGO which acted as our community liaison, our very own outlet whose hosts, like Jim Dunbar, Russ Coughlin, Owen Spann and Jim Eason would allow us time to express ourselves without the slightest bit of arrogance or disdain. We trusted them. More importantly, we trusted the station. They did, after all, provide for us that unique, almost unheard-of forum to gather and sort it all out, good, bad or indifferent. Most importantly, KGO was there for us. They were our comfort food, our grilled-cheese sandwich during the middle of the day or night when we needed them the most.

I won't soon forget 1978. I can still recall the horror of Jonestown and two weeks later, the murders of George Moscone and Harvey Milk. I was a junior at Skyline High in Oakland. Two of the worst weeks the Bay Area has ever endured. We were all shocked. Thank God we had a KGO Radio to express our shock and anxiety, our sadness, our disgust and later, our anger.

I remember those two weeks well. I still recall the day after the Moscone-Milk tragedy, life in the city was forever altered. Fortunately, we all had the availability of Ronn Owens to call and lay out how awful we all felt. Even though we were all in a state of shock, we were fortunate to vent our angst with Ronn. It was compelling radio. More so, it was comforting that we had a most valuable friend, KGO--a place that we could depend to let our emotions be heard. (I'll never forget the emotional Ronn barely able to conduct the show without obvious pain in his voice--truly one of his most memorable moments, albeit on a most tragic period of time.)

I'll never forget the December night in 1980 when John Lennon was murdered. I was at the Stevie Wonder concert at the Oakland Coliseum Arena. Wonder told the crowd what happened and an eerie silence swept the building.

I immediately dropped my girlfriend off and headed home. I turned on KGO and was listening to Russ Coughlin. Thank God for Russ, who took calls from saddened and shocked fans of Lennon, and even those who weren't Beatles fans to, yes, again, commiserate. See, it was that KGO we could all turn to and depend upon. A LOCAL outpost, OUR VERY OWN watering hole that gave us solace even in the most trying times.

That was when KGO was KGO. Could you imagine not having KGO the day of the '89 earthquake? The Oakland Hills fire conflagration of '91, and of course, 9-11 and the immediate days after? KGO was that special? Of course it was.

Now our community gathering place, our very own sounding board has been kidnapped by outside corporate raiders devoid of any real thought. They have systematically destroyed all the good will, the foundation of what we all depended on. They tore through our hearts without so much the slightest bit of courtesy and understanding.

We all know about change, sure, it's a part of our lives. And sure, KGO was and is a business. We all get that, but there was a time when WE owned the airwaves and our interests superseded theirs! That's the heart and soul of "community affairs", is it not? Then what's taken place is an outright injustice.

I feel for the elderly woman in the Sunset who misses Gene Burns. I'm sympathetic to the UC Davis fraternity guy who said John Rothmann's show was his virtual class on politics and discourse. I feel for the lady in Millbrae whose commute on 101 was enlightened with The Loya, Len Tillem, who made her laugh. I miss Bill Wattenburg even though I disagreed with his politics at times.

You want to know how all of this has shaken the community? You should see my e-mail. I can only speculate that I'm not alone. We now have a current kgo, but there was a time not long ago that kgo was KGO. They put a dagger through our heart, indeed.

Keep the faith.

-Rich Lieberman
Added to the calendar on Wed, Dec 14, 2011 3:38PM
We are 100% volunteer and depend on your participation to sustain our efforts!
Get Involved
If you'd like to help with maintaining or developing the website, contact us.