From the Open-Publishing Calendar
From the Open-Publishing Newswire
Indybay Feature
Related Categories:

Santa Cruz Indymedia | Environment & Forest Defense | Global Justice & Anti-Capitalism | Health, Housing & Public Services
Garden Destroyed! Time to Organize!
Datum Construction bulldozed the community park on the corner of Spruce and Pacific this morning. The garden is gone for now, but we still have hope that we can create an even better, more vibrant park in its place. They have plans, as of today, to install corporate landscaping in the lot, but that isn't good enough. Their plans simply have a few small ornamental bushes next to the parking spots, while the rest of the 40x60 lot remains barren.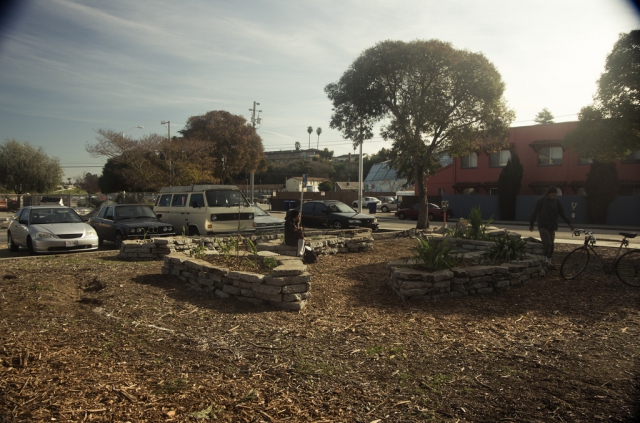 If you're upset like we are, that they've bulldozed the park; here is a list of people and companies that should hear from you. Each one is a potential ally in this, and if they here from enough of us, often enough, they'll realize that the community can and should be entrusted to re-establish the park. Feel free to call back several times throughout the course of the day and week.
Remember, even those who seem adversarial may be a potential allies in the future, once community pressure helps them understand that we prefer usable community spaces rather than vacant lots.
Make sure to read the notes about each number before you call.
Datum Construction Management, Inc. is doing the construction on the new Walgreens going in on the property. This morning Datum destroyed the community park on the corner of Spruce and Pacific.
Corporate office in Boise, ID: 208-377-3099 and 208-362-9458
DATUM CONSTRUCTION MANAGEMENT, INC
8475 W. Elisa St.
Boise, Idaho, 83709
Fax: 208-939-6508
keithjones [at] datumconstruction.com
http://www.datumconstruction.com
After voicing your concerns with the corporate headquarters, call back and ask for the program manager for Santa Cruz. That person is giving the orders to destroy the park. He is an angry, belligerent person, so be ready for that.
Jason Reisinger - 208-860-5111 - On site Construction Manager - He calls the shots in Santa Cruz. He ordered the fence going up, and was the one who drove the bulldozer. He doesn't want to feel personally responsible for his actions, so he blames the corporation he works for. Please call him and let him know you are upset that he bulldozed the garden. Tell him you don't approve of his actions, and to put pressure on his bosses. Jason can also be reached at jasonreisinger [at] datumconstruction.com
The property owner of the lot is HAWKINS COMPANIES COMMERCIAL DEVELOPERS.
They are apparently the ones who do not want there to be a park. They are giving the orders to Datum to remove the park. Let them know that if they want to be a part of the Santa Cruz community, they're going to need to show some respect.
The corporation they made up for the Santa Cruz project is called HCO, LLC - Santa Cruz, which may or may not be relevant when you talk to them.
You can find out more about them at
http://www.hcollc.com
HAWKINS COMPANIES contact info:
Hawkins Companies — Idaho
Main Office
855 Broad Street, Suite 300
Boise, Idaho 83702-7153
Phone: 208.376.8522
Fax: 208.376.8523
Rob G. Dickinson (polite person, but he is one of the people who made the decision to bulldoze)
General Counsel
Hawkins Companies LLC
Direct: 208.908.5540
rdickinson [at] hcollc.com
Hawkins Companies — California
3031 Stanford Ranch Rd, Suite 2-215 Rocklin CA 95765
Phone: 916.259.1800
Cell: 916.599.3220
Fax: 916.728.1634
WALGREENS is what Datum Construction is building in the empty building on the lot (It's going in where Kinko's used to be). This corporation is why there is construction going on at all. Call them and ask them why they are moving in to our community and destroying our parks. If they want to be a part of our community, they need to respect it.
Walgreens Contact Info:
847-914-2500 - Corporate Phone Number (takes some navigating through the system to get a real person to talk to.
847-914-2962 - Public Relations (Robert)
847-914-4476 - Facilities and Planning
847-914-2500 - Call and say 'DEPARTMENT' then say 'CONSTRUCTION'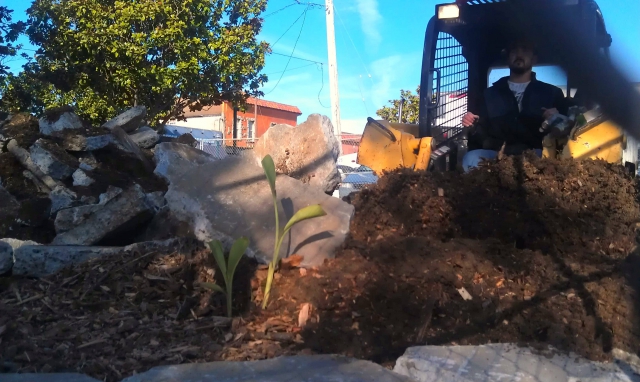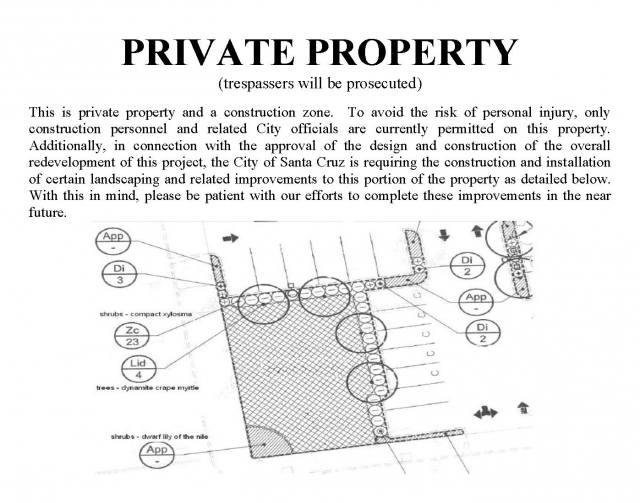 Just received the "plans" from the current owner of the lot where the DIY garden was. These are the plans that were the supposed justification for why they needed to bulldoze the garden. Wanna guess what the plans were? A half dozen ornamentals planted on the edges of an empty vacant lot filled with a layer of woodchips. That's the plan.
We are 100% volunteer and depend on your participation to sustain our efforts!
Get Involved
If you'd like to help with maintaining or developing the website, contact us.