From the Open-Publishing Calendar
From the Open-Publishing Newswire
Indybay Feature
UCSC Students shut down Hahn administration building
UCSC Students shut down Hahn administration in solidarity with students facing violent police repression at UC Davis and UC Berkeley. where free speech was shut down by weapons-grade pepper spray and beatings over the past few weeks. Students are calling attention to the militarization of campus and the focus on quieting political dissent rather than funding instruction and student services. Students will be heard. Demands: 1) Resignation of Chancellor Katehi 2) UCPD off of campuses 3) No more fee hikes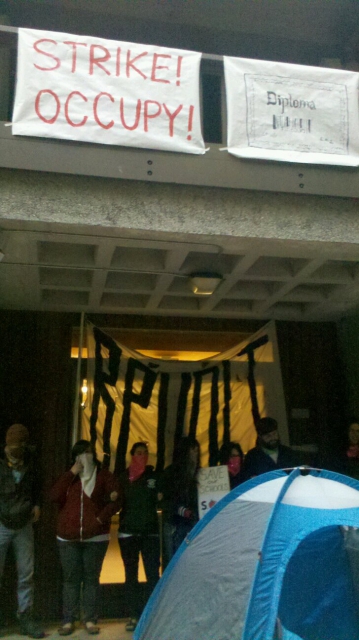 UC ACADEMIC STUDENTS, IN SOLIDARITY WITH UC DAVIS STUDENTS, DEMAND THE RESIGNATION OF CHANCELLOR KATEHI, THE REPLACEMENT OF UC POLICE DEPARTMENT WITH UNARMED COMMUNITY-BASED SAFETY COMMITTEES, AND A FEE ROLLBACK!

Students at the University of California, Santa Cruz have surrounded Hahn Student Services building and are planning for a day of actions in solidarity with students who faced police brutality and repression of student free speech at UC Davis.
A little over a week ago at UC Davis, students' freedom of speech was attacked with weapons-grade pepper spray. This attack threatens the freedom of students not only at UC Davis, but also of nonviolent protesters everywhere. Police brutality is being used to enforce fee hikes and growing student debt. The Regents have justified their hikes with the budget crisis, but they have enough money to fund their violence: last year, UC spent a total of $35.4 million on police, with an average pay of $92,700—that is, over six times as much as teaching assistants make.

Police brutality is nothing new for the UC system. Demonstrators against budget cuts and tuition hikes have experienced a history of state repression:

• 2005: "Tent University" at UC-Santa Cruz was violently dismantled by police
• 2007-8: Tree sitters saw multiple attempts at repression, including arrests
• 2009-10: Participants in the UC-wide occupation movement, including faculty, staff, and students, were subjected to arrests, pepper spray, and beatings
• 2010: UCPD pointed loaded weapons at demonstrators at the UC Regents meeting in San Francisco
• 2011: A nationwide occupy movement emerges and is subjected to violent evictions and repression
• 2011: UC-Davis students pepper sprayed. ACLU declares the use of pepper spray for crowd control to be an "unconstitutional use of force" (NYT, 11/22/11)

Why is this happening? Police violence is to prevent resistance to an unjust economic system. In California 11% of the budget goes towards prisons, but only 7.5% goes to higher education.

The Regents were planning to meet in San Francisco last week, to raise tuition by 81% over the next four years. Student activists planned a protest, and the Regents were afraid to confront peaceful student protest and cancelled their meeting. They will videoconference today in several locations, and UC activists are at those universities making it clear that they will disrupt their meetings.
Administrations claim that they put police on campus to protect student safety. But the greatest threat to student safety is privatization, exploitation, and repression. Students are graduating with impossible debt and few opportunities to get a job. Meanwhile, Regents and administrators like Mark Yudof make over $500,000 a year and pledge our tuition to borrow money for lucrative building projects, while our class sizes increase. When we resist this exploitation, we are subjected to brutal violence by police.

The general assembly of the Davis occupation voted nearly unanimously for a general strike today to protect their right to protest. In solidarity, and in defense of our own rights, we are striking today. We have three demands:

1. Immediate resignation of Chancellor Katehi
2. All cops off the UC campus
3. No fee hikes

As of 5:30am, students have surrounded the Hahn Student Services building with the intention of shutting the building down. This action is to call attention to the lack of funding for student services and instruction, while financially supporting the repression of free speech.

The first rally will take place today (Monday) at noon at Bay Tree Plaza, followed by a 2pm Action Assembly to decide next steps.
Students require a new kind of society that allows for the free speech and the expression of political dissent, values people over profits, and prioritizes education rather than repression.
We are 100% volunteer and depend on your participation to sustain our efforts!
Get Involved
If you'd like to help with maintaining or developing the website, contact us.