From the Open-Publishing Calendar
From the Open-Publishing Newswire
Indybay Feature
Occupy UC: Math Against Police Violence
The violence used by UC Berkeley police sparked a campus-wide anger. That sentiment grew stronger as UC Berkeley Chancellor Robert Birgeneau released his oddly-phrased, double-negative statement that locking arm was "not non-violent" protest.

Over 500 UC Berkeley faculty members have signed an open letter against police violence. A growing number of faculty have been attending, or dropping in on, General Assembly meetings. Students and Grad-Students from the different departments are engaging in the civil discourse in ways which reflect their respective areas of study.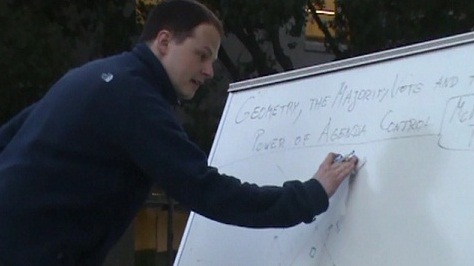 Geometry, the Majority Vote and the Power of Agenda Control
Pt1:
http://www.youtube.com/watch?v=SqhlP3BUQK8
Pt2:
http://www.youtube.com/watch?v=j8G4TIonCdc
"In a way, protest is more important for a democracy than voting, because protest is about getting a certain item on the agenda... trying to say this is the direction which new policy should go. And if we don't have someone to dictate that this the political topic of the day, then voting doesn't really give the people any power.... Just by voting, you can't control anything. You have to have a public discussion about political topics, and this is what protest is all about." - Felix Breuer (a mathematician against police violence)
The final lecture of "Police Violence Doesn't Add Up!" was on the topic of Geometry, the Majority Vote and the Power of Agenda Control. In the lecture, Felix Breuer discussed McKelvey's Theorem, Richard McKelvey's theorem on agenda manipulation. Breuer's lecture included a introduction to spacial voting, visualizing/plotting a population's ideal policies against the status quo and proposed new policy. This visual model can be used by a power at be, an agenda controller, to make a series of decisions in political direction, which take a given populace to the political point on the map where the agenda controller wishes to be.
A given population might reject a certain political proposal, but can still be veered to that proposal through a series of steps of change in political direction. Changes in political direction are guided by playing off the desires of a majority against the desires of a minority. Changing the minority population in each step of the process gives a different change in direction. With successive steps in change, different segments of the population are disenfranchised. Overtime, through the sequence of political proposals and course changes, enough of the population is unsatisfied with the new status quo, that the previous unpopular proposal becomes better than the "arbitrary misery" that the population finds itself in. Through the sequence of playing population segments off each other, the agenda controller has led the population to a determined point on the political map which the population had initially rejected.
When an agenda controller tries to take public policy off course from a more mutually beneficial and just direction, political protest is a way for people to disrupt the course which is being setting. By interjecting topics into political discussion, protesters can alter the agenda and thus the political direction the population is moving. By altering the sequence of course changes through setting their own proposals, protesters can alter the position of the status quo. "And this is why police shouldn't beat up protesters", concluded Breuer.
(Other topics in the lecture series can be seen here:
http://math.berkeley.edu/~nilten/teaching/antiviolence.html
)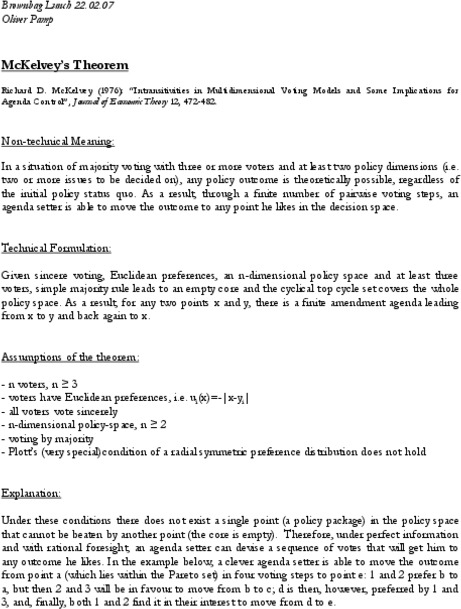 Wow! Thanks for posting this. I didn't realize my talk was being recorded!
Detailed notes about the talk I gave including McKelvey's theorem are available on
my blog
.
We are 100% volunteer and depend on your participation to sustain our efforts!
Get Involved
If you'd like to help with maintaining or developing the website, contact us.