From the Open-Publishing Calendar
From the Open-Publishing Newswire
Indybay Feature
Related Categories:

East Bay | Global Justice & Anti-Capitalism | Police State & Prisons
Occupy Oakland General Strike November 2nd! No Business As Usual November 2nd!
Occupy Oakland continues to kick through the boundaries of what was previously thought possible, upping the ante of what it means to resist against corporate greed and state oppression. On October 26th, just one day after a hundred people were arrested, two encampments were physically smashed to the ground, and a thousand supporters were attacked by police with chemical weapons and projectiles in a manner that shocked the conscience of the nation, Occupy Oakland collectively took the incredibly audacious and ambitious step of calling for the first General Strike in America in sixty-five years. As corporate media helicopters currently buzz over Occupy Oakland just before 6am on November 2nd, it's all set to start really soon. The world truly is watching, waiting to see if a kinder, more fair America is possible. No matter what happens today, though, no matter how many banks and corporations are shut down, no matter what the police do or the corporate media report, a new sense of people power and possibility are in the air. History will be made. Let's push this thing forward.
Copy the code below to embed this movie into a web page:
Download Video (7.5mb)
(video 1:17)
Stepping back just a moment, remember that Occupy Oakland is only twenty-four days old today, having begun on October 10th. It's come quite a way in that very short period of time. The occupation got off to a late start with occupations in New York and San Francisco having started three weeks earlier on September 17th. And the trajectory of the project has not always been clear. After having been pilloried in the local corporate media for days on end for issues that have been ailing Oakland and other U.S. cities for decades, from rats in the plaza to homelessness, mental illness, and drug addiction -- issues that city leaders, corporate titans, and the mainstream media prefer to ignore or relegate to police and prisons -- Occupy Oakland shook it off, continued to welcome everyone, and moved forward. As the camp infrastructure solidified, and internal struggles arose with some who thought the occupation might be an urban version of Burning Man and others who loudly grumbled that there was not enough direct action emanating from within the camp, occupiers began to pull off a series of anti-capitalist and anti-oppression marches, strategizing about bigger and better things to come. And what did Occupy Oakland do after the violent attacks by police? The very next day occupiers took it to a higher level by not only retaking Oscar Grant Plaza but by nearly-unanimously calling for today's General Strike.
The Oakland Commune did not rise up out of a vacuum, though. As I wrote in my very
first full piece
on the occupation, there is a "strong history of resistance and struggle in the East Bay. Through decades of the blood, sweat, and tears of countless freedom fighters and martyrs -- from the
General Strike of 1946
, the
Free Speech Movement
, and the
Black Panthers
, to the more recent
Oscar Grant Rebellions
,
Bay of Rage
anti-austerity and prison solidarity marches, and police-accountability
shutdowns of BART stations
-- Oakland has earned the right to have a successful occupation." And, thus far, the seasoned organizers who have put in countless hours to make Occupy Oakland work have shown themselves to be strong-willed and exceptionally creative as they incorporate lessons learned from past struggles for justice at home and abroad while bravely pushing forward into the future.
And no shortage of credit should be given to those at Adbusters for conceiving of Occupying Wall Street in the first place and to those in New York who pulled off the first successful large-scale occupation in the States. Those pioneers opened the door and created a space for other struggles in other cities to step through. In Oakland, despite the broad range of voices, experiences, and political orientations that have joined forces, anarchist organizing principles have been the glue that holds it all together in a truly democratic fashion. Further reflecting the popular radical struggle in Oakland, police have been ferociously denied access to the camp, occupiers preferring to handle disputes internally. Politicians are not denied access, but must wait in line like everyone else if they want to speak to occupiers. Warning letters from the city are reviewed and taken into consideration but not responded to. There will be no negotiations with powers that be outside of the camp that are deemed illegitimate and not representative of the people's struggle for equality. The Oakland Commune is genuinely an autonomous space like no other in the U.S., accountable only to its own General Assembly.
So now the Strike & Day of Action posters are all over town. As much as could be done to reach out across diverse communities to promote the action and enlist allies has been done. Hundreds of occupiers and supporters have been working tirelessly over the last week. Oaklanders and other Northern California residents have been talking and preparing for what they will do today. Articles are being written in national publications one might never have imagined such as
Business Insider
about future Occupy Oakland plans to reclaim foreclosed housing. Signs naming Occupy Oakland were displayed in
Egypt's Tahrir Square
recently. Actions in solidarity with Oakland have been called for by
Occupy LA
and numerous other cities today. A solidarity event is even scheduled for
Harvard University
. Occupy Oakland is not only inspiring itself and feeding on its own tireless energy as it progresses, but apparently a great many other people are feeling it as well.
There is still an incredibly long way to go and much cumulative societal and economic harm to undo, but Oaklanders will continue to refuse to accept less than what they know is right. Rock on, Oakland. You are making me hella proud.
I'll see you all in the streets just after daybreak.
Occupy Oakland
http://www.occupyoakland.org/strike
For more information: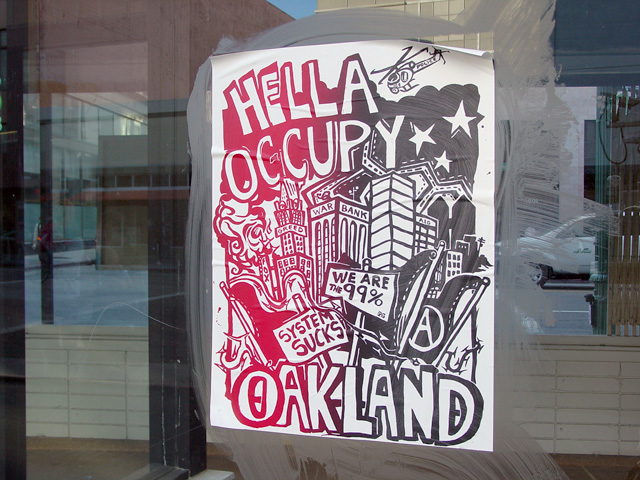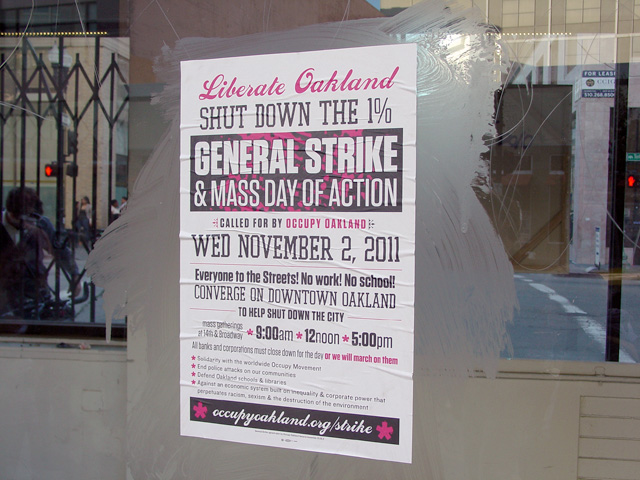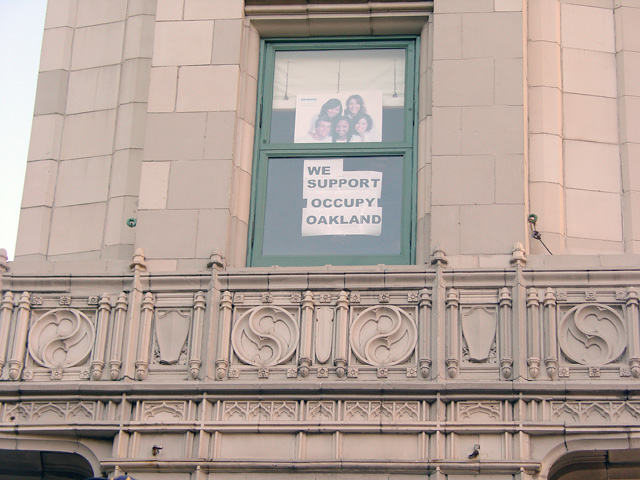 We are 100% volunteer and depend on your participation to sustain our efforts!
Get Involved
If you'd like to help with maintaining or developing the website, contact us.