From the Open-Publishing Calendar
From the Open-Publishing Newswire
Indybay Feature
10.28.11: My first hand account of returning to Occupy Oakland camp after violent response from police. Includes 5:42 minute audio of Michael Moore visit.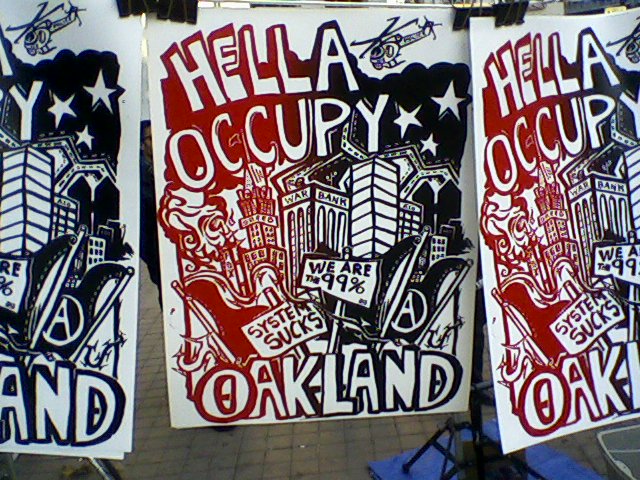 It's Friday. I am going down to Occupy Oakland. I've got a sign that says "Human Need NOT Corporate Greed" on one side and "Human Need: Compassion is in our genes: Not corporate greed" on the other. I also have a case of oranges. It is 1PM. The evacuated camp is occupied again. I spy the food tent from the line of people and servers who are dishing out food. My oranges are gratefully accepted at the food tent. I sense something else. This camp is starting all over from scratch. Everything is gone. The supplies. The organization of supplies. The means for addressing needs, like hunger. At the same time, the momentum of the occupation has not stopped with the clearing of the camp. In fact, the momentum has increased exponentially. Food is streaming in, but the food tent just got up yesterday. I get it. This is the 99%. There is no "system" to work with or against here. You, along with everyone else, are it. I stay to help.
At first I cut up oranges, and scavenge for a container to put them in for the serving table. Then someone asks me for gloves. Hmmmm . . . . five minutes in . . . let me see what I can find. I enter the mosquito-net sided tent and look into bags of zucchinis, cereal, breads, apples, cooking utensils, lettuces, water . . . I'm not finding gloves, when the person who accepted my oranges comes in, having heard the request, and locates some latex gloves. I am back to the oranges. Someone else comes by. She has a restaurant and wants to donate all food to the camp for two days next week. I blink at her. By this time I am 15 minutes in. Someone else hears the question and begins a conversation. Another person arrives with three bags of bread and baloney. I know from my ferreting that there are no coolers or ice. Several people are helping, all of them appear to know more than me, so I gratefully accept the bags, and turn to the closest one. "Gotta go right out on the table. No refrigeration," I am told. So out the baloney goes. I restock the oranges as a steady stream of people comes by for food. I stay to help serve. To a one, people are polite and appreciative. Our manners feel like a family dinner.
One gentleman approaches. He is upset that baloney is being served. He tells me it is a cop-out to the corporate culture. I tell him he is right. He is absolutely right. I've just arrived here myself, and someone has donated this, and we don't have refrigeration, so it's got to go out. He's not happy. He is really not happy and returns to his companions, one of who is a woman who notices the disorganized fashion of the food presentation. She is worried about the sanitary nature of this table. I hear her and look up and agree with her. She says if I want to talk with her, I should come over to her. At that point someone asks for napkins, I reach behind me and re-supply the napkin pile. When I look up, she is coming to me. I tell her she is absolutely right. I tell her this is a work in progress. I say I just got here 20 minutes ago myself and saw that help was needed. She asks for a pair of gloves. I go into the tent and offer her the last two gloves in the box.
A new person arrives and very assuredly goes into the tent, saying he is going to be making soup off site for tonight and is gathering supplies. By this time, I can direct him to the zucchinis, the squash, and some dried split pea flakes I found packaged under the little prep cart I've been working at. The gentleman who accepted my oranges says to me as I cut oranges, "I really appreciate you." This explicit acknowledgement, I would come to see, is a regular feature of how this camp functions. People pitch in. Others openly acknowledge it. The serving table needs more bread. I restock. Someone comes by asking for garbage bags. Out of the corner of my eye I saw that a case of garbage bags had just been delivered. "Under that serving tray," I say. Another person comes by for latex gloves so he can pick up trash. I realize: the hearth is the heart of the home. Of course it is the food tent where everyone will be coming until this camp gets back up and running. Someone comes by with more bags of, fortunately this time, nonperishable. I store them, telling the gentleman needing the latex gloves that I am looking for more. I don't find them.
I say out loud: "I'm going to go get more gloves." To the gentleman waiting, I say: "I'll be right back." I walk across the encampment area, out to the plaza sidewalk, wait at the curb for the light to change, cross the street and go into the Rite Aid, acknowledge the corporate trespass, ask the greeter where I can find gloves, clarify that I want latex, not warm gloves, find isle ten, scan the vast first aid supplies until I locate a big box of gloves, walk back to the cash registers, stand in line for a free register, wait until I am called, pay for my purchase and wish the clerk a good day, exit, wait at the curb for the light, cross the street, walk back into the camp and cross the camp to the food tent. The gentleman needing the latex gloves is still standing there. Patiently waiting. I open the box, hold it out to him and say, "Here you go, sir." He thanks me gratefully and I thank him back for trash duty.
I put the gloves in the tent. Someone else comes by with cooked hamburgers in buns, a bag of sliced tomatoes, and something in another bag that looks like caramelized onions. Someone else accepts it and I note where it is placed in the tent. I stand by the prep cart as someone from the food tent walks over with two roasted chickens. "Can you cut these up?" I put on gloves and go at it. Now, chicken is very important to some people. Very important. I've got people circling the prep table waiting for this chicken. A dispute breaks out. "I need some of that chicken." "You gotta wait for it at the serving table." "But the help always gets served first." "You haven't been helping." "I have, too." "You have not." "You haven't either." "I've been here the whole time!" Someone comes to help smooth things out. I laugh: "This chicken is making everyone hungry!" Another person takes the chicken over to the servers, while I am handed two more roasters.
The chicken done, I move behind the tent to deposit trash in a receptacle, when I look up and two city fire inspectors casually approach. One says to me, "Can I see your fire extinguisher?" I do another blink action, while someone inside the tent directs him to look under an adjacent cooking table. Satisfied, the inspector tells me that the cooking station should be moved out from under the tree to avoid the fire hazard. I nod, thinking: He's telling me? What's it been, an hour and a half? Two? Some of these people, I have heard, were jailed in the Oakland Police Department's camp clearing. I'm merely a grunt with some critical information here. Fortunately, the soup guy is back. He says there has been no cooking today and thanks the inspectors for this request.
My friend arrives and I slip away to hear Michael Moore speak to Occupy Oakland:
http://redroom.com/member/jane-p-perry/media/audio/occupy-oakland-102811
. When I next pass the food tent, it is dark. Someone has organized clearly labeled bins for compost, recycling, and non recyclables. A Wish List is up. I line up for some dinner of salad, guacamole and chips. The City of Oakland may have cleared Occupy Oakland from camp, but Occupy Oakland never left.
We are 100% volunteer and depend on your participation to sustain our efforts!
Get Involved
If you'd like to help with maintaining or developing the website, contact us.