From the Open-Publishing Calendar
From the Open-Publishing Newswire
Indybay Feature
My first hand account of returning to Oakland's downtown plaza after the preceeding night's police assault on the Occupy Oakland march, talking to people who are also there, reflecting on what I experienced as a peaceful crowd at the march last night. Accompanied by a two minute audio.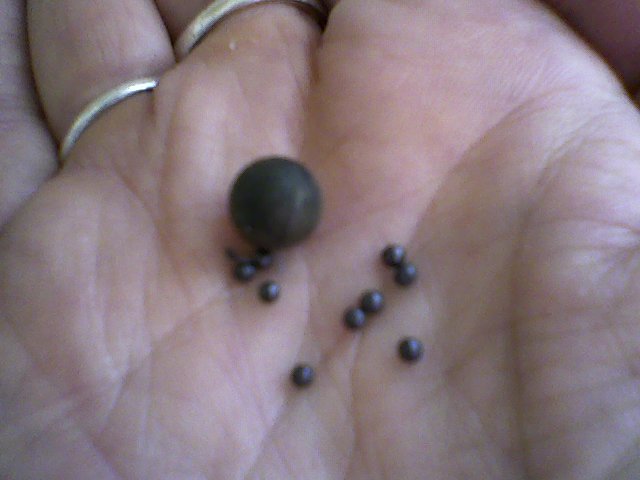 You have heard of the violent, extreme response to the peaceful march I participated in. Not fifteen minutes after I left a calm standing gathering of Oakland's community at 7:30PM, people were fired on by police from what the SF Chronicle reports as a coordination of more than a dozen agencies. This was the second incident of police fire, yet we were calm. We had left the first incident, which I accounted yesterday, and marched towards the evacuated downtown plaza passing storefronts, some still open, and two parked and unoccupied police cars without incident. This was not a crowd of hooligans out of control.
The police response, however, according to the SF Chronicle, was a week in planning.
I return to the Occupy Oakland site at 2:30PM on Wednesday to stand as an Oakland resident for peace. A handful of people hold signs at the site. A woman shows me pictures of the staging of the police action yesterday afternoon, from a few blocks away, where she had parked her car: lines of Darth Vader-clothed riot police. Behind me the Iraqi Veterans for Peace conduct a vigil for Scott Olsen, a two-time deployed veteran now in a drug-induced coma at our City hospital in critical condition with a cracked skull and swelling of the brain from a police projectile last night. I see a young boy scavenging in the cracks and crevices of the street. He is with a man who explains that they are gathering evidence from last night's assault. The man tells us he was employed to help restore calm after five days of riots in Watts in 1965. The boy returns with many rubber bullets. The boy then bends down a few feet away and very close to one crack line. He carefully fishes out tiny metal beads. "Buckshot," the man identifies.
Next to me is a woman holding a sign that says "If you are part of the 99%, BE HERE." She wonders where all the middle class are. "They need to be down here." She explains that she is from an upscale community above Berkeley where "people have no clue what's really happening." She says she is sick from the violence she saw reported. "If we don't come down and show our outrage, this kind of paramilitary response is just going to continue." We stand together for an hour, before she leaves to go pick up her kids from school.
I go over to the site of the Occupy Oakland camp. It is blocked with a perimeter of chain link fence. It is immaculately clean. Light green grass in circles and squares mark the dozens and dozens of tent sites. I feel an eerie calm. A green laminated city announcement has been posted every 15 feet or so along the fence, saying, in part: "The City of Oakland is committed to facilitating peaceful forms of expression, supporting free speech rights and ensuring personal safety and the preservation of property." I wonder how much money it cost to deploy police units from a dozen agencies, including helicopters. Could that money have been more effectively used in conflict resolution strategies, with some left over from our cash-strapped city? Occupy Oakland reports the city spent millions in this clash when just yesterday the Oakland Unified School District voted to close five schools. I meditate at the fence.
A young man joins me at the fenced boundary. We look over the grass. He reads the sign. A woman on a bike rides up and calls out to us: "I heard there was something said about supporting peaceful forms of expression up there?" We nod. "You've got to be kidding me," she says incredulously as she bikes away. The man tells me he moved to Oakland from New York two weeks ago to work just a few blocks from here in Jack London Square. He shows me pictures he took as he approached the plaza after work yesterday afternoon. They show once again the staging of lines and lines of police. It is clear to me that last night was not a response to an unruly out-of-control crowd but a planned strategic maneuver. He was at Occupy Wall Street and says, hesitantly, that things feel tenser out here.
A man with a media badge from a national news outlet approaches to look at the green announcement. He says he was just at the Mayor's press conference. I ask how it went. He hesitates, then changes his mind: "At this type of press event I am used to hearing someone take or assign responsibility for decisions made." He steps away from the fence in preparation to leave, adding: "I did not hear that from the Mayor. Candidly, the Mayor seemed out of the loop." We watch him go, then decide we will leave as well. The man now from Oakland wishes me well. I say I appreciate talking with him. He leaves on his bike. I stay. I look out on the camp site and feel its inspiration.
Another young man arrives and reads the sign. In a quiet voice he tells me he was here last night and cannot understand the violence he saw. "I don't know how one human being can treat another human being like that. It's gotta stay with you." He says he understands that police in this city are understaffed, and it wouldn't have made sense to pull police out of other areas of need in the city, so he can see why the City called for help. "But it did not need to get violent." I say the camp seemed to be meeting community need. He tells me it was working for him. "The shelters are all full, so you are in a lottery for a bed each night, plus, because of the lottery you can not rely on where you will be from day to day. At the camp," he says, "there was always food being cooked. Sure, there are food kitchens at certain times, but when I am looking for work, I might miss those times. At the camp, I could come at any time and there would be something to eat. Without the camp, I have no where to go," he adds. "I understand businesses don't want loitering, but if the food kitchen closes and the shelter hasn't opened yet, where are we supposed to go? The camp was a place where it was OK to go."
It is time to gather for the nightly General Assembly. Many are out by the street. I recognize a woman from yesterday's march. She has an orange plaid picnic basket. She bends down to a man sitting against a pillar reading a crumpled newspaper. She says something and he raises his eyebrows and nods. She reaches into her basket and hands him a covered aluminum container and a spoon. He smiles and she returns the smile and moves on. Next to her a companion holds up a sign that says: HUNGARY? We have free food here" with an arrow pointing down to the basket. Tonight, the amphitheater is open. We move there and Occupy Oakland takes its next step forward. 3000 of us attend. Some of the fence is dismantled so more of us can participate. People gather the disassembled fencing pieces and stack them so Norcal fencing, a family owned and operated business, can pick them up. From the periphery you can hear the human miked repetition of speakers, and support from the now opened street.
http://redroom.com/member/jane-p-perry/media/audio/occupy-oakland-102611
We are 100% volunteer and depend on your participation to sustain our efforts!
Get Involved
If you'd like to help with maintaining or developing the website, contact us.