From the Open-Publishing Calendar
From the Open-Publishing Newswire
Indybay Feature
Representatives question short comment period for Delta plan
Congressman John Garamendi slammed the Bay Delta Conservation Plan for being "an exclusionary closed-door operation on a recklessly short time table."

Chart comparing Central Valley chinook salmon collapse with Delta water exports courtesy of Water for Fish.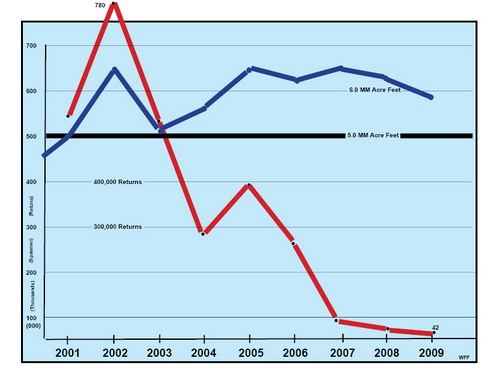 Representatives question short comment period for Delta plan
by Dan Bacher
Five powerful Northern California Members of Congress today criticized the Department of Interior's announcement of a very brief window for public comment on a controversial Memorandum of Agreement (MOA) relating to the Bay Delta Conservation Plan (BDCP) to build a peripheral canal or tunnel.
Today's announcement by Interior said public comments must be received no later than 5:00 p.m. on Wednesday, November 16, 2011, giving only a little over two weeks for people to comment on the agreement.
The U.S. Representatives have repeatedly called on the Interior Department to rescind the document, saying the MOA "was developed behind closed doors and gives water export agencies south of the Delta and in Southern California unprecedented influence over an important public process concerning California's precious fresh water supplies," according to a news release from Congressman Jerry McNerney (CA-11).
Representatives McNerney, George Miller (CA-7), Mike Thompson (CA-1), Doris Matsui (CA-5) and John Garamendi (CA-10) responded to Interior's announcement by saying that although a public comment period on the flawed agreement is an important step, it is insufficient to fix the problem.
The Members reiterated that Interior must retract its support for the document and allow a minimum of 45 days for public comment, and that the process be opened up to include other key stakeholders left out of the discussions, including Bay Area, Delta and coastal communities, farmers, businesses, and fishermen.
In addition, the members encouraged their constituents to participate in the limited public comment period. Under today's announcement, comments must be submitted by e-mail to
BDO [at] usbr.gov
or by mail to the Bureau of Reclamation, Bay-Delta Office, 801 I Street, Ste. 140, Sacramento, CA 95814 before 5:00 p.m. on November 16.
A coalition of Delta residents, family farmers, recreational anglers, commercial fishermen, Indian Tribes, environmental justice advocates environmentalists is opposing the construction of the peripheral canal proposed by the Brown and Obama administrations because of the dire threat it poses to Delta fish, farms and communities. Delta advocates believe the canal's construction is likely to lead to the extinction of Sacramento River chinook salmon, Central Valley steelhead, Delta smelt, longfin smelt, green sturgeon, Sacramento splittail and other species.
The canal ("conveyance") is being promoted by corporate agribusiness operations and southern California water agencies that are seeking to export more water from the Sacramento-San Joaquin River Delta, the largest and most significant estuary on the West Coast of the Americas.
"This comment period is an important step, but there's still a lot of work to be done before we can be sure that this process is fair, equal and transparent, and that this plan is good for the Bay-Delta and our communities," said Rep. George Miller, (CA-7) in responding to Interior's announcement. "The failure of the Secretary to withdraw the Department's endorsement of this flawed agreement leaves the special interests in the driver's seat and the public interest in the back seat."
"The Department of Interior has been pushing off the concerns of families and small businesses in the Bay Delta region for far too long," said Rep. Thompson (CA-1). "Its most recent response is completely unsatisfactory – giving these people just two weeks to weigh in on a project that is five years in the making. I will continue to push the Department toward a contemplative, deliberate and open process that ensures that the Bay-Delta is restored and the needs of local communities are protected."
"While I am pleased that the public will now be given an opportunity to give input on this MOA making the document more open and transparent, no one should have to ask for this type of disclosure on a project that will change our water system forever," said Rep. Doris Matsui (CA-5). "The process must be transparent so that each region's needs are appropriately represented. In regards to the Sacramento region's needs in particular, we must ensure our flood protection needs are being met."
"As it stands, the Bay Delta Plan has been crafted without the input of the people who reside in the Delta region," said Rep. McNerney (CA-11). "While this short period for public comment is a step in the right direction, this announcement falls short of what is needed. More must be done to make it a truly fair process. I will continue to stand with the families, businesses and farmers who oppose any BDCP that includes a peripheral canal. Agriculture is the lifeblood of the Delta region, and a canal would devastate the local economy, turn our farms into salty marshes, and cost our region millions of dollars and countless jobs."
"The Sacramento-San Joaquin Delta is critical to sustaining the life of communities across California and is an ecosystem of national significance," said Congressman John Garamendi (CA-10). "I have worked for decades to protect this vital resource by building consensus and including all stakeholders. By contrast, the Bay Delta Conservation Plan has been an exclusionary closed-door operation on a recklessly short time table. The current Memorandum of Agreement must be rescinded and a new agreement forged, so that all interested parties have equal standing in the Bay Delta Conservation Plan process. I join my colleagues in calling for an open, inclusive and deliberative process that protects the ecology of the Delta for all Californians."
The lawmakers recently held a series of meetings with Interior Department and California officials to express their concerns about the Memorandum of Agreement that the Department signed with water export agencies, an agreement that was developed and signed without input from Bay-Delta stakeholders.
The letter sent on Monday requested a written response from Secretary Salazar and explained that the process as it currently stands has established an unrealistic timeline for the completion of the plan and raises expectations of favorable outcomes for the water agencies that signed it.
The Representatives' press release follows the alarming disclosure by the California Department of Water Resources (DWR) that it has recruited Laura King Moon, the Assistant General Manager of the State Water Contractors, to assist in the completion of the Bay Delta Conservation Plan. In a letter to Assemblymember Jared Huffman on October 13, Natural Resources Secretary John Laird explained King Moon's status with DWR.
"Ms. Moon is working for the California Department of Water Resources, serving on loan from the State Water Contractors until the completion of the Bay Delta Conservation Plan," said Laird. "She is responsible to and represents DWR solely, and is subject to all DWR rules, protocols and confidentiality agreements."
Delta advocates are outraged by DWR's hiring of King Moon, charging that she has a conflict of interest in her new position.
"This is a glaring conflict of interest," said Barbara Barrigan-Parrilla, Executive Director of Restore the Delta. "DWR is a state agency with responsibility for managing water wisely for all the people of California. Employing someone on loan from a special interest group to advance a planning effort that will benefit that interest group is wildly inappropriate. It sets the fox to guard the henhouse."
For more information, go to:
http://blogs.alternet.org/danbacher/2011/10/25/state-hires-water-contractor-rep-to-help-oversee-bay-delta-plan/
We are 100% volunteer and depend on your participation to sustain our efforts!
Get Involved
If you'd like to help with maintaining or developing the website, contact us.