From the Open-Publishing Calendar
From the Open-Publishing Newswire
Indybay Feature
Related Categories:

East Bay | Global Justice & Anti-Capitalism
City of Oakland Notice & Demand to Cease Violations in Ogawa Plaza & Snow Park, Sat, Oct 22, 11:30am
On the thirteenth day of Occupy Oakland, before a large march around Lake Merritt left the plaza, the city delivered a second set of warning notices, this time threatening arrest for occupiers at both Oscar Grant Plaza and Snow Park. Also included was information about city homeless services, a nod to the homeless services Occupy Oakland has been offering for nearly two weeks now as it has invited all comers to partake and participate. Here are the notices:


Download PDF (198.1kb)
(2-page PDF)
ATTENTION TO
PERSONS STAYING OVERNIGHT IN FRANK OGAWA PLAZA
Date: October 22, 2011
NOTICE OF VIOLATIONS
AND
DEMAND TO CEASE VIOLATIONS
THIS NOTICE SUPERSEDES ALL PREVIOUS NOTICES
The City of Oakland and its police department support aDd protect the right or all individuals to engage in
free speech and their right to assemble. However, this encampment is a violation of the law.
You do not have permission 10 lodge overnight in Frank Ogawa Plaza. You must remove all tents,
sleeping bags. tarps, cooking facilities and equipment and any other lodging material from the Plaza
immediately. Your continued use of the Plaza for overnight lodging will subject you to arrest.
Your activities are injurious to health, obstruct the free use of property, interfering with the comfortable
enjoyment of the Plaza, and unlawfully obstruct the free passage or use of a public park or square.
(California Penal Code sections 310 and 647(c) and Civil Code section 3479.) You must allow all
persons, including Oakland Police officers and other emergency personnel, access to all areas of the Plaza
at all times.
You are making fires in a public park in violation of OMC 12.64.1 60. You must remove all barbecues
and stoves.
YOUR CONTINUED VIOLATION OF THESE LAWS WILL SUBJECT YOU TO
ADMINISTRATIVE PENALTIES, CIVIL PENALTIES, CITATION, AND IMMEDIATE ARREST.
YOUR CONTINUED VIOLATION OF THE LAW WILL SUBJECT YOUR TENTS, STOVES,
SLEEPING BAGS, TARPS, AND ANY OTHER BELONGINGS LEFT IN THE PLAZA TO
IMMEDIATE REMOVAL FROM THE PLAZA BY THE CITY OF OAKLAND.
ATTENTION PERSONS STAYING OVERNIGHT IN FRANK OGAWA PLAZA
Date: October 22, 2011, 11:30 am
AVAILABILITY OF HOMELESS SERVICES
To facilitate your compliance with today' s notice to cease overnight camping in Frank Ogawa Plaza, the
City of Oakland's homeless services team has made arrangements to provide overnight shelter and meals
to the homeless population. The following assistance is available:
• Operation Dignity will conduct outreach services between the hours of 6 and 8 pm.
• Arrangements can be made for overnight shelter at a nearby facility.
• Meal service will be available at the shelter location.
• Referrals and other assistance will be offered by the homeless service care teem.
If you need further assistance" please contact Operation Dignity at (510) 287-8465.
###
City of Oakland Notice and Demand to Occupy Oakland to Cease Violations, Fri, Oct 21, 4 pm
http://www.indybay.org/newsitems/2011/10/21/18694392.php
For more information: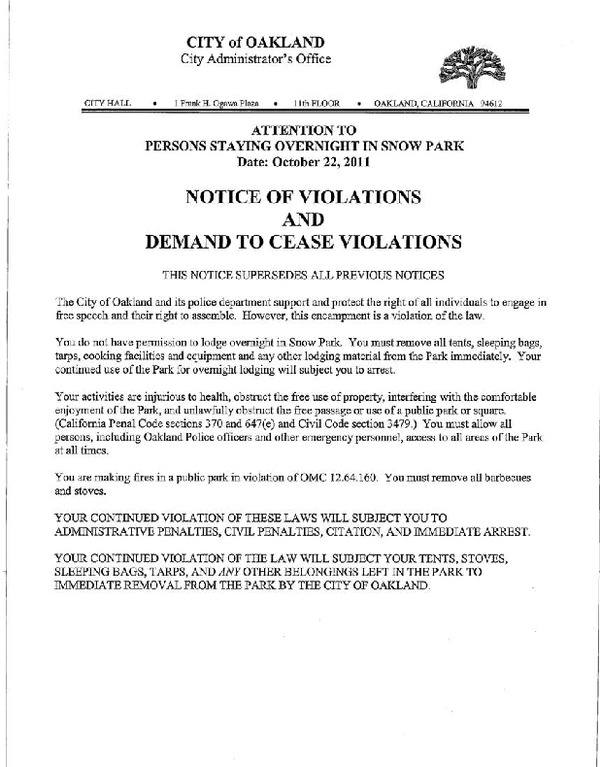 Download PDF (189.9kb)
(2-page PDF)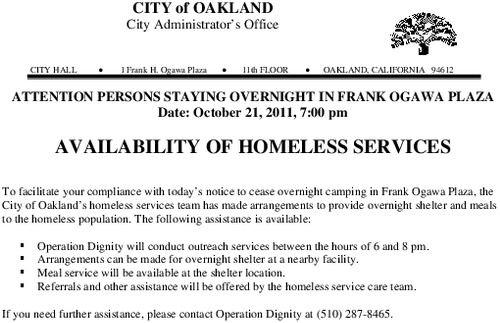 Download PDF (38.3kb)
(1-page PDF)

We are 100% volunteer and depend on your participation to sustain our efforts!
Get Involved
If you'd like to help with maintaining or developing the website, contact us.