From the Open-Publishing Calendar
From the Open-Publishing Newswire
Indybay Feature
View other events for the week of

10/25/2011
Protest Obama: Stop the Keystone XL Pipeline Protest
Date

Tuesday October 25

Time

11:30 AM

-

1:30 PM

Import this event into your personal calendar.
Location Details
Across the St from the W Hotel
the corner of 3rd st. and Howard st.
San Francisco, CA
Event Type

Protest

Organizer/Author
amy

We're greeting President Obama at his high-dollar fundraiser in San Francisco with a big rally to deliver a simple message: It's time for the change you promised - you must stop the Keystone XL tar sands pipeline. We'll have signs and buttons to pass out, and a large group of grassroots supporters who helped elect President Obama in 2008 to send this powerful message that the President - and his high dollar supporters - need to hear. Please RSVP so we know how many signs to print. *Note: The rally will begin at 12, but we want to start building a crowd at 11:30, as fundraiser attendees arrive.

Added to the calendar on Thursday Oct 20th, 2011 10:25 AM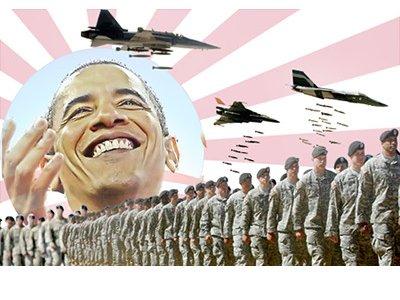 3rd and Harrison Streets
across from "W" Hotel
San Francisco
Bring the Noise… Resist the Crimes of Your Government!
PRESIDENT OBAMA SPEAKS IN SF
TUES. OCT. 25 – 11:00 AM
3rd and Howard, San Francisco
Exclusive luncheon for 200 big donors ($7500/plate!)
Public not invited!
A Community Public Service Announcement from
World Can't Wait
sf [at] worldcantwait.org
415 864 5153
We in The World Can't Wait express our enthusiastic
solidarity with the morally and physically courageous
youth of Occupy SF and all others forming occupations
in the Bay Area and beyond. They have not resigned
themselves to accepting the way the world is, but are
boldly exposing the towering crimes and audacious lies
of this nation's financial and political elites.
Their actions are an extremely welcome development
and a gust of fresh air in the suffocating and poisonous
atmosphere that the major parties, the Tea Partiers, and
their billionaire sponsors have been propagating and
imposing, in this, the "land of the free."
On Tuesday, October 25, World Can't Wait invites all
people of conscience to rally at 3rd and Howard Streets
in San Francisco, 11:00 am, to protest all the crimes of a
system that relies on war, torture, unmanned drone
attacks, secret operations and police brutality to
maintain Empire in the interest of America's richest 1%.
We call on all people to stand with these path-blazing
youth and those oppressed by our government, here and
around the world. Put your energies, your funds, your
thoughts, and your bodies on the line to give voice to
the most exploited, ignored, and oppressed who have
suffered under the U.S. government's economic,
military, and social crimes here and around the globe.
The future is unwritten… which one we get us up to us.  
http://www.sfbaycantwait.org
3rd & Howard Streets, San Francisco, CA (Montgomery St BART)
The latest horror in the White House, millionaire Democrat Obama, who, like the Republicans, is and always has been bought and paid for by the top 1%, his fellow millionaires, is attending a $7500 a plate private dinner to be attended by 200 donors. The only viable parties who by definition represent the poorer 99% in California are Peace & Freedom Party at:
http://www.peaceandfreedom.org/home/
and the Green Party at
http://www.cagreens.org/
Let us recall the record of this latest fascist in the White House. First read The Obama Craze, published Feb 29, 2008, long before the election at
http://www.counterpunch.org/2008/02/29/the-obama-craze/
Obama always was pro-nuclear, pro-private profit health insurance companies, anti-gay marriage, pro-NAFTA and pro-Zionist Israel, among many other reactionary positions. Today we know him also as being a proud supporter of targeted assassinations, pro-British Petroleum, pro-destruction of Social Security with his cutting of the Social Security payroll tax, pro-tar sands oil drilling, for bloody CIA assassinations around the world as occurred in Libya to steal Libya's oil, water and gold, pro-keeping Guantanamo open and promoting secret and not secret torture camps around the world, promoting the largest deportation rate ever, including illegally rounding up American citizens, pro torture and rape at the military checkpoints at the airports, promoting privatized schools which is destruction of the public school system, promoting military recruiting in the schools, pro-low wages for auto workers, cutting auto workers' wages in half, pro-bailing out the banks to the tune of $1 trillion but not the workingclass and all the other heinous crimes people associated with the Republicans. Obama also supported continuing the illegal prosecution and false imprisonment of attorney Lynne Stewart, the continued illegal imprisonment of Leonard Peltier and refuses to file civil rights charges to free Mumia Abu-Jamal. This is called fascism. And on abortion, 87% of US counties have no abortion clinic, about which Obama has done nothing to improve.
The date announcement is from
http://www.globalexchange.org/events/rally-tell-president-obama-stop-keystone-xl-pipeline
http://ecologycenter.org/calendar/event.php?title=Rally+in+SF%3A+Tell+Obama+to+Stop+the+Keystone+XL+Pipeline&eventID=37008
We are 100% volunteer and depend on your participation to sustain our efforts!
Get Involved
If you'd like to help with maintaining or developing the website, contact us.