From the Open-Publishing Calendar
From the Open-Publishing Newswire
Indybay Feature
Killer Cop Charged with 2nd Degree Murder in Beating Death of Kelly Thomas
The second California law enforcement officer ever to be charged with murder for a line-of-duty killing is currently in jail on $1 million bail. He is Fullerton, California police officer Manuel Ramos. (The first cop ever charged with murder for line-of-duty killing was Johannes Mehserle:
http://www.indybay.org/oscargrant
.) Another Fullerton cop, Jay Cicinelli, is charged with involuntary manslaughter, also in the brutal beating death of Kelly Thomas. Of course the cops are blaming Kelly Thomas for his own death, but it appears for the time being that the DA and the judge are not buying it as bail will remain high for Ramos.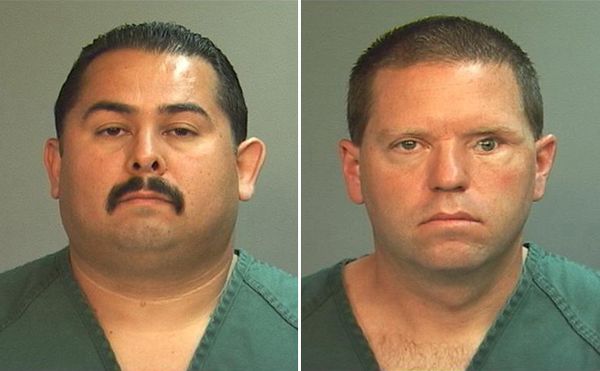 Officer's attorney blames Kelly Thomas for deadly altercation
September 26, 2011 | 10:53 am
The defense attorney for a Fullerton police officer charged with murder in connection with the death of homeless man Kelly Thomas sought to portray Thomas as a violent criminal who was ultimately responsible for the struggle with six officers that led to his death.
"I believe none of the officers were responsible. Lethal force was the result of Kelly's actions," John Barnett, attorney for Officer Manuel Ramos, said at a news conference after his client's arraignment.
Ramos pleaded not guilty to charges of second-degree murder and involuntary manslaughter. The judge left his bail at $1 million.
Barnett specifically referenced Thomas' 1995 conviction for assault with a deadly weapon, although he would not say if his client knew about that conviction when he approached Thomas. In court, he said that even Thomas' parents were afraid of him.
Barnett also defended Ramos' behavior when he approached Thomas, including a moment when he allegedly displayed his fists to Thomas and said "they are getting ready to f— you up." Barnett said that threatening a noncompliant suspect was neither a violation of department policy nor a crime.
From the time of Ramos' arrest, Barnett has argued that the murder charge will have a chilling effect on all police officers.
Orange County Dist. Atty. Tony Rackauckas and Thomas' father, Ron Thomas, took issue with all of Barnett's statements.
"Every police officer knows you can't threaten to beat someone up," Rackauckas said. "You can't say 'I'm going to f— you up.'"
He also pointed out that Kelly's assault conviction was 17 years ago, and that there was no indication the officers were aware of it when they approached him on the night of July 5 while investigating a report of attempted car break-ins at the Fullerton Transportation Center.
He also disagreed with Barnett's statement that the case would have a chilling effect on other officers.
Ron Thomas said he was pleased with the judge's decision to leave Ramos' bail set at $1 million, and contrary to Barnett's statement, that he had never been afraid of his son.
The judge ordered Ramos to be moved from the Orange County central jail in Santa Ana to the Santa Ana city jail, largely because of the costs associated with keeping the officer in isolation at the central jail. Ramos' next appearance is set for Nov. 4.
http://latimesblogs.latimes.com/lanow/2011/09/defense-attorney-blames-kelly-thomas-for-fatal-incident.html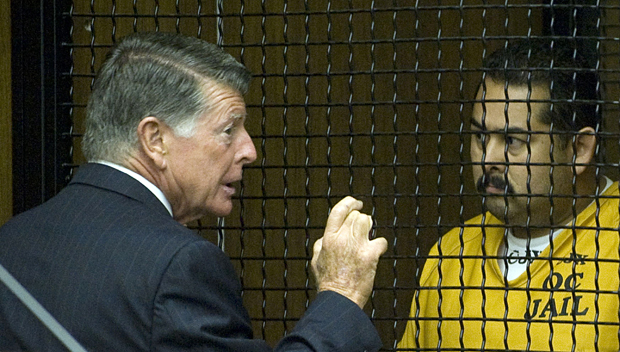 Kelly Thomas: D.A. charges two officers with murder, manslaughter
September 21, 2011 | 11:16 am
Two Fullerton police officers have been criminally charged in the violent confrontation that left a homeless man dead, Orange County Dist. Atty. Tony Rackauckas announced Wednesday.
Charges against police in homeless man's death Officer Manuel Ramos has been charged with second-degree murder and involuntary manslaughter in connection with the beating of 37-year-old Kelly Thomas, a homeless schizophrenic man. Officer Jay Cicinelli has been charged with involuntary manslaughter and excessive use of force.
Rackauckas said the department reviewed 151 witness statements, videos of the beating, medical reports and police statements.
The district attorney's office had been awaiting the coroner's determination on the cause of death before deciding whether to file charges.
Officers approached Kelly Thomas on July 5 at the bus depot in downtown Fullerton while responding to a report of someone trying to break into cars. According to witness accounts, Thomas ran when officers attempted to search his bag. Exactly what happened next is unclear, but witnesses said they saw multiple officers hitting Kelly and shooting him with a Taser while he was on the ground.
Officials from the district attorney's office have said they were awaiting toxicology and other test results from the coroner before making a decision on the case. That report was handed over to the district attorney's office Tuesday, but the findings were not made public.
Thomas, a 37-year-old homeless man with schizophrenia, was a regular presence in downtown Fullerton. He died five days after the confrontation, after being removed from life support.
Earlier this month, an attorney representing the Thomas family released hospital records that showed Thomas had tested negative for drugs and alcohol and that the immediate cause of death was "brain death" due to "head trauma" from the incident.
The hospital records released showed that he suffered brain injuries, a shattered nose, a smashed cheekbone, broken ribs and severe internal bleeding. Thomas also had been shocked with a stun gun "multiple" times, including in the left chest near the heart, the records showed.
Thomas' father, Ron, has been pushing the district attorney's office to file charges against the officers, and the case has sparked a furious reaction, including weekly protests outside the police station and a recall campaign against three City Council members.
http://latimesblogs.latimes.com/lanow/2011/09/da-announces-kelly-thomas-murder-charges.html
We are 100% volunteer and depend on your participation to sustain our efforts!
Get Involved
If you'd like to help with maintaining or developing the website, contact us.