From the Open-Publishing Calendar
From the Open-Publishing Newswire
Indybay Feature
Martin Cotton Family Awarded Over $4.5 Million in Trial Against Eureka Police, Interview: Video
On August 9th, 2007, Eureka police officers Justin Winkle, Gary Whitmer, Adam Laird, and five others were involved in beating an unarmed Martin Cotton II to death. Eureka police pummeled Martin Cotton's body and head in broad daylight, using pepper spray repeatedly. Martin Cotton was then sent to jail without being offered medical treatment. He died in jail within about an hour. A federal civil rights trial in Oakland was filed to seek justice for Martin on behalf of his young daughter. The case, Siehna Cotton et al v. City of Eureka, included the testimony of police readily admitting they beat Martin Cotton all over his body and did not seek medical assistance for him afterward. The police however denied that they hit Martin Cotton in the head, most likely because blows to the head were determined to be the cause of death. At about 1pm on September 23rd, the verdict was announced for the two-week trial. A seven-person jury found unanimously in favor of the plaintiffs, big time. Siehna Cotton was awarded $1,250,000 for the pain Martin Cotton suffered at the hands of Eureka police and $2,750,000 for wrongful death damages. Additionally, Marty Cotton Sr. was awarded $500,000, which required plaintiffs to meet the highest burden of proof in a civil trial, that is that the murder of Martin Cotton "shocked the conscience." A rare award of punitive damages against the three officers required a finding of "malice, oppression, or reckless disregard" to the decedent's or plaintiffs' rights, for which the jury assessed $30,000 from officer Winkle, $30,000 from officer Laird, and $15,000 from officer Whitmer, who arrived at the scene late but joined in on the beating. Crucial to the verdict was the testimony of two witnesses who bravely reported that they had indeed seen at least officer Winkle striking Martin Cotton's skull. Painful video of Martin Cotton dying in jail was presented during the trial which obviously effected jurors, four of whom wore black in solidarity with the family today as the verdict was read. In the video below, Cotton family attorney Vicki Sarmiento and Vebena Lea of Redwood Curtain CopWatch speak about the verdict re-establishing Martin Cotton's humanity and the shockwaves they hope the decision will send through the ranks of police who may consider committing such atrocities in the future.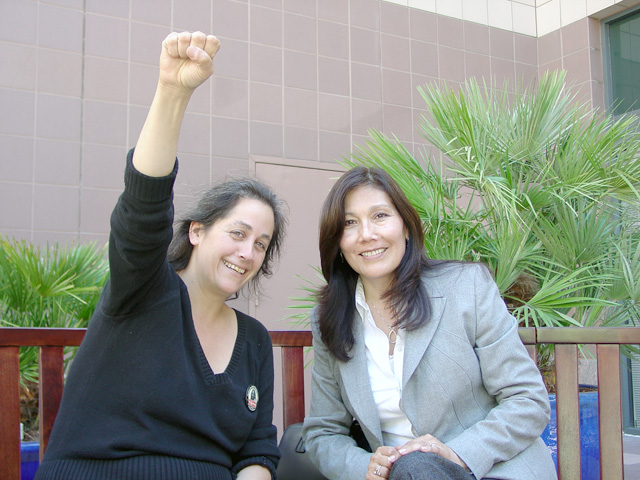 [Pictured above: Vebena Lea of Redwood Curtain CopWatch and Cotton family attorney Vicki Sarmiento]


For more information:
We are 100% volunteer and depend on your participation to sustain our efforts!
Get Involved
If you'd like to help with maintaining or developing the website, contact us.