From the Open-Publishing Calendar
From the Open-Publishing Newswire
Indybay Feature
Hunger Strike to Resume September 26—Support the Just Demands of the Pelican Bay Prisoners
In a statement dated September 2011, representatives of prisoners who went on a 20-day hunger strike in July at the Security Housing Unit (SHU) at Pelican Bay State Prison in California, declared that the prisoners will resume their hunger strike on September 26. ("Tortured SHU prisoners speak out: The struggle continues, hunger strike resumes Sept. 26," San Francisco Bay View, September 13, 2011)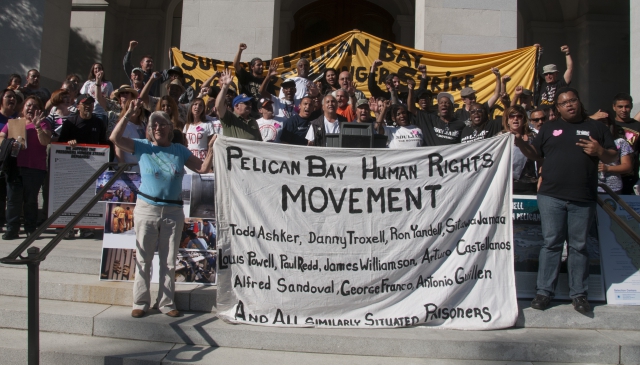 The hunger strike went from July 1 to July 20, with some 6,500 inmates in prisons across California taking part in some way.

The prisoners are demanding to be treated like human beings, that the California Department of Corrections and Rehabilitation (CDCR) end their barbaric, inhumane conditions of imprisonment, particularly in the SHUs, including solitary confinement, which is a form of torture.

Many inmates put their health and lives on the line; many came close to death and experienced medical emergencies. Millions of people outside the prison walls in the U.S and worldwide learned about the torturous conditions these prisoners face and thousands supported the demands of the hunger strike in diverse ways.

Prisoners now write that the response of the CDCR to their just and reasonable demands has been completely unacceptable and that they "will continue to resist via peaceful protest indefinitely, until actual changes are implemented...".

The CDCR is not only refusing to meet the prisoners' demands—it is retaliating against those who participated in the strike and mounting a public relations campaign to defend the barbaric conditions in the SHU. CDCR officials have indicated in statements to the media that they won't allow the kind of mass defiance and solidarity exhibited by hunger strikers at Pelican Bay to happen again. This means the CDCR may attempt to quickly crush or isolate hunger strikers and crack down on other California prisoners to prevent the strike from spreading. This makes it especially crucial that everyone who cares about justice, who opposes torture, mobilize IMMEDIATELY and act in support the hunger strike and the prisoners' demands.

CDCR's Unreasonable Response to Reasonable Demands

At the start of the hunger strike, prisoners issued five demands: 1) end group punishment; 2) abolish "debriefing" (where one of the only ways prisoners can get out of the SHU is to give information and names to the authorities) and the "gang validation" process where false and/or highly questionable evidence is used to accuse prisoners of being "associates" of prison gangs and send them to the SHU; 3) comply with recommendations from a 2006 U.S. commission to "make segregation a last resort" and "end conditions of isolation"; 4) provide adequate and sanitary food; and 5) allow basic human necessities such as one phone call each week and one photo per year, two packages a year, more visiting time, permission to have wall calendars, and sweat suits and watch caps (to keep warm in the unheated prison).

The response of the CDCR to the prisoners' demands has been to deny that the conditions the prisoners in the SHU face is torture—almost half of the SHU prisoners in Pelican Bay have been kept in solitary confinement for more than 10 years—to defend the process of gang validation as fair, and even to call for expanding the criteria under which prisoners can be sent to the SHU.

We encourage people to read the September 2011 statement. It exposes how the CDCR has refused even the most basic demands—including ones they promised to address when they negotiated an end to the hunger strike:

"We remain in SHU indefinitely, deprived of our basic human rights—based on illegal policies and practices, that amount to torture; torture of us, as well as our family members and loved ones on the outside. CDCR remains in denial, and continues to propagate the lies re: 'worst-of-the-worst' 3000 gang generals, etc.—in order to dehumanize/demonize us, so as to maintain the status quo, and 'continue to hammer us' per [CDCR Secretary] Cate's press statement earlier this year, and subject us to 'harsh' conditions per [CDCR Undersecretary] Kernan's Aug. 23rd testimony. These terms 'hammer' and 'harsh' conditions, are used in place of the word torture—and the fact is, CDCR's intent is to break us down, and coerce us into becoming state informants! A violation of international treaty law, period! This is not acceptable!"

Retaliation and Lies

Many prisoners who participated in the strike were issued a disciplinary memo that states they are being held responsible for "leading and/or participation in a strike, disturbance or work stoppage is a violation of the director's rules. On or about July 1, 2011 you were identified as having participated in a statewide hunger strike event along with in excess of 6000 other CDCR inmates in support of perceived overly harsh SHU housing issues originating from within the security housing unit at Pelican Bay State Prison. ...Your behavior and actions were out of compliance with the director's rules and this documentation is intended to record your actions; and advise that progressive discipline will be taken in the future for any reoccurrence of this type of behavior." ("Pelican Bay threatens hunger strikers," San Francisco Bay View, August 24, 2011)

The CDCR conducted a tour of the Pelican Bay SHU for the media, which were not allowed to speak to any prisoner who participated in the hunger strike, only to those who have cooperated with authorities and "debriefed." Many news accounts of the tour basically parroted the CDCR and reported that SHU conditions are not that bad.

The CDCR has continued to lie about the hunger strike—saying it was organized by gangs and attacking representatives of the strikers and others, depicting them as the "generals" of the prison gangs and the "shot-callers" who order other prisoners to engage in gang violence.

Delores, whose son has been in the SHU for 10 years, said, "If that is their [the prisoners'] way of thinking, then why did they just conduct a hunger strike, willing to risk their own lives, to suffer on a daily basis in a non-violent demonstration that spread across California prisons involving thousands and thousands of men crossing all racial lines? It's because they are human beings, they do have dignity and they want to be heard."

*****

The courageous prisoners at Pelican Bay are doing everything they can, in the most isolated, inhumane conditions, to refuse to be treated like animals. And because of this, a light is being shined on the torture and inhumanity going on behind these prison walls.

People on the outside have the moral responsibility to act in a way commensurate with the justness of the prisoners' demands and the urgency of the situation. What people on the outside do will be a big factor in what happens when the prisoners resume the hunger strike.

What would it mean if people on the outside don't stand up, support these prisoners by taking political action, and do everything they can to make sure these prisoners don't die, to really fight for these prisoners to be treated like human beings? What would this say about our humanity? But also, what will it mean if hundreds and thousands of people do stand up together, wage a determined struggle for the just demands of these prisoners, and in this way, assert our own humanity?

As a statement from prisoners in California State Prison, Corcoran, put it: "It is important for all to know Pelican Bay is not alone in this struggle and the broader the participation and support for this hunger strike and other such efforts, the greater the potential that our sacrifice now will mean a more humane world for us in the future."

We are 100% volunteer and depend on your participation to sustain our efforts!
Get Involved
If you'd like to help with maintaining or developing the website, contact us.