From the Open-Publishing Calendar
From the Open-Publishing Newswire
Indybay Feature
No Decision from BART Board on Phone Shut Down, Board Seems to Lean Against, 8/24/11: audio
In a special meeting this morning, the BART Board of Directors met to discuss the agency's mobile phone service shutdown on August 11th that has raised the ire of civil libertarians and Anonymous. The earth shook during the meeting (literally, as an earthquake rolled through the building), but not because the Board made a concrete proposal or voted on a policy moving forward. Board President Bob Franklin did try to summarize what the board's consensus might be moving forward. That consensus seemed to lean toward recommendations made by the ACLU that phone service not be cut except in the most extreme cases such as bombings and hostage situations. The board also appeared to agree that the use of such tactics by BART should be proportionate to the concern being addressed, that accommodations be considered for those with disabilities, and that passengers possibly be given advanced warning of communication shutdowns in the future. Franklin indicated after the meeting that the board might take 2-4 weeks to create a formal policy. [Full audio below]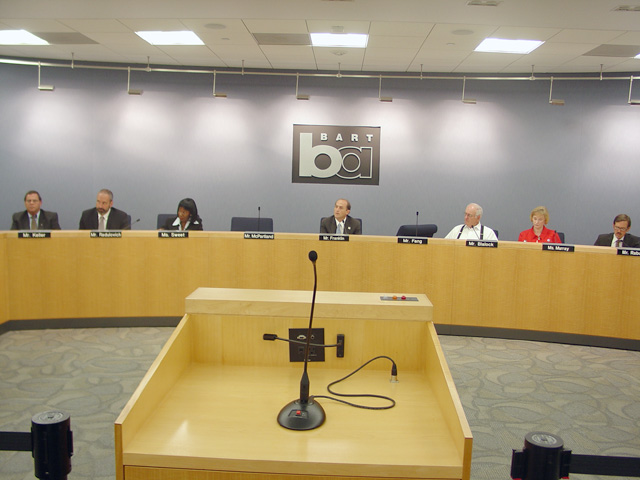 The meeting opened with BART employees, namely BART police chief Kenton Rainey and GM of operations Paul Oversier, defending the decision to shut down mobile phone antennas in underground stations throughout the system on August 11th. They emphasized the disingenuous rationale that it was for safety and that their concerns were not hypothetical (even though clearly BART was speculating about what might happen in a potential protest when they cut phone service).
Public comment was varied, with several people expressing support for the decision to cut phone service. The majority however, including a representative from the ACLU, were critical of the phone service disruption. Several spoke out against protests as unsafe or an inconvenience to passengers, and several spoke in favor of protests as a means to hold BART accountable for their actions. BART was told in no uncertain terms that demonstrations will continue until the BART police are disbanded. BART was encouraged to consider the historic implications for any related decisions they may make. The pretext of safety being the cause of the phone shutdown was questioned, when BART stations are regularly packed with drunken and sometimes belligerent sports fans and no communications shutdowns have been ordered before. One speaker raised the issue of the deaf being unable to communicate and receive txt messages during the shutdown. Representatives of BART's various employee unions spoke, one claiming that safety was an issue and that
locking all gates but one when stations are suddenly closed during protests
is responsible policy.
The Board likewise was mixed, although most seemed to approve of the decision to cut phone service and most bought into the idea that cutting phone service somehow increased public safety, albeit while also declaring their love for the First Amendment. Much of what they said seemed to be as geared toward defending BART for the shutdown as it was to establish a firm policy moving forward. The Board fell in line behind their police department, noting that training has increased, that more PR is needed to brighten their image, and disbanding the force is largely out of the question. Directors Joel Keller and Thomas Blalock said had they known of the ACLU's position earlier, they may have reconsidered their tacit approval of cutting phone service. Keller also tried to pass the buck to the new police oversight Citizen Review Board, but was shot down by other directors who felt that the matter was ultimately the BART board's responsibility. It was agreed, however, that the Citizen Review Board could make recommendations. One of the newest directors, Robert Raburn, spoke firmly in favor of free speech and against the shut down. The entire board seemed weary of the ongoing protests, which are now more frequent due to the free speech issues BART has created for itself.
Lynette Sweet was the only board member to ask questions of BART staff in order to publicly air some of the decision making that went on at the time. Apparently, there were no legal consultations that happened prior to the shutoff, other than BART legal staff being present during related discussions. Similarly, neither of the governing authorities on electronic communications were notified ahead of time, not the CPUC (California Public Utilities Commission) nor the FCC (Federal Communications Commission). Lynette Sweet stated, as have numerous critics of BART, that the real motivation was to silence dissent and to prevent potential protester disruption of BART service rather any genuine safety concerns. And, she spoke forcefully about the error of BART's ways, she was the only director who received applause from those in attendance.
Belatedly, the Board seemed to get the historic implications of what BART did and what they may later choose to do. While shying away from wanting to "tie the hands" of their police and staff to deal with protests, it appears that in the next several weeks that the BART board will establish some sort of policy that greatly increases the justification threshold upon which BART will ever shut down mobile phone antennas again. If the Board actually follows through with creating stricter guidelines, and if BART employees will respect such a policy directive, remains to be seen.
- This reporter being unable (and unwilling) to transcribe the entire meeting in a timely fashion, it is best if readers listen to the audio below for themselves. Several direct quotes from the meeting can be found in these first two links:
BART Director: "Speculation About Protest Doesn't Warrant Cell Shutdown"
http://lafiga.firedoglake.com/2011/08/24/bart-director-speculation-about-protest-doesnt-warrant-cell-shutdown/
#BART Special Board Meeting re: Cellphone Shutdown & Protests (tweet stream)
http://effaustin.org/2011/08/bart-special-board-meeting-re-cellphone-shutdown-protests/
For background, prior to today's meeting:
BART Pulls Plug on Cell Phone Antennas - You Can Always Count on BART to Step In It
http://www.indybay.org/newsitems/2011/08/12/18687533.php
Anonymous OpBART Protest Shuts Down Four SF BART Stations & More, 8/15/11: Video
http://www.indybay.org/newsitems/2011/08/16/18687925.php
BART Hates Free Speech, Anonymous #OpBART Protest, Civic Center station, 8/22/11: video
http://www.indybay.org/newsitems/2011/08/23/18688466.php
For more information:
http://www.indybay.org/newsitems/2011/08/13/18687583.php
We are 100% volunteer and depend on your participation to sustain our efforts!
Get Involved
If you'd like to help with maintaining or developing the website, contact us.