From the Open-Publishing Calendar
From the Open-Publishing Newswire
Indybay Feature
Anonymous Protest: Tell BART to Stop the Lying & Killing, Tell BART to Fire Lying Linton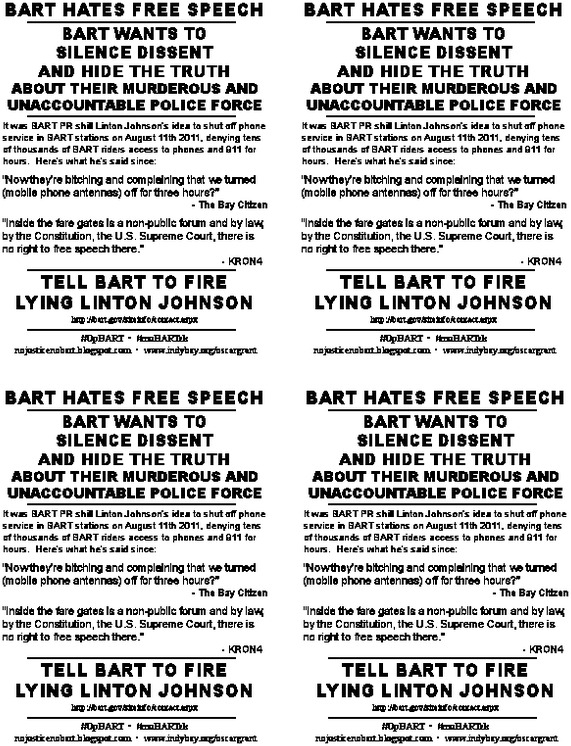 BART HATES FREE SPEECH
BART WANTS TO
SILENCE DISSENT
AND HIDE THE TRUTH
ABOUT THEIR MURDEROUS AND UNACCOUNTABLE POLICE FORCE
It was BART PR shill Linton Johnson's idea to shut off phone service in BART stations on August 11th 2011, denying tens of thousands of BART riders access to phones and 911 for hours. Here's what he's said since:
"Now they're bitching and complaining that we turned (mobile phone antennas) off for three hours?"
- The Bay Citizen
"Inside the fare gates is a non-public forum and by law, by the Constitution, the U.S. Supreme Court, there is no right to free speech there."
- KRON4
TELL BART TO FIRE
LYING LINTON JOHNSON
http://bart.gov/siteinfo/contact.aspx
#OpBART - #muBARTek
nojusticenobart.blogspot.com -
http://www.indybay.org/oscargrant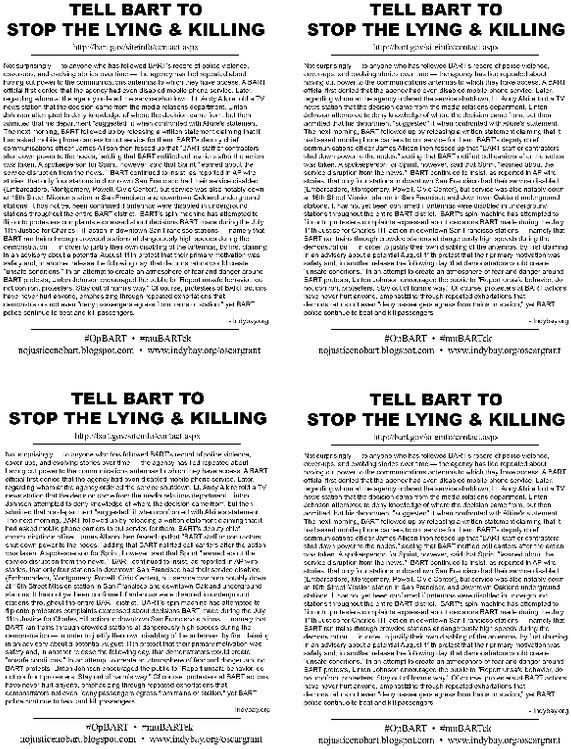 TELL BART TO
STOP THE LYING & KILLING
http://bart.gov/siteinfo/contact.aspx
Not surprisingly — to anyone who has followed BART's record of police violence, cover-ups, and evolving stories over time — the agency has lied repeated about having cut power to the communications antennas to which they have access. A BART official first denied that the agency had even disabled mobile phone service. Later, regarding whom at the agency ordered the service shutdown, Lt. Andy Alkire told a TV news station that the decision came from the media relations department. Linton Johnson attempted to deny knowledge of where the decision came from, but then admitted that his department "suggested" it when confronted with Alkire's statement. The next morning, BART followed up by releasing a written statement claiming that it had asked mobile phone carriers to cut service for them. BART's deputy chief
communications officer James Allison then fessed up that "BART staff or contractors shut down power to the nodes," adding that BART notified cell carriers after the action was taken. A spokesperson for Sprint, however, said that Sprint "learned about the service disruption from the news." BART continued to insist, as reported in AP wire stories, that only four stations in downtown San Francisco had their service disabled (Embarcadero, Montgomery, Powell, Civic Center), but service was also notably down at 16th Street Mission station in San Francisco and downtown Oakland underground stations. It has not yet been confirmed if antennas were disabled in underground stations throughout the entire BART district. BART's spin machine has attempted to flip onto protesters complaints expressed about decisions BART made during the July 11th Justice for Charles Hill action in downtown San Francisco stations — namely that BART ran trains through crowded stations at dangerously high speeds during the demonstration — in order to justify their own disabling of the antennas, by first claiming in an advisory about a potential August 11th protest that their primary motivation was safety and, in another release the following day, that demonstrators would create "unsafe conditions." In an attempt to create an atmosphere of fear and danger around BART protests, Linton Johnson encouraged the public to "Report unsafe behavior, do not confront protesters. Stay out of harm's way." Of course, protesters at BART actions have never hurt anyone, emphasizing through repeated exhortations that
demonstrators not even "deny passengers egress from trains or station," yet BART police continue to beat and kill passengers.
- Indybay.org
#OpBART - #muBARTek
nojusticenobart.blogspot.com -
http://www.indybay.org/oscargrant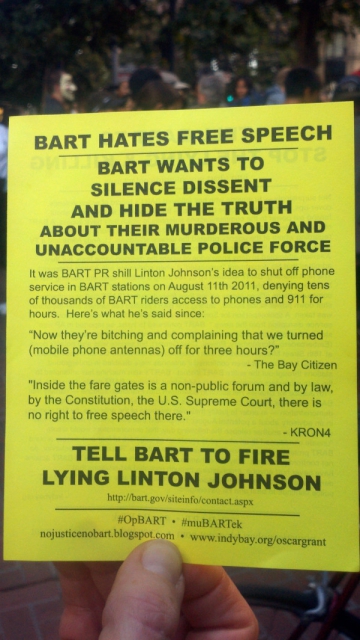 A flyer I received at #OpBART today! Hope the people of #SanFrancisco are finally #wakingup #letsgo #fuckpolice