From the Open-Publishing Calendar
From the Open-Publishing Newswire
Indybay Feature
Anonymous' #opBART: Black Faxes, Remove BART Website, and Protest in SF
This is just a brief release to clarify for the media what to expect from Anonymous on this Op. There is a more thorough Press Release from us here -
http://tumblr.com/xjh42d529q
Anonymous will take the following actions over the next 48 hours.
1) We have begun at once a massive Black Fax and E-Mail Bomb action, where we will fill every inbox and fax machine at BART with thousands of copies of our message that this outage was unacceptable.
2) Tomorrow, Sunday - August 14, 2011 at High Noon Pacific Time we, Anonymous - will remove from the internet the web site of BART located at
http://www.bart.gov
for exactly six hours. That's twice as long as they shut off the cell phones for.
3) On Monday - August 15, 2011 at 5:00 PM Pacific Time there will be a physical protest at the Civic Center Bart Station. Expect us !
We sincerely hope that this series of actions will serve as a warning to BART and every public organization in the USA to NOT engage in this sort of dangerous and human rights violating behavior.
We Are Anonymous - We Are Everywhere - We Are Legion - We Never Forget - We Never Forgive - EXPECT US
1 hour ago
22 Notes
Anonymous: Operation BART

35 minutes ago
12 notes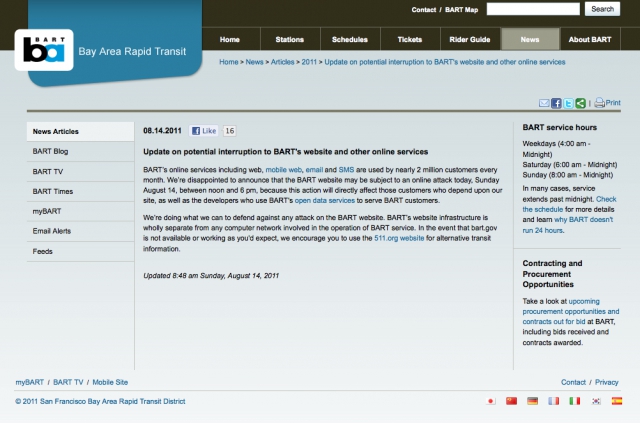 This message was posted by BART, then removed, then reposted just minutes ago:


08.14.2011

Update on potential interruption to BART's website and other online services

BART's online services including web, mobile web, email and SMS are used by nearly 2 million customers every month. We're disappointed to announce that the BART website may be subject to an online attack today, Sunday August 14, between noon and 6 pm, because this action will directly affect those customers who depend upon our site, as well as the developers who use BART's open data services to serve BART customers.

We're doing what we can to defend against any attack on the BART website. BART's website infrastructure is wholly separate from any computer network involved in the operation of BART service. In the event that bart.gov is not available or working as you'd expect, we encourage you to use the 511.org website for alternative transit information.


Updated 8:48 am Sunday, August 14, 2011

08.14.2011
Passenger Alert: Protests may disrupt BART service Mon., Aug. 15
Please be advised that protesters may attempt to disrupt BART service during the afternoon commute period on Mon., Aug. 15 in downtown San Francisco BART stations.
As always, BART's primary mission is to ensure your safety and keep trains on-time. BART may need to close some stations temporarily or make other service adjustments on short notice.
Know your alternative transportation plans
Take some time now to plan your transportation options. Visit
http://www.511.org
for more information about alternative commute options.
Keep informed
BART will use its website, mobile website, text alerts, email alerts and Customer Services phone line to update you on any changes we may make to BART service. You should also consider
http://www.511.org
and the web, mobile, email and sms services provided there.
Regional travel information:
http://www.511.org
or dial 511
BART website news/advisories:
http://www.bart.gov
BART mobile website news/advisories: m.bart.gov
BART email and SMS advisories:
http://www.bart.gov/alerts
BART SMS on demand: Text 'BART service' to 878787 or see
http://www.bart.gov/sms
for more info
BART Phone Center: 510-465-BART (2278)
BART Twitter: @SFBART
BART Facebook
http://facebook.com/bartsf
BARTtv News:
http://www.bart.gov/barttv
Updated 8:33 am Sunday, August 14, 2011
We are 100% volunteer and depend on your participation to sustain our efforts!
Get Involved
If you'd like to help with maintaining or developing the website, contact us.