From the Open-Publishing Calendar
From the Open-Publishing Newswire
Indybay Feature
View other events for the week of

8/15/2011
Protest BART's attack on free speech and civil rights!
Date

Monday August 15

Time

5:00 PM

-

8:00 PM

Import this event into your personal calendar.
Location Details
Civic Center BART Station (#OpBART #muBARTek)
Civic Center
San Francisco, CA
Event Type

Protest

Organizer/Author
No Justice No BART

SPREAD THIS WIDELY! INVITE ALL YOUR FRIENDS!

We (No Justice No BART) encourage people to mobilize alongside Anonymous in defense of civil liberties and against the creeping police state. Stand up for your rights and those of your fellow citizens.

[at the present time, we assume this protest will be staged on the platform at Civic Center]

This 5 pm protest has been called by the hacker collective Anonymous, and is NOT explicitly organized by No Justice No BART. People are being encouraged to wear "blood" stained shirts to symbolize the blood that is on the hands of the BART police. When we mobilize against any instance of police brutality, we are seeking justice for all victims of police repression. We hope this protest will underscore that the suppression of civil liberties is a form of police repression targeted at our entire society .

Specific plans for this demo remain elusive, but it appears planned to test the lengths to which the BART Police and BART administration are prepared to go to suppress our first amendment rights. We encourage everyone to respect the tone of this protest by having a camera ready, bringing signs, and flyers, and anything that facilitates freedom of expression and assembly. We encourage all participants to learn your rights ahead of time, and be prepared to exercise them (expect BART police to lie to you about what they are).

Read our response to BART's Mubarak-style shutdown of cell phone service at

http://nojusticenobart.blo

​gspot.com/ and

http://www.indybay.org/new

​sitems/2011/08/12/18687533​.php

Read Anonymous' message to the BART police and full call to action here:

http://www.indybay.org/new

​sitems/2011/08/13/18687558​.php

==========================​=====

IF YOU CANT MAKE THE PROTEST FOR ANY REASON ==========================​=====

Anonymous requests that you show solidarity by using black fax, mass email, and phone calls to the BART Board of Directors. BART decided to cut off your communications and now we will flood theirs:

BART contact info:

Phone:

510 465-2278, 415 989-2278, 650 992-2278, 925 676-2278, 510 441-2278, 510 236-2278, and 510 465-2278

Fax: (510) 464-6011

Email: BoardofDirectors [at] bart.gov

Fliers / Back Fax images

Blacked out:

http://a.yfrog.com/img616/

​5783/2j1oi.jpg

"Bart":

http://www.artificialeyes

.​tv/files/opBART_exiledsurf​er.jpg

Back Fax tools

http://youranonnews.tumblr

​.com/post/8832483770/email​-and-fax-bomb-info-for-opb​art

—————————————

File a complaint with the FCC online against BART:

fcc.gov/complaints

jammerinfo [at] fcc.gov

—————————————

Twitter: @OpBART

Email: OpBART [at] Gmail.com

Added to the calendar on Saturday Aug 13th, 2011 10:51 PM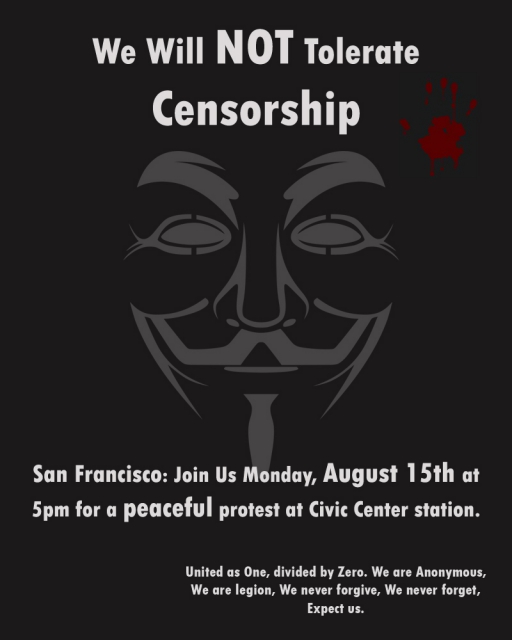 Use this image in and around BART stations to let people know about the protest.
meet OUTSIDE TURNSTILES
the bus/BART ppl are very nazi - no protests or cameras inside the station itself
Watch out for these guys - they may try and make it violent, or start illegal acts. Keep it classy, pls. We don't want Anons getting butchered. Stay SAFE! Stay Peaceful. PLS PLS PLS. ♥
https://secure.wikimedia.o
​rg/wikipedia/en/wiki/Agent​_provocateur
Agent provocateur - Wikipedia, the free encyclopedia
#opBART
SF Civic Center, 10th and Market - 5pm Pacific time!
We are 100% volunteer and depend on your participation to sustain our efforts!
Get Involved
If you'd like to help with maintaining or developing the website, contact us.