From the Open-Publishing Calendar
From the Open-Publishing Newswire
Indybay Feature
Dyer's Ten Years of Terror
A Noontime vigil was held today (August 1, 2011) at the Fresno Police Department headquarters, marking the ten year anniversary of Jerry Dyer being the chief of police. Participants protested the 50+ people who have died under Dyer's administration and demanded that Dyer leave office immediately. All photos by Simone Whalen-Rhodes.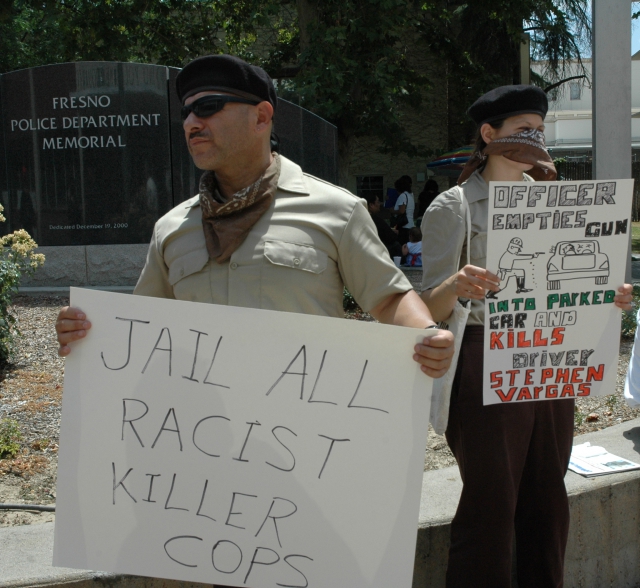 In a statement sent to the media before the event, organizers wrote:
Supporters and families of the victims will be present to demand that Dyer leave now. The taxpayers are paying for four deputy chiefs of police. Its impossible to believe that not one of them could be appointed as interim as the nationwide search is undertaken by the City Manager and Mayor. With lawsuits pending against Dyer from within his administration and department, it would be best for him to leave now.
For a complete list of the victims go to
http://www.cccjc.org
Fresno Stolen lives report. Please take notice the names of the police officer's who shot the victims. Please note that 28 of them are repeat shooters who carry a badge to kill over and over again. Please note that over 50% of the stolen lives are Latinos.
For more information please contact Juan Avitia at 977-4247 or Gloria Hernandez at 268-2261
**************
At the event, a flier was distributed that said:
Dyer's Ten Years of terror
Fifty one (51) dead under his administration and those are the ones that we know of. Since obtaining info through the Public Records Act we have learned of more than we initially had information about.
Discrimination lawsuits on race, gender, age and disability have been ongoing against the City of Fresno and the Fresno Police Department because of Dyer. A leader is someone who mentors others and trusts that others will carry on his work. Dyer is too paranoid to allow others to lead, hence his hesitancy to leave the office and save the taxpayers more money.
Dyer declared a war on gangs but instead increased gang involvement in Fresno. Dyer seems to think each Latino is a bulldog member and has refused to provide cultural and sensitivity training for his officers. He failed to provide crisis intervention training to deal with the mentally ill until the county dept of bx health paid for the training.
Dyer has allowed 28 repeat shooters to remain on the force.
Dyer pushed for the four million dollars police regional training center without taking it to the voters to decide if taxpayers would fund it.
Dyer relies on grant money to do the grantor's work instead of what is needed to bring the crime rate down.
Dyer promised to work with the immigrant communities, instead he pushed to get tow trucks to pay referral fees (bribes) which allows the profiling of immigrants by impounding their cars by holding drunk driving check points in immigrant neighborhoods, which are less effective than targeting bars. Even after creating a policy that would allow people to call a licensed driver, his own officers would not obey his orders, so he pulled the field order. Indicating a lack of leadership over the ranks.
Dyer pushed his foundation to hold a Christian concert and lost money on it.
When Dyer was installed as California Chief of Police he was able to raised $65,000 using uniformed police officers to fundraise to throw a big party, instead of using the money to help the department's needs.
Dyer has pushed the Department for CALEA accreditation each time costing the taxpayers thousands of dollars so that Dyer can look good.
"Accreditation will allow the Department to demonstrate the professionalism of the department and our dedication to providing the highest level of public safety services to the community through adherence to international standards of excellence."
And here the taxpayers thought the police department was already support to be doing this. Even the Police Union is against CALEA Accreditation because of the costs involved.
Dyer allows nepotism on the force. His sister who can't even tell when her son is doing and selling drugs out of her house is out there pretending to know the above and harassing youth of color.
Dyer pulls facts out of the air accusing the stolen lives prior to the actual investigation as to whether in fact a shooting is justified more than often jumping to conclusions and assumptions.
Dyer spent millions of dollars on video policing (which is not being used for jack of budget and manpower and does not allow public to review the tapes) and red light policing another costly failure.
Dyer has his own personal bodyguards, not trusting his own officers to protect him. Could it be that the Spirit of Lte. Jose Moralez lives on in the Latino Community?
Dyer's famous one liners are against people of color, aged and handicapped. Enough is enough. Dyer has got to go.