From the Open-Publishing Calendar
From the Open-Publishing Newswire
Indybay Feature
Related Categories:

Palestine | Santa Cruz Indymedia | U.S.
Interview with Northern California Gaza Freedom Flotilla Passenger Debra Ellis: video
Thus far, working against the 2011 Stay Human Freedom Flotilla have been repeated threats and admonishments from the U.S. and Israeli governments, the early pullout of the Turkish contingent, meddling from Zionist law firms, sabotage to the propellers of the Greek and Irish boats by underwater divers, and an order from the Greek government banning the flotilla from embarking on the journey to Gaza from Greece. The "Freedom Flotilla 2 - Stay Human" was scheduled to depart by the end of June, but at this point, it remains uncertain how many boats will be able to leave the port of Athens and set sail for Gaza. Amongst the European, Australian, and North American ships that had intended to non-violently break the Israeli siege on the Gaza Strip was the U.S. boat The Audacity of Hope. This past Friday, The Audacity of Hope left port against the orders of the Greek government and was eventually turned back by the Greek Coast Guard, leading to the arrest of the boat's captain. [A Canadian boat tried to same thing three days later and was likewise turned back by Greek military forces. One smaller French boat was able to get out to sea the day after that.] Now, with the U.S. boat being held indefinitely at a Greek military port behind barbed wire, the
Americans will not be able to sail
with the Freedom Flotilla. On board The Audacity of Hope when it challenged the Gaza blockade -- which now apparently extends across the the Mediterranean Sea to the shores of Greece -- were thirty-six passengers, nine journalists, and four crew members. Six of those American passengers call Northern California home. Shortly before leaving the U.S. in early June for her rendezvous with other passengers in Athens, Greece, Debra Ellis of Santa Cruz discussed the history of her consciousness about Palestine and her reasons for participating in the flotilla.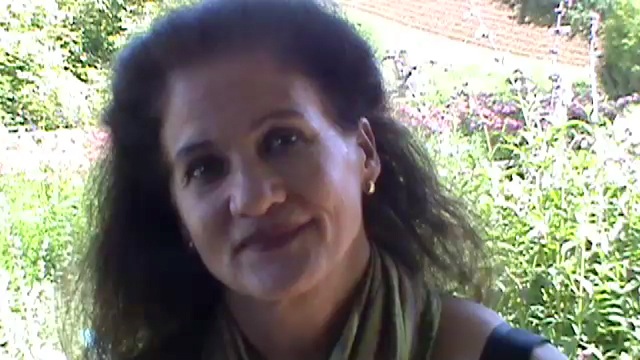 In the video below, Debra Ellis explains that she first became involved with Middle Eastern issues after 9/11 when several UCSC students approached her with concerns that a new level of racism would arise after the attack. She and her daughter moved to Jordon and Syria to live amongst Iraqi refugees. It was there that she also began to make contact with Palestinian refugees and become familiar with the issues facing Palestine. During that time, Debra also traveled to the West Bank, where she learned directly about conditions on the ground under Israeli occupation.
As a mother Debra feels compelled to address the crisis in Palestine, and that is why she is participating in the flotilla. She acknowledges the privilege of safety that she and her daughter have, to be free from the violence of an occupying force, and she believes that all families should enjoy the same. It is also important for her as an American citizen to take a stand for international humanitarian law. The Palestinian people are not able to meet their basic needs nor move with freedom. Considering the billions of dollars the U.S. gives to Israel every year, Debra believes that as a taxpaying citizen it is her responsibility to know what she is paying for, to travel to Palestine, if she is able, to see how that money is being spent, and, if she is not pleased with its use, to be actively involved in changing the outcome.
Addressing the name of the U.S. boat, The Audacity of Hope, Debra wants to call on President Obama to honor the words he delivered in Cairo in January 2009 when he gave a speech acknowledging that the plight of the Palestinian people was not acceptable and must change. The U.S. boat will not be carrying supplies, but rather love letters to the people of Gaza. Debra says she is traveling with a small collection of individuals but the spirit of many who support the Palestinian cause, bringing hope and optimism to families and children.
If the construction supplies and humanitarian aid the flotilla carries is delivered or not, she wants to raise awareness of the conditions that Gazans are living in and our international responsibility as global citizens to change the oppressive circumstance for the Palestinian people.
Debra is engaged in dialogue on campus around the occupation in Palestine and Arab Americans who often feel voiceless. She petitions elected representatives with letter writing campaigns and focuses on continuing her own education regarding these issues. She encourages others to go to
http://www.UStoGaza.org
, consider signing on as an endorser to the flotilla, and to ask questions of representatives as to why we invest in an occupation that only benefits corporations and governments at the expense of all people.
Video of Yonatan Shapira, former Israeli Airforce pilot, and other U.S. Audacity of Hope passengers can be found at
http://ustogaza.org/latest/us-boat-to-gaza-passengers-explain-why-theyre-going/
For more information:
http://witnessgaza.com/
http://www.freegaza.org/
http://www.freedomflotilla.eu/
Individual flotilla boats:
http://ustogaza.org/
(U.S.)
http://ustogazawest.org/
(Western USA)    
http://www.tahrir.ca/
(Canadian)
http://www.savegaza.eu/eng/
(European)
http://irishshiptogaza.org/
(Irish)
http://unbateaupourgaza.fr/
(French)
http://www.shiptogaza.gr/
(Spanish)
http://www.freedomflotilla.it/
(Italian)
http://www.shiptogaza.gr/
(Greek)
Copy the code below to embed this movie into a web page:
Download Video (66.7mb)
(video 11:35)

We are 100% volunteer and depend on your participation to sustain our efforts!
Get Involved
If you'd like to help with maintaining or developing the website, contact us.