From the Open-Publishing Calendar
From the Open-Publishing Newswire
Indybay Feature
NLG Files Lawsuit Against Oakland Police for Mass Arrest of Oscar Grant Marchers on Nov 5th
The mere failure to obtain a permit, such as a parade permit or sound permit, is not a sufficient basis to declare an unlawful assembly.

NLG Files Lawsuit Against Oakland Police
Class Action Lawsuit Asserts Constitutional Violations at Oscar Grant Demonstrations
The National Lawyers Guild (NLG) is filing a major class action lawsuit against the Oakland Police Department (OPD) on Monday, June 13th, in the United States District Court. The lawsuit asserts constitutional violations stemming from the November 5, 2010, mass arrest of 150 peaceful protesters following the sentencing of Johannes Mehserle, the BART police officer who killed Oscar Grant. The lawsuit seeks injunctive relief as well as monetary damages for those 150 people who were unlawfully corralled by police and incarcerated in overcrowded holding cells for up to 28 hours.
At each Justice for Oscar Grant demonstration, the OPD has violated its own
crowd control policy
. This policy was obtained as part of a 2005 settlement in an earlier case of police misconduct filed by the NLG and the American Civil LIberties Union. The NLG seeks to hold the police accountable, and to obtain compliance with the crowd control policy to protect constitutional rights and freedom of speech in Oakland.
Check out this
report from Univision
(en Español).
NLG SF Bay Area Chapter website
-------------------------------------------------------------------
More NLG and Oscar Grant Protest stories on Indybay:
Community Gather in Oakland to React to Mehserle Sentencing November 5th, 2010; 152 Arrested in Night March
Mehserle Found Guilty of Involuntary Manslaughter July 8th, 2010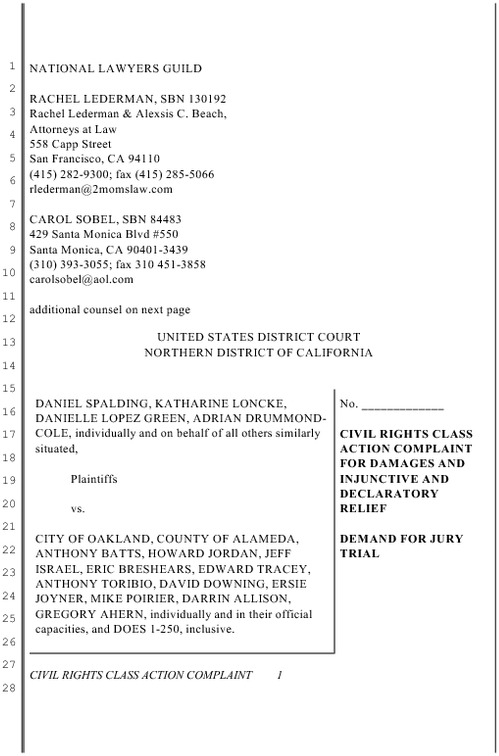 (32-page PDF)

UNITED STATES DISTRICT COURT
NORTHERN DISTRICT OF CALIFORNIA

DANIEL SPALDING, KATHARINE LONCKE,
DANIELLE LOPEZ GREEN, ADRIAN DRUMMONDCOLE,
individually and on behalf of all others similarly
situated,
Plaintiffs
vs.
CITY OF OAKLAND, COUNTY OF ALAMEDA,
ANTHONY BATTS, HOWARD JORDAN, JEFF
ISRAEL, ERIC BRESHEARS, EDWARD TRACEY,
ANTHONY TORIBIO, DAVID DOWNING, ERSIE
JOYNER, MIKE POIRIER, DARRIN ALLISON,
GREGORY AHERN, individually and in their official
capacities, and DOES 1-250, inclusive.
No. _____________

CIVIL RIGHTS CLASS
ACTION COMPLAINT
FOR DAMAGES AND
INJUNCTIVE AND
DECLARATORY
RELIEF
DEMAND FOR JURY
TRIAL


I. INTRODUCTION
1. This is a civil rights class action arising from unconstitutional and unlawful
arrest and incarceration of approximately 150 people by the Oakland Police Department,
Alameda County Sheriff's Department, and multiple agencies working in joint action and
providing mutual aid under the direction of the Oakland Police, on November 5, 2010.
That day, hundreds of people participated in a rally in downtown Oakland to protest the
minimal sentence given former BART police officer Johannes Mehserle for his killing of
unarmed passenger Oscar Grant. Following the rally some of the demonstrators decided
to march toward Fruitvale BART. As evening fell, the Oakland Police and other law
enforcement agencies stopped the lawful First Amendment activity and forced the march
onto a side street where, without warning, demonstrators were trapped, detained,
prevented from dispersing, and arrested. The 150 class members were never ordered to
disperse or allowed the opportunity to disperse, and there was no probable cause or legal
basis to arrest them. Oakland and Alameda County proceeded to hold the class for an
excessive period of time in buses and vans, and then imprisoned them all in the Alameda
County Jail. The plaintiffs were incarcerated overnight, for up to 24 hours, in
overcrowded holding cells without cots or even room to lie on the floor, and subjected to
other unreasonable conditions of confinement. None of the class members were ever
charged.
2. The Oakland Police Department's actions, including the wrongful mass
arrest and imprisonment, violated multiple provisions of the Oakland Police Crowd
Management/ Crowd Control Policy that was entered into by stipulation of the parties and
order of the United States District Court in settlement of plaintiffs' claims for injunctive
relief in Coles, et al. v. City of Oakland and Local 10, International Longshore and
Warehouse Union, et al. v. City of Oakland, Nos. C03-2961 and 2962 TEH, on December
24, 2004. Plaintiffs further allege that the police and sheriff's department actions were
the result of unlawful and unconstitutional policies and practices of the City of Oakland,
the Oakland Police Department (OPD), and Alameda County and its Sheriff's Department
(ACSD).
3. OPD also violated the Crowd Management/ Crowd Control Policy with 
unconstitutional and unlawful police misconduct at prior Oakland demonstrations
protesting the Oscar Grant killing, including during the period after the shooting in
January, 2009; and on July 8, 2010 (the day of the verdict in Mehserle's trial). On those
prior occasions, lawful political demonstrators were subjected to wrongful arrest and
excessive force, and to wrongful incarceration in the Alameda County Jail. The persons
arrested in conjunction with these prior demonstrations and other recent prior
demonstrations in Oakland suffered similar unreasonable conditions of confinement,
including being incarcerated overnight in overcrowded holding cells lacking sleeping
facilities.
4. The challenged OPD and ACSD misconduct create a substantial chilling
effect and deterrent to future First Amendment protected activity in Oakland. The named
plaintiffs, on behalf of a class of all those arrested in the November 5, 2010, mass arrest
in the vicinity of 6 Avenue between Eas th t 17th and 18th Streets, intend to participate in or
associate with peaceable protests and assemblies in the City of Oakland in the future.
They seek damages and declaratory and injunctive relief to restrain defendants from
continuing to violate plaintiffs' federal and state constitutional and statutory rights, the
protections for these rights in the Oakland Crowd Management/ Crowd Control Policy,
and from using false arrests, false imprisonment, unreasonable conditions of confinement,
and other unlawful actions to disrupt, interfere with and deter future demonstrations and
protest activities in the City of Oakland and Alameda County.
5. Defendants' actions deprived the plaintiff class of their right to freedom of 
speech and association; the right to be free from unreasonable searches and seizures; the
right to equal protection of the laws and to due process of law; the right to be free from
the use of excessive and/or arbitrary force; and the right to privacy, all guaranteed by the
United States and California Constitutions, as well as additional state law claims relating
to the police actions complained of herein.
http://www.nlgsf.org/docs/SpaldingComplaint.pdf
We are 100% volunteer and depend on your participation to sustain our efforts!
Get Involved
If you'd like to help with maintaining or developing the website, contact us.