From the Open-Publishing Calendar
From the Open-Publishing Newswire
Indybay Feature
March for Justice of Oscar Grant Protests Release of Mehserle
Video of beginning of march (2:23)
March for Justice of Oscar Grant Protests Release of Mehserle
Video of the beginning of the march at Fruitvale BART station, Oakland, CA, June 12, 2011. Following a public press conference, people marched down International Boulevard to downtown, where a rally was held at the corner of Broadway and 14th Street.
Former BART Police Officer Johannes Mehserle was convicted of the killing of Oscar Grant, on January 1, 2009. He was sentenced to two years for "involuntary manslaughter." Mehserle was released after serving less than half that time.
A strong community movement, with support from the Grant family, are calling for a civil prosecution of Mehserle by the U. S. Attorney General, as in the Rodney King case. They are also pressing for strong civilian review of police, and an end to illegal police killings and racial and youth profiling.
Mehserle is the first uniformed, on duty, police officer to ever be convicted of killing a civilian in the history of California.
2 min, 23 sec. Video
Videography & Editing: Jonathan Nack
Extensive coverage by Indy Media at:
http://www.indybay.org/newsitems/2011/06/05/18681176.php
*Use of this video and photos by not for profit publications, including the embedding the video, is authorized. Use of any portion of this video by commercial for profit publications without the express written consent of Jonathan Nack is prohibited.
March for Justice for Oscar Grant
International Boulevard (at Miller Ave.), Oakland, CA
June 12, 2011
Photo: Jonathan Nack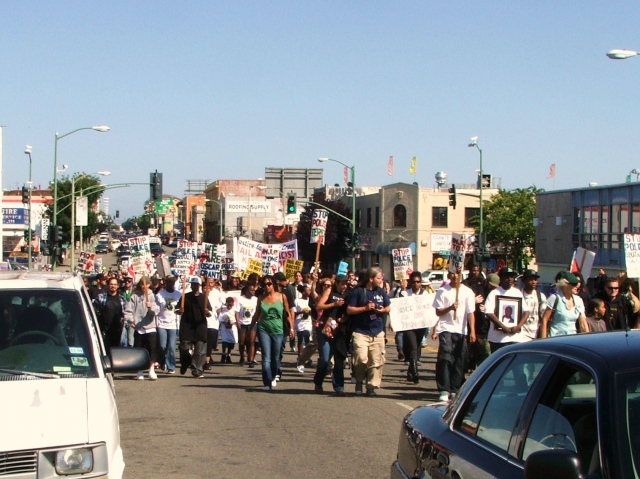 March for Justice for Oscar Grant
International Boulevard (at 23rd Ave.), Oakland, CA
June 12, 2011
Photo: Jonathan Nack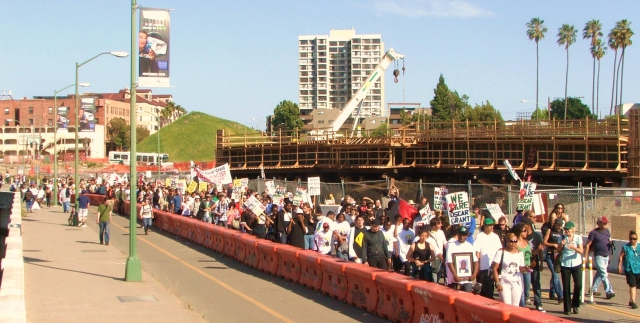 March for Justice for Oscar Grant
12th Street (at Lake Merritt), Oakland, CA
June 12, 2011
Photo: Jonathan Nack