From the Open-Publishing Calendar
From the Open-Publishing Newswire
Indybay Feature
Related Categories:

East Bay | Media Activism & Independent Media
Radio Summer Panel - Microradio and the Bay Area, San Francisco, 6/4/11: audio
At the San Francisco Main Library on June 4th, a panel of community radio and media activists from Media Alliance, the Prometheus Radio Project, Common Frequency, and Raising Sand Radio evangelized new opportunities in Low Power FM (LPFM). No new LPFM licenses have been issued by the Federal Communications Commission since 2003 but it's looking like more are finally on the way. On the upside, and long overdue, new non-profit LPFM community radio stations will be coming to the Bay Area. The downside is that there may be as few as just three new LPFM licenses issued for the entire region over the next few years. The application process will be technically and financially demanding, and competition for the licenses may be fierce. While the process will be daunting, new groups scoring licenses will be a boon to community viewpoints long excluded from the airwaves. The new licenses would likely be spread around: one in the East Bay, one in San Jose or the North Bay, and one in San Francisco. If more than the three licenses are granted locally, it might be perhaps one in Oakland, one in Berkeley, two in San Francisco, and so forth. While the window for submitting applications for the new licenses may not happen until the summer of 2012, panelists stressed that progressive community groups interested in obtaining a license need to begin to prepare now. All of the panelists offered assistance for those seriously seeking an LPFM license. [Full audio below]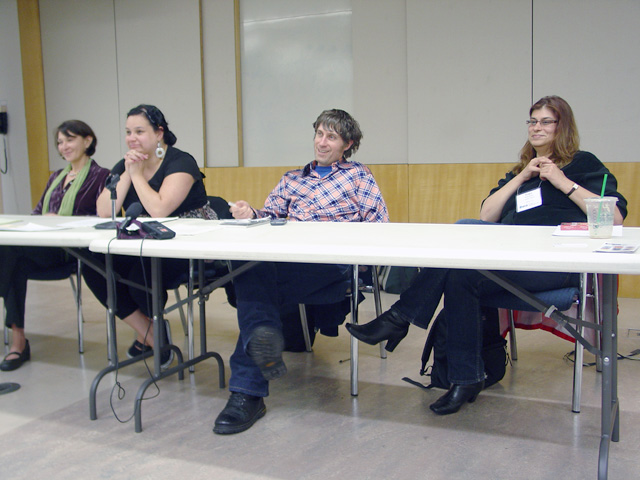 (Pictured above: Susan Galleymore, Raising Sand Radio and Alameda LPFM Project; Vanessa Graber, Prometheus Radio Project; Todd Urick, Common Frequency; and moderator Tracy Rosenberg, Media Alliance)
Vanessa Graber of the Prometheus Radio Project notes that the expected filing window for new applications will be sometime during the summer of 2012, but that it could very well be earlier or later. If community groups apply for a frequency with no competition, their odds of receiving a license will be better. The process of obtaining a license may take anywhere from one to four years. Oftentimes, it can be beneficial for multiple like-minded groups to apply separately for the same frequency. Once the initial round of applications are approved, groups are MX'd (set into Mutually Exclusive groups) and are allowed access to other approved groups' applications, at which point surviving applicants can negotiate to align and share a frequency or attempt to knock other applicants out of contention by finding faults in their applications. If a groups shows the most points in the second round, that group can fold other groups into its application to increase their overall points. Points are awarded to to applicants based on various factors, such as having been a non-profit group for more than two years and representing a unique, underserved community. Applicants do not necessarily have to be 501(c)3 organizations, but must have a board of directors and be located within 30 miles of the intended location of broadcast equipment. A radio engineer should review the application. Once finally approved by the FCC for a LPFM station, a construction permit is issued granting the winning organization three years to get on the air. The permit can be transferred if a group is not ready in three years, or the FCC will revoke the permit. It can potentially cost upwards of $50,000 to apply for the permit, construct a studio, and establish a broadcast tower. Detailed information on equipment, policy, and more can be found at the Prometheus Radio Project website.
Todd Urick of Common Frequency recommends that community groups contact a lawyer or consult with Common Frequency so that they do not make mistakes on their applications. Competing MX groups can come after faulty applications. It is not too complicated to apply, but there are definite stumbling blocks in the application. The FCC has a section of their website referred to as
CDBS
where groups create an account, log in, download instructions, and fill out the application -- although the FCC does not have the final application ready yet. Organizations who apply don't need to be incorporated but do need an IRS EIN (Employer Identification Number) and clear proof of existence. The window for receiving applications might be as little as two weeks, and it might be done on a regional basis or it could be one huge window across the country. No equipment is needed when applying. The FCC does want to know that funds are available to build a station so that the 3 year construction permit is not wasted. It could cost $14,000, or $11,000 with donated equipment. Will the applicant need to build a tower? A studio? Is is possible to rent from an existing tower or co-locate? A 100-watt transmitter can run about $3,000. Will there be a studio-to-transmitter link, if the tower is not at the studio site? Using the internet as a means to transfer the signal from the studio to the tower can save expenses. Applicants need a broadcast engineer to help with the application, preferably one who has assisted with FCC applications previously. A non-commercial engineering specialist can run around $3,000 per application. Common Frequency and the Prometheus Radio Project do engineering studies on a sliding scale. There are two classes of low-power licenses: LPFM, which is 100 watts at thirty meters above the average terrain for a 3-mile radius (with the number of watts required to decrease the higher the origination of the transmission); and LP10, which is a 10-watt signal that only covers a few blocks. [Sidenote: It is possible for a 100w station to reach up to 10 miles with the right engineering; which would cover most of Oakland, for instance.] The commercial radio broadcast band above 92FM is 100,000 watts, as is the non-commercial band below 92FM. Boosters are used by these large stations to get around terrain issues. Translators broadcast rebroadcasts from other signals. In 2003, thousands of LPFM translator applications were filed speculatively in urban areas (one group alone filed for thousands). The FCC blindly approved these applications and many were resold for profit. It is unknown if the FCC will cancel some to make way for LPFM. If not, there won't be much channel-space left. The FCC is currently reviewing the situation. For the potential new LPFM stations, the FCC wants applicants to be local non-profits with at least two years' history. Lots of groups stumble by not affixing proof of existence (leaving broadcast space to be grabbed up by religious right groups). After the filing window, the FCC publishes the names of all groups who submitted applications and engineers can check on competitive MX groups who have applied for the same frequency. Groups can then pool points or negotiate and settle, with the FCC making the final decision if no agreement can be made amongst applicants. The FCC prefers that groups work it out themselves.
Tracy Rosenberg of Media Alliance raises the issue of the importance of assuring that unique, local, and meaningful programming reaches the airwaves, that like-minded groups ally with each other rather than knocking each other out of the running for any particular frequency that is made available. Another issue is motivating interested parties to make sure the new rules that the FCC is currently developing are fair and expand the possibilities for community radio rather than limiting them; often times it can be difficult to increase public involvement in FCC policy and rule-making.
Susan Galleymore of Raising Sand Radio explains how she has been working on creating a media center and LPFM radio presence in the city of Alameda for progressive, local issues, trying to create relationships with the local community college and progressive churches. It will require specific engineering to cover the island of Alameda and not bleed into Oakland. Alternately, there might need to be collaboration with Oakland LPFM groups.
A lengthy discussion follows where those in attendance ask a number of pertinent questions and speak from their own experiences with licensed and/or pirate radio. Groups and individuals who have been named in previous FCC actions against unlicensed stations will not be able to apply for the new LPFM frequencies. National Public Radio (NPR) is actually one of the biggest enemies of LPFM, fighting it every step of the way. Broadcast digital radio does not seem to be capturing any sort of major share of the radio market due to equipment expenses and other issues, and it is not expected to overcome traditional radio into the foreseeable future. A member of
Free Radio Berkeley
notes that transmitters will need to be certified for LPFM, and that it can cost between $2500 - $4000 for a 10w to 100w transmitter. Tracy Rosenberg announces that there will be several radio camps for enthusiasts this summer that will require a 3-4 day commitment, and that those interested should stay tuned to Media Alliance's website for details. It is in the discussion period that it is revealed that at least three new frequencies are expected to become available in the Bay Area, maybe more depending on the final LPFM rules established by the FCC. Contrary to what many might think, the panelists insist that the FCC is values-neutral and does not distinguish between religious and progressive groups, but the quality of the applications is important and religious groups have grabbed up many LPFM licenses with solid applications. The FCC is looking for applicants to have the ability to recruit volunteers and raise funds, not for particular viewpoints. Preference points are awarded to applicants for commitment to local programming, although in the past religious groups have fraudulently promised local programming in their applications only to later merely rebroadcast network programming. This is one of the issues the FCC is likely looking into now as it formulates new rules. The Prometheus Radio Project's Radio Summer website will include toolkits and other assets for those looking to get involved with LPFM. Of course, don't wait for a license to begin making media -- do it now!
Event Announcement:
http://www.indybay.org/newsitems/2011/05/31/18680799.php
Radio Summer
http://radiosummer.org/
Prometheus Radio Project
http://prometheusradio.org/preparing_for_lpfm
Common Frequency
http://beta.commonfrequency.org/taxonomy/term/24
Raising Sand Radio
http://www.raisingsandradio.org
Media Alliance
http://www.media-alliance.org/article.php?id=1989
Listen now:
Copy the code below to embed this audio into a web page:
Download Audio (31.8mb)
(audio 1:32:39)


We are 100% volunteer and depend on your participation to sustain our efforts!
Get Involved
If you'd like to help with maintaining or developing the website, contact us.