From the Open-Publishing Calendar
From the Open-Publishing Newswire
Indybay Feature
Related Categories:

Palestine | International
Rival Palestinian Factions Reach Reconciliation Agreement; Netanyahu Slams Deal
Wednesday April 27, 2011 19:35 by George Rishmawi - IMEMC News Report post

Hamas and Fatah sign a reconciliation draft agreement in Cairo Egypt Wednesday evening following rounds of talks, with hope to end a four-year internal unrest in the Palestinian Territories, Palestinian media sources reported.
[Cartoon by Palestinian Cartonnist Majed Badra]
Both parties agreed, under Egyptian supervision, to form a transitional government soon. The two delegations, headed by Palestinian President Mahmoud Abbas, head of the Fatah movement and Khaled Mashaal, Hamas' politburo chief, discussed the security issue and ways to coordinate the two security forces that Hamas and Fatah control. They have set a date for general elections to take place, however, it is not disclosed yet.
A Hamas official reported that all points of differences with Fatah have been overcome. During the past month, Palestinian youth protested in a number of West Bank and Gaza areas calling for ending division.
Egyptian sources said that the two parties will be invited into Egypt soon to an official signing ceremony.
http://www.imemc.org/article/61144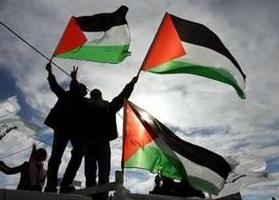 Wednesday April 27, 2011 21:39 by Saed Bannoura - IMEMC & Agencies Report post
Palestinian factions welcomed on Wednesday a draft unity deal that was signed in Cairo on Wednesday between the rival Fateh and Hamas movements, and expressed hopes that the four years of internal conflict will come to an end.
Cairo will be asking the Palestinian factions to sign the final deal next week.
The new interim government will be appointed by consensus, and will be in charge of preparing for general and presidential elections.
Khaled Al Batsh of the Islamic Jihad stated that his movement welcomes this important development, and called for a fast and actual implementation.
Al Batsh also called for ending the file of political arrests in the West Bank and the Gaza Strip, and added that protecting the resistance, the national interests and boosting Palestinian steadfastness are top priorities.
He said that guarantees must be provided to ensure actual implementation, and stressed on the importance of a unified Arab-Palestinian stance regarding Palestinian independence, the Right of Return of the refugees, and Jerusalem, the capital of the anticipated state.
Al Batsh further stated that Egypt will invite the Palestinian factions to hold consultation talks for two days in order to agree on an interim government tasked with starting preparations for general elections that would be held within a year. Political leaders and independent figures will be invited.
Deputy head of the Palestinian Legislative Council (PLC), Dr. Ahmad Bahar of Hamas, welcomed that deal and described it as historic. He also thanked Egypt for its important role in hosting and moderating Palestinian unity talks.
Dr. Mahmoud Zahhar of Hamas stated that an agreement was made to appoint 12 judges as members of the Elections Court, adding that this agreement will be presented to Palestinian President, Mahmoud Abbas, for approval.
He said that consecutive legislative and presidential elections will be held within a year after signing the final deal.
Zahhar further stated agreements were reached on most of the main issues that obstructed reconciliation.
The Hamas leader added that an agreement was reached to reform the Palestinian Liberation Organization (PLO) in order to restructure it to include all factions.
Hamas leader, Prime Minister of the Hamas-led government in Gaza, Ismail Haniyya, also welcomed the deal and stated that the movement has always supported unity efforts and is interested in a solid deal that protects the national Palestinian interests.
Dr. Abdul-Aziz Shiqaqi, head of the coalition of independent figures in the Gaza Strip, told the Maan News Agency that this deal is a new grounds and a new phase of reconciliation.
Al Shiqaqi called on all factions to support unity efforts, and thanked Egypt for its important role.
Khalil Assaf, representative of Independent Figures in the West Bank, stated that this deal is the best and most important event for the Palestinians this year.
Assaf told the Maan News Agency that unity is the wish that every Palestinian carried for many years, and called for actual implementation of the deal.
Azzam Al Ahmad, head of the Fateh parliamentary bloc, the second largest bloc after Hamas, said that a technocrat interim government will be announced, and that this government will represent the Palestinian people.
The Palestinian People Party (PPP) also welcomed the deal and called for implementing all what have been agreed upon during previous rounds of talks.
The PPP also called for diplomatic moves to gather international support for the recognition of a Palestinian State, with Jerusalem as its capital.
http://www.imemc.org/article/61146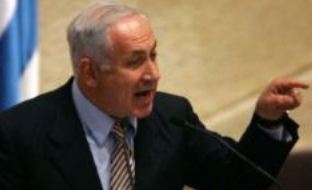 Wednesday April 27, 2011 22:02 by Saed Bannoura - IMEMC & Agencies Report post
Israeli Prime Minister, Benjamin Netanyahu of the Likud Party, denounced on Wednesday the draft agreement of Palestinian unity, and added that "Palestinian President Mahmoud Abbas chose peace with Hamas instead of peace with Israel".
Netanyahu said that peace with Israel and reconciliation with the Hamas movement cannot go hand in hand, Israeli daily, Haaretz, reported.
The Israeli Prime Minister said that "peace with both Israel and Hamas is impossible, adding that Hamas believes in the destruction of Israel and in ongoing firing of shells into Israeli areas.
He claimed that this reconciliation with the Islamic Movement (Hamas) is in indication that the Palestinian Authority in the West Bank is weak, and claimed that this could mean that Hamas will take control over the West Bank.
The Israeli Prime Minister is said to be planning to head to Washington next month to address the Congress and present a plan he claims to be an effort to restart the stalled talks with the Palestinian Authority of Mahmoud Abbas.
Palestinian-Israel talks have been stalled since September of last year after Israel resumed its construction and expansion of illegal settlements in the occupied West Bank and in occupied East Jerusalem.
The P.A said talks with Israel cannot be resumed while it constructs and expands settlements, and while it is ongoing with its invasions and assaults against the Palestinian people, their lands and property, and their holy sites.
It also demanded Israel to stop the demolishing of Arab homes in Jerusalem.
Different Hamas leaders, leaders of Fateh movement, leftist factions and independent figures in Palestine expressed support to the draft unity deal and called for ensuring the success of the final reconciliation agreement that will be signed in Cairo next week.
The Hamas movement said that Israel has no interest in Palestinian unity and will continue to in order to sabotage a united Palestinian front that counters the occupation and seeks liberation.
The deal came as a surprise amidst endless round of deadlock reconciliation talks mediated by Cairo.
http://www.imemc.org/article/61147
We are 100% volunteer and depend on your participation to sustain our efforts!
Get Involved
If you'd like to help with maintaining or developing the website, contact us.