From the Open-Publishing Calendar
From the Open-Publishing Newswire
Indybay Feature
Smart Meters Explode, Cause Fire in Santa Rosa Mall
SANTA ROSA- It was confirmed today that an electrical fire which led to the evacuation of downtown Santa Rosa Plaza last Thursday evening was caused by a bank of newly installed PG&E 'smart' meters. Reported by the Santa Rosa Press Democrat last Thursday, the mainstream media has so far neglected to include that the source of ignition was indeed at least 3 'smart' meters within the utility room.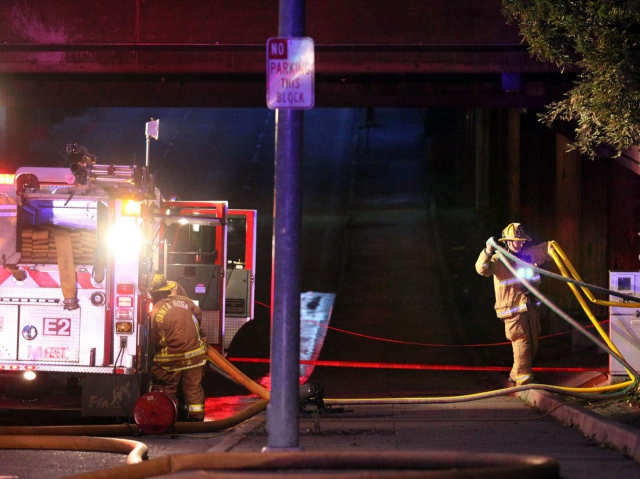 The Press Democrat reported:
"When firefighters arrived, they found smoke and flames coming from a room of electrical panels on the mall's east side, near the Third Street underpass.
Three of the panels that supply power to the Disney Store, Eddie Bauer and a vacant room "literally blew up," said Jack Piccinini, battalion chief with the Santa Rosa Fire Department.
'Whatever shorted them out was quite significant," he said. "I'm not an electrician so I won't guess what it was.'"
The official report from the Santa Rosa Fire Dept. states:
"On investigation, ME01 found 3 PG&E meters that had blown off the electrical panel causing damage to the interior wiring of the electrical panel. A fire was still smoldering but left in place until the arrival of PG&E."
The Santa Rosa Fire Department's incident report cites 'arcing' caused by 'failure of equipment.' Whether the cause of the arcing was related to faulty installation or inherent flaws within the 'smart' meters themselves is not known at this time. In a Stop Smart Meters! exclusive interview in January with the 'Wellington Whistleblower', a former employee of the firm contracted to install PG&E's 'smart' meters alleges unsafe installations:
Though the procedure is relatively simple, if you get it wrong this can lead to arcing, shorts- even house fires. The blades on the back of the meter have to be aligned properly with the jaws on the socket the meter gets placed in. I kept hearing one of the managers say, "you guys weren't trained properly."
In light of the series of cost cutting (and profit boosting) measures that led to the San Bruno blast last September, questions are sure to be forthcoming regarding the Public Utilities Commission's actions regarding this incident and the many other fire safety issues that have been reported in connection with 'smart' meters both here and abroad as compiled by the EMF Safety Network.
At press time, neither PG$E nor the CPUC had returned calls seeking comment on this incident.
The incident last week highlights the accumulating evidence that wireless 'smart' meters being deployed by utilities are not safe and that in order to protect public health and safety, the CPUC must immediately halt any further installations. Last week, photos of a bush killed by 180 smart meters on an apartment complex in Berkeley came to light.
See:
http://stopsmartmeters.org/2011/04/08/shrubs-dont-lie/
California residents outraged about the continued forced installation of the meters despite growing evidence of their danger will be assembling to demand the CPUC take action at their meeting Thursday morning and later that day to protest FCC Chair Julius Genachowski, whose high wireless radiation limits allow for continuing health damage to people, animals, and plants.
See:
http://www.indybay.org/newsitems/2011/04/08/18676739.php
Full article:
http://stopsmartmeters.org/2011/04/13/smart-meters-explode-cause-fire-in-santa-rosa-mall/
We are 100% volunteer and depend on your participation to sustain our efforts!
Get Involved
If you'd like to help with maintaining or developing the website, contact us.