From the Open-Publishing Calendar
From the Open-Publishing Newswire
Indybay Feature
"Never Again for Anyone" Tour with Auschwitz Survivor Hajo Meyer & Islamic Scholar Hatem Bazian: photos & audio
In commemoration of international Holocaust Remembrance Day 2011, the International Jewish Anti-Zionist Network, American Muslims for Palestine, and the Middle East Children's Alliance sponsored a 13-city speaking tour throughout the U.S. and Canada called "Never Again for Anyone" featuring Auschwitz survivor Dr. Hajo Meyer. During his appearance in Oakland on February 17th, Dr. Meyer was joined by UC Berkeley professor Dr. Hatem Bazian, chairman of the American Muslims for Palestine, and Sarah Kershnar of the International Jewish Anti-Zionist Network. The large church was filled to near-capacity with those wanting to hear the speakers. [Full audio in two parts below.]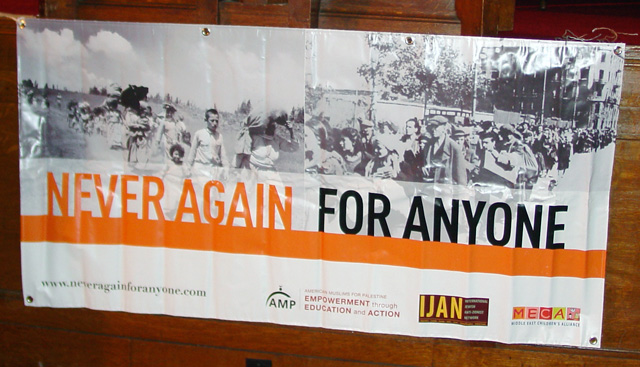 Jack Shriver, interim pastor of First Presbyterian Church of Oakland, opens the evening by recounting a trip he made to Palestine to plant olive trees that he found eye-opening for his understanding of the realities there. Considering the Zionist demonstrators outside the event that night, he calls for civility within the church.
Barbara Lubin of MECA thanks Hajo and everyone in attendance for being present and announces future MECA events. She apologies for technical difficulties that caused a delay in the beginning of the program.
Sarah Kershnar of IJAN discusses how people of many races and religions throughout world history have faced persecution and risen up with resistance, and that there are those who exploit our various faiths and politics to oppress and brutalize others. She explains that the basic message of the "Never Again" tour is that any of the histories of dehumanization and genocide make genocide and dehumanization possible against all of us. Histories of genocide, and certainly for anti-Zionist Jews, the history of Jewish persecution in the Nazi genocide does not justify the persecution of Palestinians, Arabs, and others. She notes that this message has raised the ire of groups like the Anti-Defamation League and Stand With Us who have issued press releases against the tour. Sarah Kershnar says their reaction shows that they are at odds with the message of a common humanity. While each persecution of a people has its own particulars and each is unique, the important thing for survivors of genocides is not to say "never again for us," but "never again for anyone."
Dr. Hatem Bazian connects the dots between the deliberate promotion of islamophobia, the pro-Israel lobby, and the economics of the military-industrial complex in the U.S. Racism in the U.S. is not only projected inward, as seen in the make-up of the overwhelming majority of those in our prisons, but also outward to promote overseas wars in Muslim countries. Hatem Bazian discusses a number of well-known Zionist individuals and organizations -- from Daniel Pipes to AIPAC to Russian-born Israeli Minister of Foreign Affairs Avigdor Lieberman to U.S. Congressperson Peter King -- to show the ulterior motives behind their promotion of Islamophobia in the U.S. and Israel. Islamophobia is a tool used to shovel funding toward the military while domestic resources are cut for social services. Islamophobia is used to build unquestioning support for Israel so that it can continue its colonial expansion unabated. Islamophobia is used to shut down discussion of the billions of dollars a year that the U.S. gives to Israel every year and to quiet debate over Israel's persecution of Palestinians or America's bombing of Muslim countries. If Muslim people are dehumanized and marginalized, then a strong general hatred can be maintained and there will be less resistance to killing Muslims and taking their lands and resources. Hatem Bazian encourages those in attendance to stay informed, boycott those who promote islamophobia, and to support organizations working to confront Muslim stereotypes.
Sarah Kershnar returns to thank all of the sponsors of the tour, including Reverend Shriver, and to add information about the Simon Wiesenthal Center that Hatem Bazian had mentioned near the end of his talk. Sarah Kershnar notes that while the center does fine work in general fighting sexism, racism, homophobia, prejudice against those with disabilities, and other forms of bigotry, it opposed the planned Islamic cultural center in lower Manhattan (disparagingly referred to as the "Ground Zero Mosque"), equating the entire diverse Muslim population of New York with the 9/11 attackers. Hypocritically, the center is building their next "museum of tolerance" on the grounds of a Palestinian cemetery in Jerusalem, despite the fact that the Simon Wiesenthal Center has historically done considerable work fighting against the desecration of Jewish cemeteries in Europe. Sarah Kershnar reports that when she visited the one of their museums during the New York stopover of the "Never Again" tour, she found the presentations about such topics as refugees, home demolitions, and displacement incredibly powerful but not once was Palestine mentioned. In fact, in a video at the end of the educational program, about one third of the images shown, and the only images shown of Muslims, were of Muslims as "terrorists". A petition was passed around demanding that the center reform its educational materials, change the planned site of the new Jerusalem museum, and issue an apology to the Islamic cultural center in New York.
Dr. Hajo Meyer begins by remarking that those outside with the Israeli flags remind him of a time when he was ten years old and Nazis with flags stormed the building where he was giving a speech. He notes that you don't need gas chambers for genocide as there are many kinds. Some are slow-motion. The bad policies start when distinctions are made between "us" and "them". Hajo Meyer says that Israel is not a Jewish state but a Zionist state. He talks about the misuse and overuse of references to the Holocaust as a rhetorical defense for all of Israel's actions. This is ironic, he notes, as Israeli leaders have shown little sympathy for Holocaust victims and survivors, spreading the myth that European Jews did not resist Nazi persecution.
Hajo Meyer goes on to define the differences between what he calls Ethical Judaism and Zionism. Ethical Judaism can be boiled down to the most basic premise, the Golden Rule. Political Zionism is exactly the opposite of that universal humanitarian ethic. It is colonialist and racist, with one basic goal: maximum amount of land with minimum Palestinians. Hajo Meyer discusses the historical origins of Zionism and the goal or establishing a major Jewish presence in Palestine in the late 19th and early 20th century being linked with the severe European anti-semitism of the time that wanted to get Jewish people out of Europe. Early Zionists, while not as monolithic in ideology as modern practitioners, concluded that anti-semitism was the result of the Jewish people not having their own nation-state, but history has proven that having a state does not prevent abuse in other countries.
The state of Israel does two very bad things: it treats Palestinians inhumanely and doesn't give a damn about international law. Both are contrary to Ethical Judaism. And so as not to contradict themselves too much, Zionists accepted in large numbers a new religion, the Holocaust religion created by Elie Wiesel, another Auschwitz survivor. The three greatest dogmas of the Holocaust religion, as laid out by Weisel, are 1) "in the beginning there was Auschwitz," mimicking language from the Torah or the Bible; 2) no suffering in the world can ever be compared with our suffering in Auschwitz, so it is forbidden to compare what we do in Palestine with our own past suffering; and 3) the only thing with which Auschwitz can ever be compared is with the Sinai experience millenia ago when the Jews are understood to have gone through the desert after having left Egypt. Further, Elie Wiesel declared, the ethics of the Torah are no longer relevant because "in the beginning" there was Auschwitz.
Hajo Meyer says that people are born with empathy and they must learn to dehumanize others. When a people have been dehumanized themselves, as were the Jewish people in Europe during the reign of the Nazis, it becomes easier to dehumanize others. Large parts of the Israeli population now lacking empathy, due to their Zionist indoctrination from the earliest ages over the last 60 years, may lead to the end of Zionism as the country is destabilized from within by its own increasing aggressiveness, Hajo Meyer speculates.
To be clear that he is not directly comparing the Nazi genocidal holocaust with the Palestinian situation today, he points out that he primarily focuses on the years 1933-1941, what he calls the prelude to Auschwitz. It wasn't until 1942 that mass murder became Nazi protocol. Before that, there were only plans for mass deportation, as Avigdor Lieberman openly advocates for Palestinians today. At first, the Nazis wouldn't dare to start mass measures against the Jews as anti-semitism was not intense in many areas of Germany and non-Jewish Germans saw the Jews as assimilated in society and comrades from World War I. For the Nazis to carry out their first actions against Jews, they had to prepare by systematically dehumanizing and discriminating against the target population. New laws were created for Jews. Arrests without warrant became policy, school books were updated to demonize Jews, and a new ministry of propaganda was created. Earning money became more difficult due the systematic impoverisation of Jews, which in turn contributed to diminished feelings of empathy for their plight.
In Israel for many years there has been talk of mass deportations of Palestinians. Laws differ for Israelis and Palestinians. Detention without warrant is called "administrative detention". There is systematic indoctrination of Israelis from school to army. Palestinian shops are closed, crops destroyed, and houses stolen and/or destroyed.
One little new hope, Hajo Meyer notes, is that young American Jews in New Orleans demonstrated just days before against a speaking appearance by Israeli Prime Minister Benjamin Netanyahu, who has claimed that the Jews of the U.S. are delegitimizing the policies of Israel. The protesters held signs that read, "We are not delegitimizing Israel. Israel is delegitimizing itself by its inhuman treatment of Palestinians, their oppression, and their intrusion against international law."
Hatem Bazian and Hajo Meyer take questions from the audience for about a twenty-five minutes at the conclusion of their talks.
Event Announcement
http://www.indybay.org/newsitems/2011/02/02/18670997.php
International Jewish Anti-Zionist Network (IJAN)
http://www.ijsn.net
American Muslims for Palestine (AMP)
http://www.ampalestine.org
Middle East Children's Alliance (MECA)
http://www.mecaforpeace.org
"Never Again for Anyone" Tour
http://www.neveragainforanyone.com
We are 100% volunteer and depend on your participation to sustain our efforts!
Get Involved
If you'd like to help with maintaining or developing the website, contact us.