From the Open-Publishing Calendar
From the Open-Publishing Newswire
Indybay Feature
Judge orders gov't to submit Judi Bari bombing evidence for independent testing
Judge Larson orders gov't to submit Judi Bari bombing evidence for independent testing, after FBI hoped to destroy it.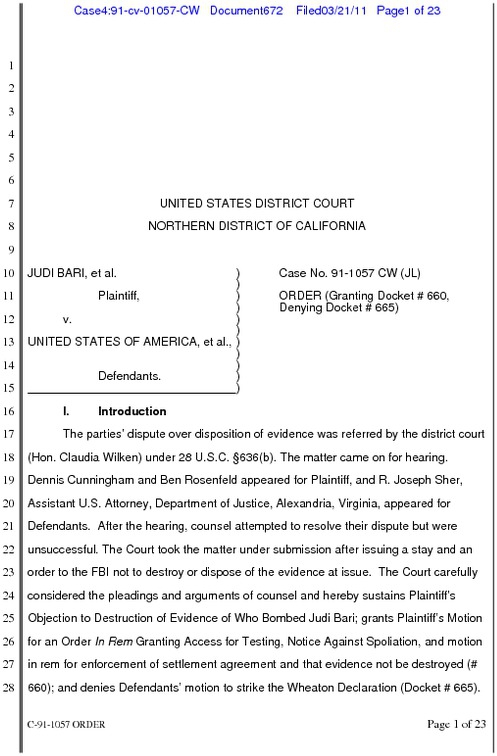 On March 21, 2011, Magistrate Judge James Larson issued this order granting a motion for preservation and independent testing of the bomb remnants (including potential DNA evidence, along with fingerprint evidence) in the case of the bombing of Judi Bari and Darryl Cherney.

Last year, the bombing victims' attorneys received word that the FBI intended to destroy this evidence, even though the FBI never conducted an honest investigation in trying to determine who bombed Judi and Darryl, and never so much as subjected this evidence, including duct tape contained in the nearly intact Cloverdale bomb (which misfired, and which the FBI itself acknowledges was built by the same bomber(s) as the car bomb which ripped through Judi Bari's Subaru car seat and up into her body on May 24, 1990) to forensic examination.

In 1990, bombers did not know to cover their DNA tracks. There is every reason to believe that these bomb components may contain forensic evidence which will finally answer the question, who bombed Judi Bari. The FBI, apparently, has never sought DNA testing of this evidence, and has never so much as compared the usable fingerprints it lifted. Furthermore, given the history of this case, the victims cannot trust the FBI to do this sincerely on its own. For this reason, their lawyers sought both preservation and independent examination.

In keeping with its long and continuing tradition of targeting and framing left wing political activists (a pattern which continues into the present under Obama's FBI, evident in the abhorrent and terrorizing recent raids in Chicago, the Twin Cities, and other locales on above board peace activists and supporters of Palestinian self-determination, and their families), the FBI and the DOJ set out in 1990 to frame Judi and Darryl, and to discredit the environmental movement Earth First!, by accusing them of transporting the assassin's car bomb which nearly killed them.

To try to make their political frame-up case, FBI supervisors and senior agents flagrantly and extensively lied about the physical evidence, events leading up to the bombing, and Earth First!'s history, to other responding law enforcement agencies, including the Oakland police, and to its own agents. Judi and Darryls' legal team finally undressed these lies in a federal civil rights trial against the FBI and the Oakland Police in 2002, in which a jury found not only that authorities had falsely arrested and accused Bari and Cherney in violation of their Fourth Amendment rights, but that they had done so for the insidious purpose of trying to discredit their environmental movement, in violation of their First Amendment rights. The jury awarded a total of $4.4 million to Bari's estate (Bari died of breast cancer in 1997) and Cherney against various responsible FBI agents and Oakland police officers.

The civil case helped expose the fact that FBI dirty tricks continue into the present, notwithstanding the scrutiny of the Church Committee and its condemnation of J. Edgar Hoover's COINTELPRO progam in the 1970s, and it stands as a monument in the continuing struggle to stop the FBI from working to disrupt the supposedly free political assembly and expression of people on the left.

The FBI's refusal to subject the bombing evidence to the most rudimentary physical analysis demonstrates plainly that its only interest in the case was to blame and frame the victims, not to solve the heinous crime against them. Judge Larson's order clears the way for Darryl Cherney, on his own behalf and on behalf of the late Judi Bari, to work, finally, to solve the bombing, after the FBI has completely abdicated that responsibility and only ever interefered.
Reply in support of motion for order granting access for testing to evidence of who bombed Judi Bari.
We are 100% volunteer and depend on your participation to sustain our efforts!
Get Involved
If you'd like to help with maintaining or developing the website, contact us.