From the Open-Publishing Calendar
From the Open-Publishing Newswire
Indybay Feature
View other events for the week of

3/25/2011
Press Conference/Commemoration Of The Triangle Fire
Date

Friday March 25

Time

12:00 PM

-

1:00 PM

Import this event into your personal calendar.
Location Details
San Diego North County Court House
325 S. Melrose Ave, Vista, CA
Event Type

Press Conference

Organizer/Author
California Coalition For Workers Memorial Day

There will be a press conference/Commemoration event for the Triangle Fire at the North County San Diego Court House. Judges in the San Diego Court are trying to silence injured worker advocate Sharon Kramer. Also injured Poway Toyota worker Tim Hack will be talking about the situation of injured workers who have been contaminated by mold at the Poway Toyota dealership

3/25 San Diego Press Conference/Commemoration Of The Triangle Fire-Fight For The Living-Remember The Dead

Press Release Press Release Press Release

3/25/2011 12:00 Noon

San Diego Press Conference/Commemoration Of The Triangle Fire

Fight For The Living-Remember The Dead

Place:

San Diego North County Court House

325 S. Melrose Ave, Vista, CA

On 3/25/2011 at the San Diego North County Superior Court in Vista, there will be a

press conference by injured workers from Poway of Toyota and injured workers advocate Sharon Kramer. Kramer is fighting court action in San Diego North County Superior Court to silence her speaking out about mold and the role of American College for Occupational and Environmental Medicine (ACOEM) and the US Chamber of Commerce mass marketing misinformation.

Despite health and safety gains made 100 years ago as a result of the Triangle Shirtwaist

fire in New York City and a national effort to implement protection for workers from fires, workers in the United States and around the world still are injured and killed without proper

health and safety protection, healthcare and compensation.

Sharon Kramer has spoken out about the role of ACOEM in hiring consultants who have

provided tainted information in studies in order to limit liability of companies and the insurance industry particularly on mold, while the US Chamber of Commerce mass marketed it to the courts.

.

As a result she has been targeted by the industry, ACOEM, the Chamber and judges who have been complicit in this cover-up.

Additionally,Toyota of Poway workers have been sickened by mold at the Toyota dealership. Their claims of workers compensation have been delayed and deferred. They have been forced to go on State Disability which does not provide healthcare.

Tim Hack, one of the injured workers will be reporting on this contamination and the status of the San Diego County Insurance fraud Task force investigation into Toyota Of Poway and their insurer Corvel for workers comp fraud. A massive cost shifting scam is going on with expense for worker injury being shifted on to SS-DI and other Government programs rather than the employer and their insurer paying the cost.

Sharon Kramer and Tim Hack will also be presenting testimony at a national conference on ACOEM, Labor And Workers Compensation in San Francisco on March 26, 2011.

The fight to protect health and safety 100 years ago continues today as workers and their advocates fight for justice. We invite other injured workers and injured worker advocates to join us and speak-out.

For further information contact:

California Coalition For Workers Memorial Day in San Diego 619-572-3337

California Coalition For Workers Memorial Day (415)867-0628

http://www.workersmemorialday.org http://www.laborfest.net/TriangleFire/schedule.htm

Toyota of Poway Workers Injured By Mold File Workers Comp Fraud Charges At San Diego DA

http://blip.tv/file/4064211 http://blip.tv/file/2520407

15.25 minutes

Sharon Kramer, an expert on mold, ACOEM and the US Chamber spoke at a press conference called by the California Coalition For Workers Memorial Day for injured workers at the Downey toxic dump site.

http://blip.tv/file/2483914

3/25 Solidarity In San Diego Court With Injured Worker Advocate And ACEOM Critic Sharon Kramer

ACOEM And Judges Trying To Silence Injured Workers Advocate and ACOEM Critic Sharon Kramer

Friday March 25th 1:30 PM San Diego North County Courtroom

Commemorate the Triangle Fire On The Same Day

From Sharon Kramer

On March 25th, in the San Diego North County Courtroom of Dept 30 at 1:30, the State of CA is anticipated to gag a US citizen (me) from ever writing and evidencing again of how the US Chamber of Commerce got their unclean hands in the mold issue by teaming up with the Manhattan Institute think-tank and paying Hardin and Kelman to write a policy paper for the Chamber that is a lay translation mass marketed to the courts. of what they wrote for ACOEM

Supported by California Coalition For Workers Memorial Day

http://www.workersmemorialday.org

(415)867-0628

Remember The Triangle Fire National Brochure & Calendar

http://www.rememberthetrianglefire.org/images/TriCoNewspaper.pdf

Dear All,

In a modern day tale of the Emperors New Robe, ACOEM continues to feign that they put out current accepted science over the mold issue ten years ago as health policy...and that it is still science today.

So where is our government to shut this down (when the interests of the US Chamber are involved)?

Does "pay no attention to the man behind the curtain," apply here?

Ignore that those funky math calculations end up being a real embarrassment (and a sure loss) for any defense attorney who tries to use them in an honest court.

I suppose we should thank ACOEM for helping to keep the defense bar easily exposed as parading bare in their denials of causation.

But lives are still lost by their selling of doubt. (and of course the position of ACOEM and the US Chamber will still be effective to beat people down for several months before trial. They will still cause many sick people - whether in litigation or not - to be misdiagnosed & left unaware while staying in moldy buildings as their health mysteriously deteriorates, sometimes into death).

WCC's writing today (excerpts below) is excellent. I would highly suggest that anyone who is having difficulty obtaining medical treatment or who has a mold claim buy this article. It only costs $7.00.

If you can, please send Jim and Patrick at WCC a note to thank them for helping us bring this to public light and buy the article.

jim [at] workcompcentral.com

&

patjenreilly [at] comcast.net

To purchase & read this article in its entirety, go to:

http://www.workcompcentral.com/signup/news/index.php?id=34467318de5e107dbebf8abd510d320cj

I pulled out a few quotes below. This one is most indicative of ACOEM's continued imperialist attitude of no need for transparency and democracy (or any research after 2002 cited) when setting health policy that impacts all:

"McLellan said the general public also had the opportunity to comment on the revisions."

Did I miss something? I never got to see what they were putting out before they did it, or to comment on what they wrote. I see nowhere that they took our scientifically evidenced suggestions to heart. Does anyone else?

PS. On a personal note, on March 25th, in the San Diego North County Courtroom of Dept 30 at 1:30, the State of CA is anticipated to gag a US citizen (me) from ever writing and evidencing again of how the US Chamber of Commerce got their unclean hands in the mold issue by teaming up with the Manhattan Institute think-tank and paying Hardin and Kelman to write a policy paper for the Chamber that is a lay translation mass marketed to the courts. of what they wrote for ACOEM

The ACOEM mold statement meaning (that has not conceptually changed with this new version) in lay words according to the Chamber: "Thus the notion that toxic mold is an insidious secret killer as so many media and trial lawyers would claim is junk science unsupported by actual scientific study."

THE US CHAMBER VERSION OF ACOEM's CITES FALSE AUTHORSHIP OF BEING CO-WRITTEN BY A PHYSICIAN. NOPE! Just Hardin and Kelman.

This anticipated ruling that will make me gag on the 25th and our founding fathers role over in their graves, will establish new (underground) case lawthat US citizens can be silenced by the courts from writing words that are adverse to the interest of the insurance industry & US Chamber of Commerce (and ACOEM).... without even having to first sue the citizen for the words or show any evidence they are incorrect.

Specifically, on March 25th, I will most likely be illegally gagged from writing "He [Chamber author, Kelman] admitted the Manhattan Institute paid GlobalTox $40,000 to write a position paper regarding the potential health risks of toxic mold exposure." I have never even been sued for those words and they are 100% evidenced to be correct!!!

This means all of the following words will be gagged, too, of how ACOEM's science over the mold issue is waaaaay too close to that of the paid for hire endeavor of US Chamber and a think-tank:

"In 2003, with the involvement of the US Chamber of Commerce and ex-developer, US Congressman Gary Miller (R-CA), the GlobalTox paper was disseminated to the real estate, mortgage and building industries' associations. A version of the Manhattan Institute commissioned piece may also be found as a position statement on the website of a United States medical policy-writing body, the American College of Occupational and Environmental Medicine."

The only words I have written of this matter that have even been challenged as incorrect are "altered his under oath statements" was a false accusation of perjury - and the courts cannot even state how this claim pans out.

See LINK of complaint from 2005 for the five words "altered his under oath statements" & injunctive relief sought on March 25th gag me to hide how the Chamber/Manhattan Institute money & unclean hands got into this issue and policy...and they are trying to shut me up so that they can do it again!!!

So much for the 1st Amendment or protecting the public when the U$ Chamber is involved!

On Saturday, March 26th, I am scheduled to speak of all of the above at a workers health rights conference in San Francisco.

Wonder if I can do it via some sort of webcast from my jail cell....when I tell the courts on Friday the 25th, to pound sand.

We are not the United States of the US Chamber of Commerce! (are we????)

Sharon

*****************************************************************************************

WorkCompCentral Top 03/09/11

Revised ACOEM Mold Statement Doesn't Appease Critics:

By Patrick Reilly, Correspondent

The American College of Occupational and Environmental Medicine has released long-awaited revisions to its contentious position paper on the health effects of mold exposure, but one mold activist said the paper will not help workers' compensation claimants because the college's position is essentially unchanged....

The paper, released Feb. 24, says indoor molds have an "important, but minor overall role in allergic airway disease. Except for persons with severely impaired immune systems, indoor mold is not a source of fungal infections."

The conclusion isn't significantly different than the statement in ACOEM's original position statement, which drew fire from critics who say the college is too cozy with claims payers....

"What they put out is exactly what we expected," Kramer said. "It is a new and improved litigation defense argument that is not based on currently accepted science."...

ACOEM's original paper relied in part on a test in which mice were exposed to a specific strain of mold and suffered no significant health effects. The test was extrapolated to reach the conclusion that exposure to mold would have no effect in humans.

"It is insurance fraud. Nothing has changed," [Kramer] said. "They took data from a single rodent study. Those calculations have been thrown out of court." (I added the links!)

ACOEM came under fire for its 2002 position paper after a Wall Street Journal report revealed that the two authors, Bruce Kelman and Bryan Hardin, were toxicologists and defense witnesses who testified that there was no health effect caused by exposure to mold....

McLellan said the general public also had the opportunity to comment on the revisions....."Public comments did go to the Council of Scientific Advisors."

******************************************************************************************

Sharon Noonan Kramer

March 26, 2011 National Educational Conference-Corporate Medicine, Injured Workers, ACOEM And Labor

10:00 AM -5:00 PM

An national education conference on the role of the American College for Occupational and Environmental Medicine ACOEM

on workers compensation healthcare in California and nationally. ACOEM rules for healthcare for injured

workers has been imbedded into the law in California.

ACOEM has prevented injured workers from getting acupuncture and the issue of the corporate control of science and it's

affect on injured workers will be examined.

Speakers include Dr. Larry Rose, Dina Padilla injured worker advocate, Dr. Jack Thrasher, Sharon Kramer researcher, Tim Hack, Injured Woker Poway Toyota

ILWU Local 34

800 2nd St./Embarcadero next to AT&T Stadium

San Francisco

Sponsored by California Coalition For Workers Memorial Day CCWMD in conjunction with the 100th Anniversary of The Triangle Fire

http://www.workersmemorialday.org http://www.moldwarriors.com/SK/IJOEH_Oct07_LaDou.pdf http://www.acoem.org/comments.aspx?id=7175

"The Triangle Shirtwaist Factory Fire, 1911, San Diego, CA, 23 Mar 2011

http://www.klezmershack.com/calendar/009814.php

KLEZCALENDAR

THE KLEZMERSHACK CALENDAR - JEWISH MUSIC EVENTS AROUND THE WORLD, ALONG WITH OTHER MUSIC EVENTS THAT SOUND INTERESTING - ALL THE EVENTS I HAVE TIME TO POST.

« Klezmer Orchestra Workshop/Performance, London, UK, 21 Mar 2011 | Main | "The Triangle Fire Remembered" w/Metropolitan Klezmer, 25 Mar 2011 »

Yale Strom debut, "The Triangle Shirtwaist Factory Fire, 1911, San Diego, CA, 23 Mar 2011

The Triangle Shirtwaist Factory Fire, 1911

An Original Cantata

by Artist-in-Residence Yale Strom

Join us for the debut of an original composition of music and song commemorating the lives of the Jewish and Italian immigrants who lived in the Lower East Side and tragically died on March 25th, 1911 in the Triangle Shirtwaist Fire which, until 09/11, was the worst single calamity in New York history.

Featuring:

Yale Strom, violin

Elizabeth Schwartz, vocalist

Mark Dresser - contrabass

Fred Benedetti - guitar/mandolin

Lou Fanucchi, accordion/vocals

Introduced by Professor of Women's History Dr. Susan Gonda, Grossmont College

Wednesday, March 23, 2011

7:00 PM

Rhapsody Hall, Music Building,

San Diego State University Campus

This Event is Free and Open to the Public

Co-Sponsored by the Dorris Lipinsky Endowment for the Jewish Performing Arts, the Jewish Studies Program, and the European Studies, History, and Women's Studies Departments, SDSU

Posted by Ari Davidow on March 23, 2011 7:00 PM | Permalink

Added to the calendar on Saturday Mar 19th, 2011 7:40 PM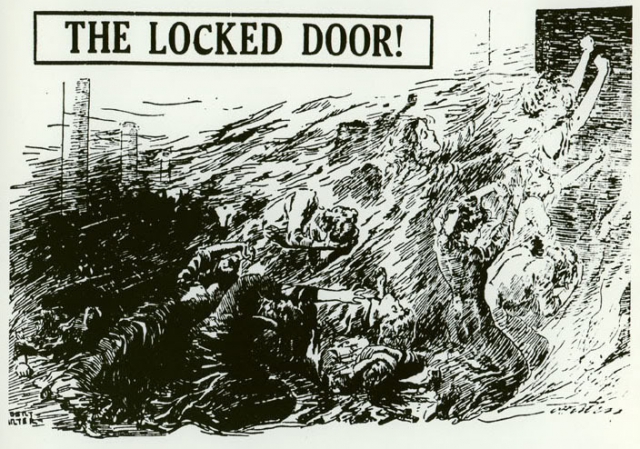 In 1911 US garment workers faced locked doors, now workers are injured and sickened by mold and other toxins and are denied treatment due to ACOEM and other employer/insurance industry controlled medical groups including the AMA guidlelines for workers compensation.
We are 100% volunteer and depend on your participation to sustain our efforts!
Get Involved
If you'd like to help with maintaining or developing the website, contact us.