From the Open-Publishing Calendar
From the Open-Publishing Newswire
Indybay Feature
Fresnans' Stand in Solidarity with the People of Wisconsin
National Day of Action event held in Fresno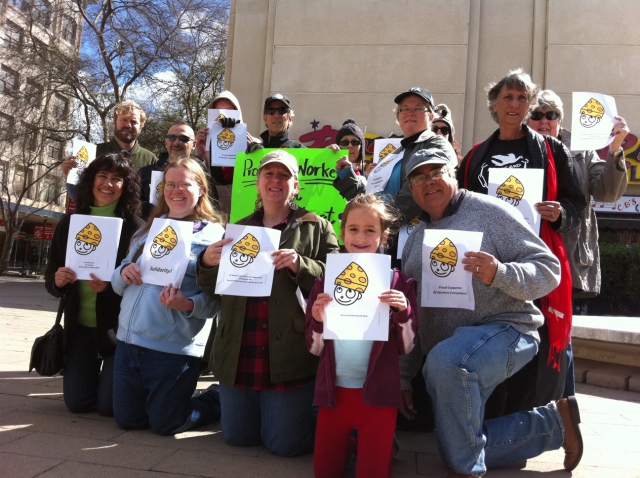 On Saturday, Feb. 26, during the national day of actions in support of workers, a small but enthused mix of of folks in Fresno stood in spontaneous and impromptu solidarity with the people in Wisconsin. Choosing the Fulton Mall's Free Speech platform as their gathering site, the link between today's world events and that great struggle by the Industrial Workers of the World commemorated at that very plaza was clear. The group represented a variety of perspectives and backgrounds. Participants spoke about the need to stand with Wisconsin, pointing out that it is not the unions, not the workers, not the public sector employees who have caused this budget crisis. Some spoke about the power and importance of labor in protecting and bettering conditions in society. One Fresno teacher noted, for example, that in every right to work state education quality is lowest, in states with strong teachers union, education quality is highest. Another participant spoke about the need for reform that would reign in the power of corporations, about the growing inequality in the society, about the need to tax the corporations and wealthy. For example, they noted a major tax cut to corporations in Wisconsin was granted by the same Republicans who now make public workers the scapegoats, and that this decline in revenues, not increased worker cost, has caused much of Wisconsin's current fiscal woes. The same speaker noted that the CEOs of Americas richest companies now make some 300 times the average worker, far outstripping the CEOs of similar industrialized countries. Another rally member said she had heard the figure was 500 times. A retired worker spoke of the need for Unions to stand firmer and stronger against cuts in workers rights. She noted her health care, free at the start of her retirement, has gone up in cost three times, while her company CEO's income has gone up by millions. The costs of wars and the military machine also entered the conversation as a natural place where money could be found for improving infrastructure and helping those in need. Still others at the event called for more radical and systemic changes, asserting the need for a world that was controlled by people and cooperation, not corpoations or profit, a world free of classes and exploitation. Standing across differences, the group stood in solidarity both with the workers of Fresno, and the workers of the world. We are all cheeseheads now!
We are 100% volunteer and depend on your participation to sustain our efforts!
Get Involved
If you'd like to help with maintaining or developing the website, contact us.