From the Open-Publishing Calendar
From the Open-Publishing Newswire
Indybay Feature
Related Categories:

San Francisco | Media Activism & Independent Media | Police State & Prisons
Indybay Reporter Files Supreme Court Appeal in Civil Rights Case
On Tuesday, Feb. 22nd, Indybay reporter Mark Burdett filed an appeal with the U.S. Supreme Court in a federal civil rights lawsuit stemming from his 2004 arrest for "jaywalking" while covering an antiwar protest in San Francisco. The story was featured on the Feb. 23rd episode of
The Colbert Report
.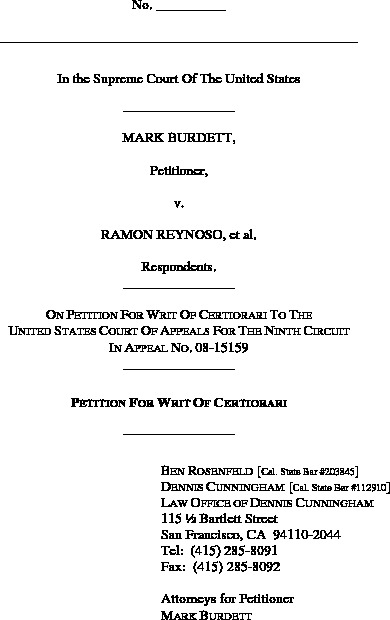 Download PDF (792.7kb)
On March 20, 2004, the first anniversary of the U.S. invasion of Iraq, tens of thousands of protesters took to the streets of San Francisco to protest a murderous, unjust and illegal war[1]. During a spontaneous march from Civic Center towards downtown featuring the famed marching band
Infernal Noise Brigade
, San Francisco police surrounded and mass-arrested scores of protesters in the middle of Market Street. Later, police beat with batons and violently arrested smaller groups of demonstrators, breaking the arm of one protester while he was in a choke hold.
While filming the latter incident from a parking turnout, I was wrongly accused of knocking over a police motorcycle and slammed face first onto the pavement by riot police, who proceeded to break my thumb while seizing my camera equipment and handcuffing me. One officer actually asked me twice during the arrest, "Do you want me to break your thumb?" While being assaulted and arrested, I wore a clearly-visible official press credential issued by the very same SFPD. I was booked into jail on a raft of cover charges, including jaywalking, which were later dropped by prosecutors.
In a series of recent civil rights cases[2], the U.S. Supreme Court has permitted the "custodial arrest" of people for petty offenses. In an October 2010 ruling on my appeal, the Ninth Circuit Court of Appeals carried this precedent to an absurd extreme --
http://www.indybay.org/newsitems/2010/10/12/18661242.php
-- finding that police have absolute probable cause to arrest a credentialed reporter for "jaywalking," while standing in a parking turnout, on a street blocked to traffic, during an antiwar march, filming the violent arrest of a protester.
On Feb. 23rd, the story was featured on The Colbert Report:
http://www.colbertnation.com/the-colbert-report-videos/375208/february-23-2011/nailed--em---mark-burdett
[1] Indybay coverage of March 20, 2004:
http://www.indybay.org/newsitems/2004/03/22/19302.php
,
http://www.indybay.org/newsitems/2004/03/20/19242.php
,
http://www.indybay.org/newsitems/2004/03/20/19232.php
[2] Civil rights whittled away by the Supreme Court in recent years:
http://en.wikipedia.org/wiki/Whren_v._United_States
,
http://en.wikipedia.org/wiki/Atwater_v._City_of_Lago_Vista
,
http://en.wikipedia.org/wiki/Devenpeck_v._Alford
Copy the code below to embed this movie into a web page:
Download Video (137.4mb)
We are 100% volunteer and depend on your participation to sustain our efforts!
Get Involved
If you'd like to help with maintaining or developing the website, contact us.