From the Open-Publishing Calendar
From the Open-Publishing Newswire
Indybay Feature
Interview with Frances Fox Piven Live: On Glenn Beck and Death Threats
Import event into your personal calendar
Date:
Friday, January 28, 2011
Time:
Event Type:
Speaker
Organizer/Author:
Diane
Location Details:
---
Glenn Beck has issued a Mormon 'fatwa' to his christofascist minions. The target? Dr. Frances Fox Piven. Last week, Democracy Now! covered Glenn Beck's growing obsession with CUNY professor of political science, Dr. Frances Fox Piven. Dr. Piven and her late partner Dr. Richard Cloward sparked the welfare rights movement in the 60s and 70s. Beck has made Piven public enemy #1 on his Fox "News" Show, attacking her for ostensibly advocating violent revolution in the US and blaming her for everything that ails America's capitalist dictatorship. Since the Democracy Now! interview last week, credible Beck-inspired death threats against Piven have escalated to the point that she requires bodyguards. Hear what she has to say about it all. Despite the very real threat to her personal safety, the 78 year old professor refuses to back down. She has been fighting back and eviscerating Beck during interviews in the corporate media and the leftish independent media alike. In my view, Dr. Piven's politics are not even remotely radical these days. However, her metamorphosis into a run-of-the-mill "progressive" reformist, while unfortunate, belies the somewhat more radical approach she took in earlier years--she did in fact espouse the rhetoric of class warfare, for example. Although I have not personally read anything where she calls explicitly for the complete dismantling of the hierarchical social and economic institutions that perpetuate the US state-corporatist plutocracy, she arguably flirts with such possibilities in some of her work. Regardless of what one thinks of Piven's politics, one cannot help but ponder the implications of the liberal corporate media's call for the assassination of a center-left (at best) activist/academic for those of us who identify as "radical". The ruling class has systematically used the media to paint moderate reformists as extreme leftists, and they have cited the "radical" ideology of such individuals as justification for murdering them. In fact, the elite's mouthpieces in the liberal corporate media have cleverly disseminated the notion that doing so is socially acceptable. Indeed, they go so far as to insinuate that it is every American's patriotic
duty
to shoot these "left wing extremists" in the head. What does this current spectacle tell us about the imminence and nature of the elites' plans for those of us who are anarchists, marxists, and anti-capitalists of all stripes? And what does it especially mean for those of us who also inhabit other marginalized identities--queers, people of color, women, people with disabilities, etc ? I am not suggesting their violent tactics to neutralize us are anything new (e.g., Seattle, the RNC Welcoming Committee, etc). What
is
new is their current level of overwhelming success in defining the political spectrum such that a right-wing pigeon from outer space like Obama is a "socialist". Nevermind that Obama has made Bush look like an amateur when it comes to expanding the police state, silencing dissent, warmongering, grinding the few remaining bones of the virtually non-existent social welfare system into dust, and enforcing a brutal neoliberal agenda around the world. Far right is the new "left". If the ruling class can now effectively order US citizens to threaten and kill right-wing politicians and centrist academics for being too far to the left without any public outcry, without so much as a single disgruntled letter to the editor, then I fear that those of us who identify as anti-capitalists have thus far had little more than a faint taste of what the statist corporatocracy has in store for us. I am uring all anti-capitalists to participate in a live interview with Professor Frances Fox Piven this evening. She will of course be talking about the recent events regarding Beck, but she will be on for a whole hour. It would be interesting to see how the formerly "radical" professor handles intelligent questions and critiques from callers and chat participants from the left. For instance, how does someone go from being a proponent of class warfare to identifying as a democrat? Why is she helping to perpetuate the myth that the entire political spectrum is encompassed between Fox News on the right and MSNBC on the "left"? Why is she minimizing her earlier work which articulated a (relatively) more radical praxis that involved strategic efforts to facilitate the erosion of capitalism's foundation in the US? And given what she knows and has experienced, how can she possibly view voting as anything more than a waste of time that could be better spent doing....well, practically anything else? For more information on how to participate in the live chat session during the show, go to
The Wild Wild Left
home page.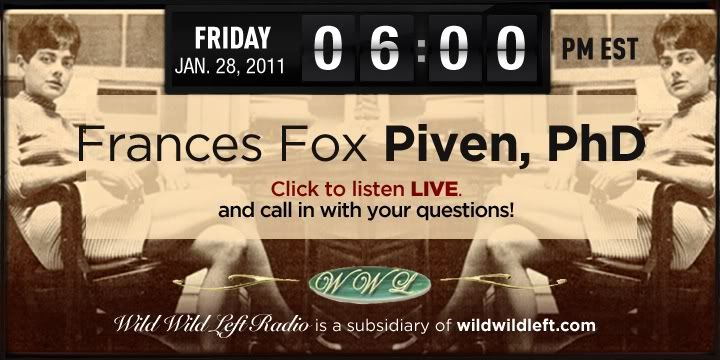 Added to the calendar on Fri, Jan 28, 2011 8:58AM
We are 100% volunteer and depend on your participation to sustain our efforts!
Get Involved
If you'd like to help with maintaining or developing the website, contact us.