From the Open-Publishing Calendar
From the Open-Publishing Newswire
Indybay Feature
Need Oversight of Fed Funds That Educate US Physicians Of Water Damaged Building Illness
Dear CDC, Agency of Toxic Substance & Disease Registry, EPA and San Diego Appellate Court, Are We Federally Funding Insurer Cost Shifting Environmental "Science" When Educating US Doctors on Behalf of the Affiliates of the US Chamber of Commerce...and aiding to try to cover it up in the San Diego court system by (trying to) silence and discredit a Whistle Blower?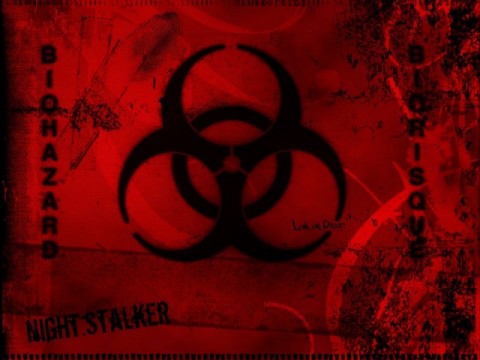 On January 17, 2011, Seventy Five Physicians, Scientists and Citizens sent a letter to CDC ATSDR and EPA requesting transparency and oversight of what America's pediatricians and other US physicians are being taught of children's illnesses caused by exposure to Water Damaged Buildings (WDB) through the collaboration of private medical associations and Federal funds. The gist of the concerns raised is *"Certainly, the directors can understand the concern when tax dollars are used to potentially harm the public when some of the US policy writers involved in influencing America's pediatricians and occupational physicians of the causes and effects of WDB exposures also generate income aiding insurers to deny any causation or effect even exists. This in turn, may aid insurers to shift the cost of WDB-illness onto us, the US taxpayer."* View the letter sent to our nation's leaders in entirety at "Exposing Environmental Health Threats And Those Responsible" - Katy's Exposure Blog
http://katysexposure.wordpress.com/2011/01/18/request-for-transparency-oversight-of-federal-funds-used-to-educate-us-pediatricians-of-children%e2%80%99s-illnesses-caused-by-water-damaged-buildings-%e2%80%9cwdb%e2%80%9d/
Be sure to view the comments of signers knowledgable of a deception in US public health policy and CA workers comp policy, which includes the following comment:
"It is impossible to follow the directive of the Federal GAO to send consistent messaging regarding these illnesses if there is no transparency of what messages are being sent. Please let the public see what the pedriatricians and occupational physicians are being taught regarding illness from water damaged buildings with the use of federal funds.
Disclosure: I am in litigation with the authors of the ACOEM mold statement and have been for six years in the San Diego Court System over my use of the phrase, "altered his under oath statements on the witness stand" , coencidentally just happened to be in the first public writing to expose how the policy medical policy writing body, ACOEM, & the US Chamber of Commerce are connected in the marketing of misinformation over this issue. Oddly, not once have the courts acknowledged my role in helping to reshape US public health policy - and no CA government body seems willing to intercede. Sharon Kramer
http://freepdfhosting.com/b801845975.pdf
".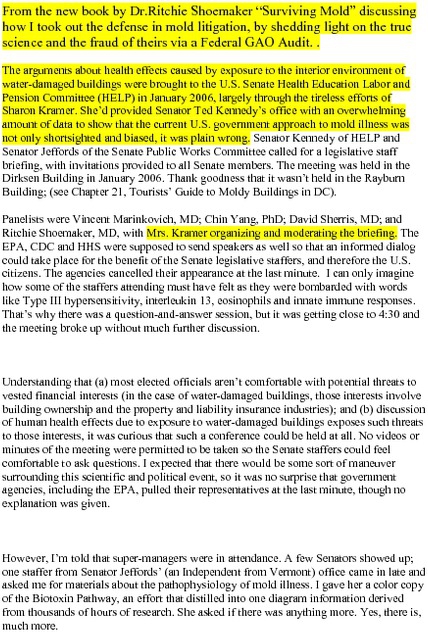 We are 100% volunteer and depend on your participation to sustain our efforts!
Get Involved
If you'd like to help with maintaining or developing the website, contact us.