From the Open-Publishing Calendar
From the Open-Publishing Newswire
Indybay Feature
Sixth Annual Last Night DIY Santa Cruz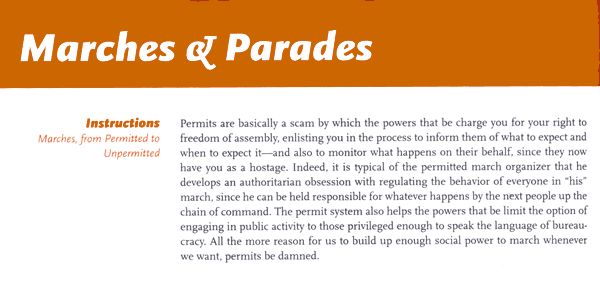 Import event into your personal calendar
Date:
Friday, December 31, 2010
Time:
Event Type:
Party/Street Party
Organizer/Author:
Location Details:
Meet at the Saturn Cafe lot, Pacific & Spruce
5pm Sunset on New Year's Eve

Parade will take off at 5:30pm
and end in a street party at Pacific & Cooper
---
Last Night is a do-it-yourself, decentralized, collective, spontaneous, open, public New Year's Eve celebration in Santa Cruz, California.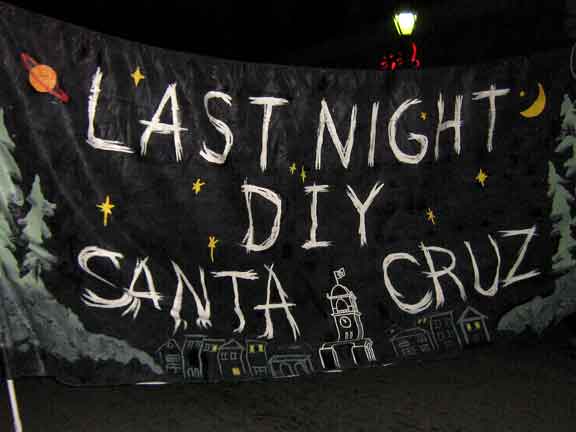 What Is This?
The only parade where there are no spectators - only participants!
As opposed to the (now defunct) city-sponsored First Night, Last Night is a decentralized, collective, open, public New Year's Eve celebration.
DIY stands for do-it-yourself. And that is what we are doing. A little bit of planning, a little bit of work, some getting together. This is our celebration that you and I make happen. This is not a paid gig, not something organized or well-planned. It's a people's event. We are doing this just for the love of it.
The latin root of the word amateur means to love (as in
te amo
or
mi amor
). So an
amateur
is one who does something for the love of it. And in that sense, we are all amateurs here. Let downtown be filled with music and dancing as we ring in the new year!
A Do-It-Yourself Parade
How do you make a parade without the help of professional organizers, event wranglers, scheduled bands and performers, and any money whatsoever?
You just do it.
We are the organizers -- you and I. We tell our friends and they tell theirs. We commit to doing it because it's a swell idea and we make it happen. We call up improbable connections and talk people into it.
We have no scheduled bands and performers. We tell a bunch of people we know, all the talented jugglers and artists and musicians we know in town and do our best to sell them on this unlikely but alluring idea and see if they'll come.
We are participating in the Gift Economy. It is our gift to our community, to each other, and to ourselves. In the morning hours on January 1st we'll finally go to bed after the best New Year's celebration we can remember thinking, "Wow, did we really just pull that off?" And that will be all the payment any of us will need.
Logistics and the Devil in the Details
Meet at 5pm on New Year's Eve at Spruce & Pacific near the Saturn Lot.



The parade will start at sunset, 5pm or thereabouts. Immediately followed by a street party at a secret location. This is seats-of-the-pants un-organizing and plans are subject to all kinds of change. So make sure you and yours are on the announcement list so you can get up-to-the-minute notices.
A Celebration Without Permits and Permission
We're not asking for permits or permission. We're just gonna do it. We'll start at one end of the mall and march down Pacific. Extra bonus points if we can pull off a swell dance party to rollicking live music on the other end. This is your parade, your celebration, and your new year.
Its OUR city, not seven semi-elected smineless bureaucrats who meet now and then to tell us what we can and can't do. I don't expect them to approve. But then we're not asking for their approval either.
In our city, we give ourselves permission to celebrate. We give ourselves the okay to bring music and dancing and art out into the streets downtown.
No guarantees, but we can definitely say it will be fun trying. Instead of seeking permits from capricious and cautious city managers, how about instead we focus on seeing who's willing to take the risk of truly living without limits?
Want more of this rant? See our
Last Night Manifesto
.
A Street Party
At the end of the parade we're hoping for a robust, rollicking street party. We're hoping for an all live Brazillian, Indonesian, mariachi, funk, trash orchestra, fire dancing, get-down-with-your-bad-self shindig at a surprise location.
Get your groove on and prepare to dance until your parts are sore.
Who determines what kind of fun we will have? You do. We want to see the whole downtown turned into a giant block party. Start scheming about that performance you've been wanting to put on. Invite strangers. Invite friends. Invite neighbors. Kiss in a New Year into the wee hours. Make it a night.
Every year at midnight of the new year, our little town just sadly folds right up. The stroke of twelve is the traditional toll of doom to our community New Year's party.
But this year will be different. A Last Night of old traditions.
History
How did this get started? Check out the
Last Night DIY history page
.
Added to the calendar on Mon, Dec 20, 2010 9:18PM
We are 100% volunteer and depend on your participation to sustain our efforts!
Get Involved
If you'd like to help with maintaining or developing the website, contact us.