From the Open-Publishing Calendar
From the Open-Publishing Newswire
Indybay Feature
East County Journalist Miriam Raftery: Taking It to the Web
When San Diego East County journalist Miriam Raftery found the local community weeklies unwilling or unable to publish the kinds of journalism she wanted to do — from exposés of corporations like Blackwater to up-to-the-minute wildfire alerts — she turned to the Internet and started the online East County Magazine. Now over two years old, East County Magazine has won 32 independent journalism awards and broken several major stories.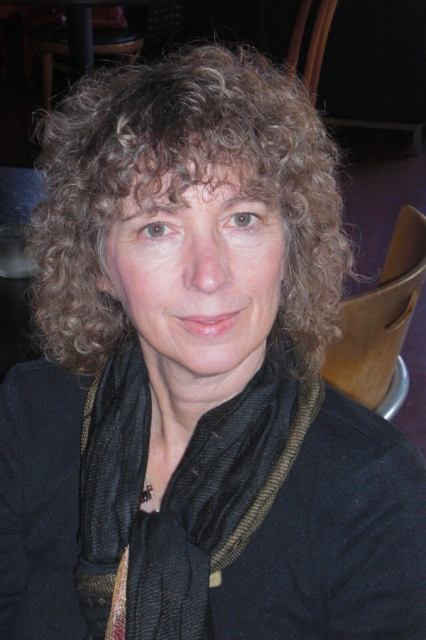 Miriam Raftery: Taking It to the Web
Local Reporter Creates Outlet for Journalism Print Papers No Longer Want
by MARK GABRISH CONLAN
Copyright © 2010 by Mark Gabrish Conlan for Zenger's Newsmagazine • All rights reserved
The wildfires that swept through San Diego's East County in 2007 didn't just burn through swaths of rustic environment and cost people their homes; they also ended Miriam Raftery's career in print journalism. "I had been a reporter out there for some time for some of the local papers, but they were all print weeklies," she explained in a recent interview with Zenger's. "During the 2007 wildfires I started to get e-mails, literally at night, from people in these back-country towns, saying, 'Miriam, our phone line has burned down. I can't call in or out. There's smoke everywhere. We've tried getting out this road or that road, and it was blocked. We don't know where to go, where there's shelter or in what direction the fire is burning. There's nothing on TV. There's nothing on the radio. Can you help us find out what's going on?"
When you're getting phone calls from people facing imminent danger to their lives and their property from wildfires stretching over hundreds of acres and fueled by 100-mile-per-hour winds, Raftery explained, the last thing you want to tell them is they can read about it in next week's issue of their local paper. This was one reason why, in September 2008, she started East County Magazine, a local Web site (
http://www.eastcountymagazine.org
) that could give East County residents up-to-the-minute information about wildfires and other natural disasters threatening their communities. "We started the Wildfire Alerts and started posting them so they would actively alert readers that this was coming and they might want to be packing," Raftery said.
But reporting on emergencies wasn't the only reason Raftery launched her site. She was also tired of being censored by the publishers she was free-lancing for, and the final straw came on the attempts of Blackwater, the private military-services company now known as Xe, to set up a training center in the small Potrero neighborhood in South County. The local planning committee voted 6-1 to allow Blackwater to build their camp, and community opponents organized a recall campaign to oust the pro-Blackwater committee members from office.
Raftery had been writing about the controversy until one week before the recall election, when the owner of the paper she was writing for "fired the editor and hired a new editor, and I was told, 'We don't want any more stories about Blackwater,' I said, 'How can this not be considered news? We're just writing the same-old, same-old and they're having a recall election over this issue. I think we should be reporting on Blackwater.'" While Raftery never found out the reason that particular publication wasn't interested in any more stories about Blackwater, she learned that another local paper was so stridently pro-Blackwater they wouldn't even publish any letters to the editor attacking the company. "The reason was that Blackwater had bought up all their advertising space, and they were not going to go up against their biggest advertiser," Raftery recalled.
That's just one example she has about stories the mainstream media don't cover — and why. "The media are very consolidated, the ownership is very corporate, and there's a very limited amount of viewpoints that are allowed," Raftery explained. "If you read most papers, not just here but all across America, you see the same top five stories you would see on every TV station. They just parrot the same stories and don't add any depth." Raftery criticized other media outlets for lackluster coverage of political campaigns: "They give you a paragraph, maybe, about each candidate, and what kind of reporting is that? You can get that off the ballot statement. If you read the candidates' Web sites you'll be better off than if you read some of the major news sites in town."
It's not just political voices that are silenced by the mainstream media, she said; it's women's and ethnic voices as well. According to Raftery, San Diego East County has 40,000 refugees from Iraq — "the highest number … in the world" — and large communities of immigrants from Burma and elsewhere in Southeast Asia. East County is also home to 18 Native American tribes, "the most of any county in America, and how often do you see Native American stories, unless it's about a casino?" She wanted to write about the struggles of people of color in her region, including local Native American culture and the efforts of the tribes "to re-educate their youth about their cultural heritage, teaching them the traditions of the birds singing and stories like that."
Though she's honest about her own political point of view, Raftery attempts to be as objective and balanced in her coverage of government and elections as she can. "All sides are entitled to have their views heard, but nobody's entitled to make up the facts," Raftery said. "We did a fact-check on the 52nd Congressional District debate between Republican incumbent Duncan D. Hunter and challengers Ray Lutz [Democrat] and Mike Benoît [Libertarian], because most of our readers were voting in that race in East County. We fact-checked statements by all three candidates, and we found some inaccuracies in all of them — one more than the other two, in fact. We feel that that's important."
Raftery also noted that some candidates, once caught in a lie, simply repeat it. Her example came from the last U.S. Senate campaign in California between incumbent Democrat Barbara Boxer and Republican challenger Carly Fiorina, in which Fiorina said over and over that during her 18 years in the Senate, Boxer had only introduced four trivial bills and had never authored any significant legislation. "That's completely not true," Raftery said. "You can go to congress.gov or any Congressional Web site and find that Boxer has authored or co-authored over 100 bills, many of them major. If you want to argue that they were bad bills, that's a legitimate stand. If they were pro-environmental and you think they were too hard on developers, you can make that argument. But don't just lie and say she didn't introduce major bills, because she did."
One of Raftery's concerns is that she doesn't want the site to seem too progressive for conservative East County. The site is organized under the Heartland Coalition, a 501 © (3) nonprofit corporation, which means she can't endorse candidates in elections — but she doesn't seem to mind; she believes that not taking sides for one party or another gives the site more credibility. But her convictions came out dramatically after the November 2 election, when she and East County Magazine reporter Mary Paulet published a story about a physical confrontation on the floor of Election Central at Golden Hall between Democratic Congressmember Bob Filner and his Republican challenger, Nick Popaditch.
"Multiple credible news sites have reported that after … Filner was declared the winner by a 20-point margin, a mob of Popaditch supporters, including Tea Party and white supremacist members, cornered and spat on Popaditch's opponent, Filner. Video by the Chula Vista Star-News reveals that Popaditch cursed at Filner, called him a liar, and made no efforts to calm down an increasingly virulent mob that forced Filner out of Golden Hall … and into the lobby. Filner told CityBeat that he was shoved by Popaditch. … Mayor Jerry Sanders' security detail ultimately rescued the Congressmember from the mob, CityBeat reported."
Raftery wasn't just relying on second-hand news reports and on-the-scene videos; her co-author Paulet had interviewed a live witness, Robin Buse, who said she'd not only witnessed Popaditch's attack on Filner but had herself called the police. Their article quoted two other witnesses who chose to remain anonymous. It also noted that a white supremacist who had endorsed Popaditch published his own video of the incident, intercut with images of violent revolution, on a well-known racist site,
http://www.stormfront.org
, under the name "Aurick the Great White Elf." His post also included an introduction that was a thinly veiled call for "total war" against the Jews who, he alleged, "secretly control the world." Filner is Jewish.
In her article, Raftery wrote, "Popaditch, who uses the nickname 'Gunny Pop' on Facebook, thus far has said nothing to disavow the violent and threatening actions of his followers — and instead has acted like the leader of the pack. His Web site claims he is ready to 'charge the Hill for our country and protect what the Founding Fathers fought for.' He appears to have forgotten that our founding fathers fought a war of independence to create a democracy. When that democratic process proved Filner the winner … Popaditch could have opted to concede defeat graciously. … Instead, Popaditch demonstrated support for anarchy, violence and mob rule."
Raftery predictably got flamed in the comments section on her article. Aside from making claims that "a Filner thug" was the first one to start the violence and defending Popaditch's statement that Filner was a liar (based on a campaign ad in which Filner noted that Popaditch had missed voting in several elections but ignored that Popaditch had voted in elections after that), they claimed that Raftery was relying on an edited version of the Star-News's video published on YouTube, called her site a "liberal rag," compared her to progressive MSNBC commentator Keith Olbermann and, in one particularly scurrilous post, said George Soros and the Mexican Mafia were funding her. (That person later recanted the post and said it had been meant as a "joke.")
Defending her site, Raftery posted her own comment which noted that East County Magazine has won 32 journalism awards in its two years of existence, "including several for political reporting. Clearly, the pros in the journalism profession disagree with your assessment. 'Liberal rags,' or conservative ones, don't rack up those sorts of professional journalism honors. Incidentally, the contests are judged blind by professional journalists in other cities who are not familiar with the publications and judge each article entered on its merits for adhering to the standards of the journalism profession — something you apparently know little about."
We are 100% volunteer and depend on your participation to sustain our efforts!
Get Involved
If you'd like to help with maintaining or developing the website, contact us.