From the Open-Publishing Calendar
From the Open-Publishing Newswire
Indybay Feature
Oakland Protest Demands Justice for Derrick Jones
Impromptu shrine to Derrick Jones in front of his barbershop on Bancroft Ave. in Oakland.
November 11, 2010
photo: Jonathan Nack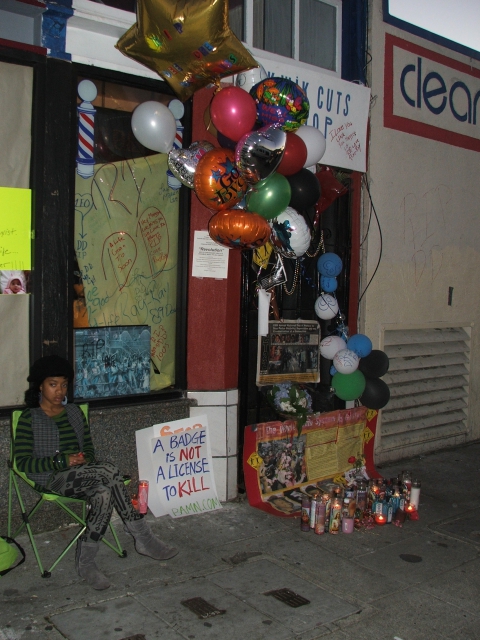 Oakland Protest Demands Justice for Derrick Jones
by Jonathan Nack November 11, 2010
OAKLAND – Less than a week after thousands protested the verdict in the Oscar Grant case,
http://www.indybay.org/newsitems/2010/11/05/18663245.php
hundreds protested in Oakland for justice for Derrick Jones, another unarmed Black man killed by police.
Jones, 37, was shot and killed by two Oakland Police officers on November 8. Jones was a father and owned a barbershop in East Oakland. He was well known and liked in his community.
http://sfbayview.com/2010/what-part-of-killed_unarmed_black_man-murder-doesnt-opd-understand/
Police claimed they thought they saw Jones reaching for a weapon. Jones had no weapon and had committed no crime. Officers said Jones ran away when they approached him.
The protest began this afternoon at 3 p.m. with a rally in front of Jone's barbershop on Bancroft Avenue, in Oakland. As the first hundred people gathered to hear speakers, the mood of the crowd was outrage mixed with grief and solemn determination.
Following the initial rally, protesters marched down International Boulevard to the Fruitvale BART station. Oscar Grant was killed on the platform of this station by BART Police Office Johannes Mesherle in the early hours of New Year's Day 2009.
Officer Mesherle was convicted of involuntary manslaughter for the killing Grant and was sentenced to two years of prison on November 5. Both the verdict and the sentencing sparked community outrage.
The rally at the Fruitvale BART, which was conducted at the entrance to the station, was double the size of initial rally. BART closed the station in response. A line of police in riot gear stood in front of the station's closed gate.
Numerous family members and friends of Derrick Jones attended the protest, including Jones' parents.
Bancroft Ave. in Oakland, November 11, 2010
photo: Jonathan Nack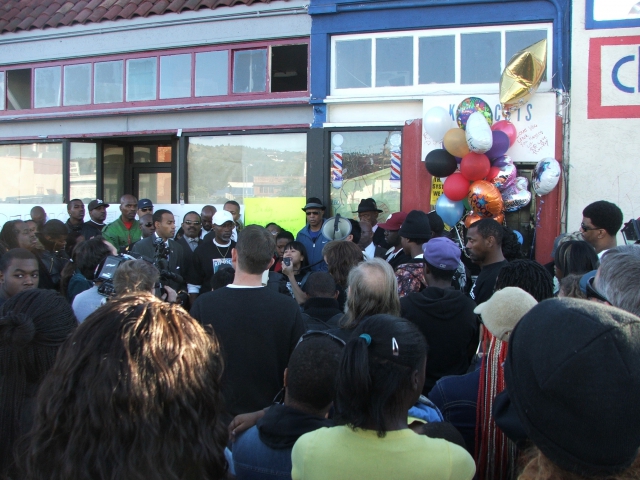 Bancroft Ave. in Oakland, November 11, 2010
photo: Jonathan Nack
Fruitvale BART station, Oakland, November 11, 2010
photo: Jonathan Nack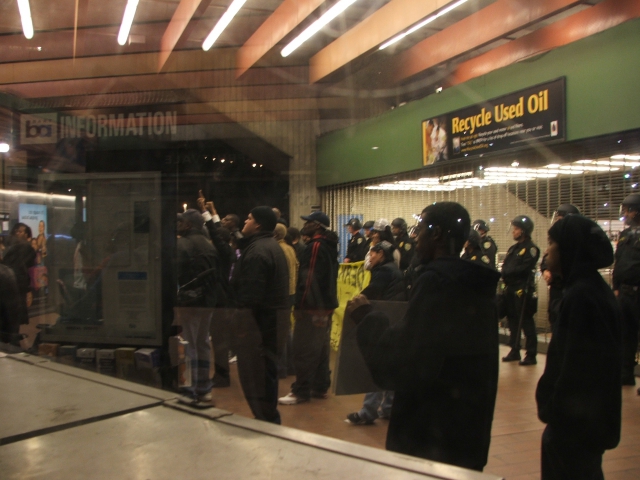 Fruitvale BART station, Oakland, November 11, 2010
photo: Jonathan Nack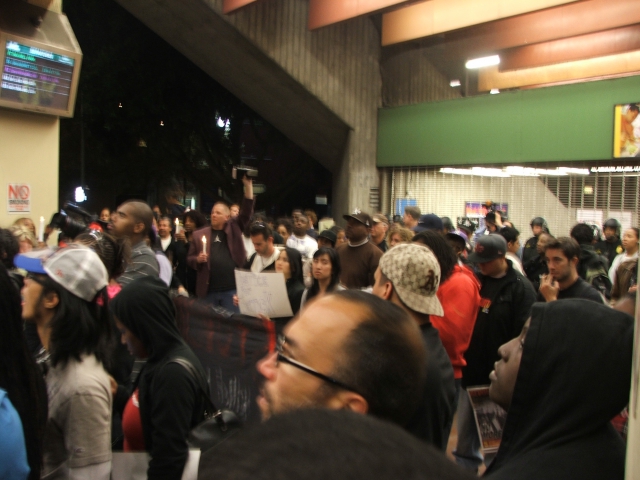 Fruitvale BART station, Oakland, November 11, 2010
photo: Jonathan Nack