From the Open-Publishing Calendar
From the Open-Publishing Newswire
Indybay Feature
Fire Liar Dyer - repost of article originally printed in the Fresno Undercurrent
This article was originally published in the Fresno Undercurrent last year in the December/January issue. On Aug. 19th the
Fresno Brown Berets turned in a petition
with nearly 900 signatures calling for Fresno Police Chief Dyer to be fired and various other police accountability reforms; including an Office of Independent review which has "teeth" and is "not a facade" and drug testing of officers. The City Council President responded by saying that in his opinion Chief Dyer is "doing a fabulous job" and said he supports him 100%, "just as much of the rest of the community does".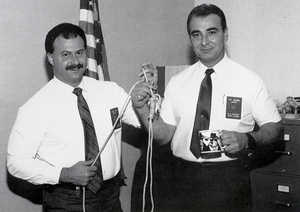 [Note - The photo above was recently printed in the Fresno Bee in an article about how the Equal Employment Opportunity sided with black police Captain Al Maroney in a discrimination complaint the captain made against Chief Dyer. The City Attorney attempted to clarify the next day that the photo wasn't a "racial reference", but was taken when Dyer was a Sergeant in the Internal Affairs Unit in the 1980s when he was known for his "strong disciplinary recommendations". Police Chief Dyer was promoted to Sergeant in the Internal Affairs Unit after he was investigated for the below referenced statutory rape, which suspiciously was never pursued by the Internal Affairs Unit in 2 separate investigations, even though Dyer admitted the "mistake" publicly.]
"As you know, the past is the past and we should be forgiven the past, but my brother wasn't given an opportunity to be forgiven. His court date is 6 feet underground for stealing beer." - David Gamez, brother of Julian "Boo Boo" Celaya, told Dyer on July 24, 2001

"It is impossible, virtually impossible, for me to judge another person. I believe in second chances. I won't give up on people. I believe that everyone is salvageable because everyone is savable. I believe in those second chances because God gave me a second chance in my life, with my family and with my career." - Chief Jerry Dyer stated before becoming FPD Chief at Northwest Church in Feb. '99
When Jerry Dyer became Chief on August 2, 2001 it was just weeks after Fresno Police officers had killed Julian "Boo Boo" Celaya for stealing two 12 packs from a liquor store and trying to drive away from an attempted traffic stop. Officers alleged that they had heard a shot and believed that Celaya was armed from a report they received from the owner of the liquor store. Three different officers shot at the van that Celaya was driving, and he was killed by numerous bullets including a shotgun blast to the head. The shooting of Celaya was the third shooting by police in less than 6 days. Police shot and injured a woman who slammed her car into the front doors of City Hall during a police chase on July 18th, and later claimed that she was trying to commit "suicide by police". On July 16th Roderick Lee Bertolette was shot and killed at a hotel in northwest Fresno by plainclothes undercover officers attempting to arrest him on drug charges.
Around the same time as these shootings, the Fresno Bee published an article exposing Jerry Dyer's past, focusing on allegations made against him in the mid 80's that he had statutorily raped a 14 or 15 year old girl that he had met at Danae's Gym on Blackstone just south of Shields. The allegations were only investigated by internal affairs officers in the police department and it seems that they were never brought to the district attorney's office. Charges mysteriously faded away, even though the Fresno Bee story quotes a police source as saying that Dyer even admitted to them that he had sex with the girl and that he was anxious about a lie detector test that the girl was supposed to have taken at police headquarters. Jerry Dyer was promoted to sergeant in 1985, shortly after these allegations of rape originally surfaced and suddenly disappeared. They reappeared in the mid 90's as Dyer served as a spokesperson for the Police Department between the fall of 1995 and the spring of 1997. He often appeared on the news in this role, and a woman called the Police Department asking how they could allow Dyer to represent them on television when he had previously raped a minor. This led to another Internal Affairs investigation that then-Chief Ed Winchester asked for, and led to Dyer claiming that he "couldn't recall" what the woman caller was speaking about. This is also when Dyer began to speak about not being proud of things he had done in his past, and about his experience finding God and being born again. At this time Dyer had already been promoted to lieutenant, and was promoted to captain in 1997 and then to deputy chief and assistant chief in 1999. Dyer has claimed that his criminal history is in the past, including his history of lying and cheating. He claims that he was a sinner in the 1980's but that since he has found God he has walked the straight and narrow path.
Some people think that Jerry Dyer should never have been elevated to be Chief of the Fresno Police Department in the first place, and should instead be on Megan's list as a convicted child rapist. Other people felt very strongly about giving Dyer a second chance, and somehow continue to think that he is merely doing a good job under difficult circumstances. These circumstances involve a "war" he declared on whole segments of the community under the guise of preventing violence and stopping the growth of gangs. This has involved an occupation by the Multi Agency Gang Enforcement Consortium(MAGEC) and other special militarized units of the Police Department that have increasingly related to growing segments of the community as suspects and criminals. We have gone down this road before with the Violent Crimes Suppression Unit, and it ended with African American folks being humiliated on the southwest side of town while on their way back from church. That way also led us to police shootings, allegations of people trying to commit "suicide by police", and whole segments of Fresno residents not trusting the police that are supposed to "protect and serve" them. When Dyer was given a second chance and promoted to the Chief position back in the summer of 2001, he promised that he would address these problems and rebuild the Police Departments relations with the community to inspire trust. However, Dyer has continually proven himself a hypocrite in this matter as 40 people have now died on his watch as Chief of the Fresno Police Department. If he really believes in second chances, and that everyone is "salvageable" and "savable" as he once said, then why has he allowed police officers under his direction to continue to act as judge, jury and executioners?



Photo taken by Mike Rhodes of family members of Steven Vargas demanding justice for their family member who was killed last year by Sergeant Palomino, who is one of the 25 Fresno Police Officers who have been involved in repeat shootings detailed in a recent Colorlines article. Palomino has been involved in 4 documented officer involved shootings, including the killing of Vargas and shooting at unidentified subject in Feb. '09.
Ultimately, the reason why I find myself writing this story and digging up these old bones from the closet is because of things Chief Dyer recently said in response to the police killings of Steven Vargas and John Cooper. The last week of October 2009 was strangely reminiscent of that week back in July 2001 when Celaya and Bertolette were killed by police and a woman was accused of trying to commit "suicide by police". Dyer jumped in front of cameras and passed judgment on
Vargas and Cooper
, claiming that Vargas was on parole and defaming him in other ways, and that Cooper was trying to simply commit "suicide by cop". Dyer had previously described the power that media coverage has over the public's perception of law enforcement in his acceptance speech back in 2001, and has shown himself to be very skilled at spinning the media to his purposes. This media savy goes back to his days as police spokesman, and has been reflected in his ongoing attempts to spin every police shooting under his tenure as justified. Chief Dyer knows what he is doing when he jumps in front of a camera and starts to justify yet another shooting, while failing to think twice about the humanity of the person shot or of how their death will affect their friends and family.
Dyer may have once been able to hide the truth through various methods, protected by a "thin blue line" of silence, a police code that protected him and other police from getting in trouble for their actions. That line may have been shattered this year in the Bay Area with the videotaped execution of Oscar Grant by former BART police officer Mehserle on New Year's morning, and the uprising in Oakland and community pressure that followed and forced the District Attorney to file murder charges on Mehserle. In Fresno that line is being questioned like never before as police officers were caught stealing cars to start the year out, were videotaped beating a homeless man in Feb., and have killed 8 people this year so far. Increasing numbers of people are finally waking up, realizing that Dyer is a liar, and demanding that the Mayor and City Manager fire Dyer.

for more info on the campaign to Fire Dyer email fresnobrownberet@ymail.com or visit Indymedia's Central Valley page at http://www.indybay.org/centralvalley for a list of those killed by Fresno Police go to http://www.cccjc.org/home/stolenlives.php

Chuck McNally was raised in Fresno and graduated from U.C. Berkeley with a degree in Ethnic Studies after spending many years involved in various campus and community struggles, including working with Berkeley Copwatch. Chuck is not suicidal, nor does he own a gun.

Quotes and background information are from these articles - Fresno Bee; Cops twice probed allegation Dyer had affair with girl, 16 - New Fresno chief, city officials won't answer questions about problems early in his career. by Doug Hoagland; July22,2001. Fresno Bee; Calming the Tension - Incoming Police Chief Jerry Dyer meets with the family of a man killed by Fresno officers. by Matthew Kreamer; Wednesday, July 25, 2001
We are 100% volunteer and depend on your participation to sustain our efforts!
Get Involved
If you'd like to help with maintaining or developing the website, contact us.