From the Open-Publishing Calendar
From the Open-Publishing Newswire
Indybay Feature
Anti-War Activists Under Attack in Nation's Heartland
Sue Mortinson, of Women Against Military Madness, called the raids and subpoenas "a travesty of justice" and called on Obama to stop "this persecution." In an interview, she said "these people are not criminals…war is the crime."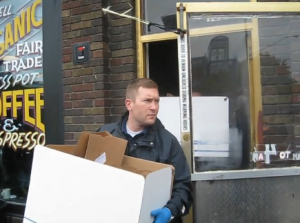 Anti-War Activists in the Nation's Heartland Under Attack!
By Rocky Neptun

The sweeping assaults across the nation on peaceful anti-war activists Sept. 24th represent an ominous divergence for an administration which was elected to change the heavy-handed policies of the Bush regime. Like something straight out of the Ashcroft playbook, FBI agents, in cooperation with local authorities, raided homes and offices in Michigan, Illinois and Minnesota. Government thugs also showed up at the doors of progressives and human rights activists in North Carolina and San Jose, California.

Five homes and the office of the Minnesota Anti-War Committee were ransacked in Minneapolis, while two houses in Chicago were searched. About a dozen activists in all were served subpoenas to testify before a federal grand jury.

Steff Yorek, described in a phone interview with me, the storm trooper type operation which terrorized her daughter as they rumbled through her house in Minneapolis. Yorek, an active member in the peace community, who was also an organizer of the 2008 Republican National Convention protests in St. Paul, labeled the raids "an attack on the anti-war movement"

Tom Burke, a Chicago organizer of the Columbian Action Network, a national group of students, unionists and human rights monitors, who oppose U.S. intervention in Columbia, and was handed a subpoena, told me over the phone "the government hopes to use the grand jury to frame activists." Burke, who is a founding member of the National Committee to Free Ricardo Palmera, a Columbian professor who is being held and tortured in the Florence, Colorado Supermax prison, said "the goal of these raids is to harass and try to intimidate the movement against U.S. wars and occupations, and those who oppose U.S. support for repressive regimes."

Activists from many groups were targeted, including the staid Students for a Democratic Society, the Twin-Cities Anti-War Committee, the Palestine Solidarity group and the Freedom Road Socialist Organization. Incredibly, implausibly, the FBI announced the grand jury was going to investigate the activists "for possible terrorist charges." In the old days, during the McCarthy political witch hunts, they would have been called "communists."

Has Obama Lost Control of the FBI? There is some speculation among former agents that Obama in his brief stint has never managed to assume control of the nation's federal police forces, including the FBI and Homeland Security, and that Attorney General Eric Holder and Cabinet member Janet Napolitano are simply race and gendered figureheads. Rumor has it the real control rests in the career bureaucrats and field commanders and they give Obama just enough maneuvering room to play the role of President.

With only a few hours notice, over a hundred and fifty progressives gathered at the Walker Church in Minneapolis and called the raids "an attack on our movement for social justice as a whole." The peace community's meeting, which can be viewed on a 24 minute video at the Twin Cities Indymedia website, asked the nation to refuse to believe "a notorious untruthful government." They pointed out the FBI's own Inspector General criticized the FBI for lying to the Justice Department about raids and surveillance of peace groups after 9/11.

Deb Mitchney, of the Minneapolis Welfare Rights Committee, speaking to the gathering called the federal harassment "outrageous" and said "we are doing nothing wrong, merely speaking out against what our government is doing." Her voice raising, quivering, she asked why local activists were being targeted as criminals "when we are simply opposing the criminal and terrorist acts of our government in other nations." She announced that the FBI "will not silence us."

Sue Mortinson, of Women Against Military Madness, called the raids and subpoenas "a travesty of justice" and called on Obama to stop "this persecution." In an interview, she said "these people are not criminals…war is the crime."

Meanwhile, in Chicago, the FBI spent 12 hours searching the home of Joe Isobaker, 51, of the University of Illinois, and his wife, Stephanie Weiner, a local teacher, in an attempt to intimidate them. Seizing over 40 boxes of materials, they pilfered everything the pair owned but food, clothing and furniture. By the time agents left, close to 40 friends and supporters ringed their home in solidarity. The peace couple said the government targeted them because they've been outspoken against the wars in Iraq and Afghanistan and U.S. funding of conflicts abroad. Both Isobaker and Weiner said they would not be silenced by the raid.

Another group pursued in Chicago was the Arab American Action Network, a nonprofit which, according to its website, strives to strengthen the Arab community in the Chicago area by building its capacity to be an active agent for positive social change."

Hammered during the Republican National Convention meeting in 2008 with pre-emptive detentions and brutal police tactics, the Minneapolis and St. Paul progressive and radical groups have coalesced into a tight knit community "which watches one another's back" and has vowed to support those targeted by the FBI's unconstitutional and deceitful grand jury process. They issued a statement within a few hours of the raids, saying "an attack on one of us is an attack on all of us."

All of the human rights supporters targeted maintain they have done nothing wrong and say they will refuse "to be pulled into conversations with the FBI about their political views or organizing against war and occupation. They call for other people of conscience to write Obama and Attorney General Holder asking that "repression against anti-war and international solidarity activists stop." Also, they demand the return of all confiscated personal items such as computers, telephones and documents and "end the grand jury proceedings against anti-war activists."

The only way to protect our 1st Amendment rights is, of course, to use them. If we allow this attack upon dissent in America's heartland to go un-protested, then people of conscience, our beloved end of war community, everywhere, will face further government intimidation and repression, until our peace testimony will be silenced forever. We cannot let that happen.
We are 100% volunteer and depend on your participation to sustain our efforts!
Get Involved
If you'd like to help with maintaining or developing the website, contact us.