From the Open-Publishing Calendar
From the Open-Publishing Newswire
Indybay Feature
What Is Happening At SF Community Access/SF Commons Or Not Happening: San Francisco Commun
The Bay Area Video Coalition managers have said that they cannot put a list up on the SF Commons website of all the producers at the station and their shows and web or email links. They also are not able to have timely programming of Democracy Now because they say they cannot afford $150.00 a month although hundreds of community access stations in the US program the show. There are serious systemic problems about how community access is being run in San Francisco.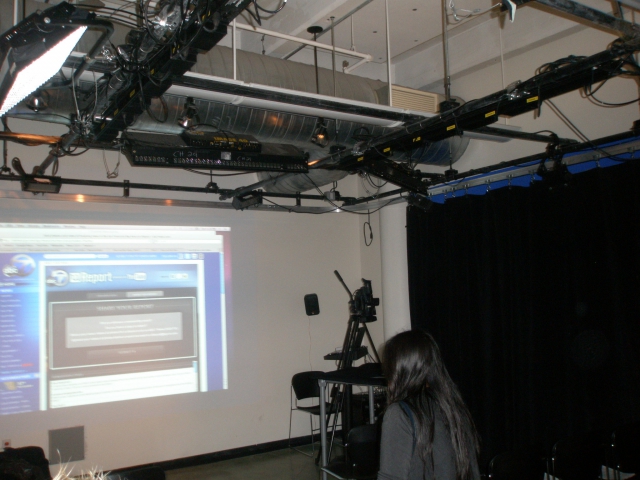 What Is Happening At SF Community Access/SF Commons Or Not Happening: San Francisco Community Access At Risk?
What Is Happening At SF Community Access/SF Commons Or Not Happening:
San Francisco Community Access At Risk?
By Steve Zeltzer
8/31/2010
http://www.laborvideo.org
On 8/30/2010, there was a monthly meeting of the San Francisco Community Access Station SF Commons which programs on Comcast Channel 29 and Channel 76. It was held at the offices of the Bay Area Video Coalition, which is next to KQED on Mariposa and Bryant St. in the South of Market area. Mayor Newsom's Department of Technology turned the station over to the management of BAVC promising that they would help maintain the community producers and build support for the station. If this meeting is any indication of where community access is at in San Francisco, it is in a dangerous state.
The meeting was attended by about 8 people of whom were two staffers of the station and two new producers. The meeting was chaired by the SF Commons Community Chair Idell Washington and also attending was Board member Ellison Horne.
Before the meeting started, I asked if there had been any public community board meetings, and Washington said that they were still getting organized and said that they had been meeting since last November but that other officers of the board had quit. I also asked if they have minutes and allow community producers to attend. She did not clearly said that they had minutes and also said that the board meetings had not been open. She also said that the board had voted to allow volunteers to help the station operate but that the management was against this policy.
The actual meeting was held in the main studio that remains unused by regular programmers. Although it has the lights and a control room, BAVC manager Jennifer Giloman who is also Lead Developer of Strategic Initiatives for BAVC said that BAVC could not use volunteers to use the studio but required paid staff of BAVC. Hundreds of thousands of public funds were used to shut down the station on Market Street built out for over $1 million and two years to move to BAVC where the studio remains unused as a production studio. The City is also paying BAVC $4500.00 a month to subsidize their rent from capital funds although Executive Director Ken Ikeda and SF Department of Technology Barry Fraser said that these funds could not be used for rent at the Market St. space.
The meeting began with about 8 people attending and I requested the opportunity to ask some questions about what is happening at community access in San Francisco. I began by asking why there was no list of all the community producers on the website of the SF Commons with the contact email or websites of producers so viewers could easily find out what shows were on the stations? Jennifer Giloman said that they were still working on rolling out a website with all the programs that would be searchable. Another producer said he had tried to search for his program and could not find it and when it was scheduled. I again asked if they could at least have a link to a web page with all the producers and programmers.
Giloman then said they were not allowed to give out the names of the producers. This was challenged by the SF Commons Advisory Board Chair Washington who said this was a public access station and there are "no secret producers here". Board member Ellison Horne also spoke up and said he had volunteered to put a list of producers at Channel 29 and Channel 76 together for the website. Giloman however was adamant that this was impossible to place on the SF Commons website until some future date when the new web system would be in place. So over a year after BAVC has taken over San Francisco community access, there is no list on their website of who is producing on San Francisco's community access station so people can check out their programs.
One additional question was raised by myself and that was why SF Commons cannot program Democracy Now, the national alternative news show on the same day it is run around the country. At the Market Street station run by the Community Television Corporation CTC, Democracy Now was run every day at the same time from a satellite feed. Giloman said that this was not possible at BAVC because it required that they have to pay $150.00 a month to get a subscription to a satellite channel and install a dish. She said that BAVC was working with the producers of Democracy Now to underwrite this cost.
Bay Area Video Coalition advertises itself as a high tech education center for the community video and film producers who want to produce media, yet it cannot afford a subscription to get satellite programming? This failure of the BAVC to even have a dish at their center so they can have national and international programming available to their users raises real question about what kind of operation they are running. Democracy Now is run on hundreds of community access channels throughout the United States and yet the San Francisco operation of community access can't afford this. I suggested that they put a notice about this on their website and let the public and supporters of Democracy Now know about their need for $150.00 a month to run it on a timely fashion, but Giloman assured everyone that they wanted to work it out with the producers of Democracy Now.
This SF Commons meeting at BAVC shows that there are serious systemic problems in the management and operations of our community access stations, and raises again about the intentions of giving the operation of the station to a operator that apparently even get up a dish and raise $150.00 a month for a subscription for satellite services.
Supporters of San Francisco Community Access need to contact the San Francisco Board of Supervisors, and demand that no further additional funding of community access until there is a full audit of where the over $1 million has gone and why BAVC has violated it's franchise agreement which requires that they keep and expand the users of community access. Failure to even list the producers is clear evidence that they are not interested in helping to publicize the programs and the work that producers do.
They have also flagrantly violated the contract by refusing to provide financial reports to members of the public and were recently found by the San Francisco Ethics Commission on August 10, 2010 to have made willful violation of Sunshine Ordinance by refusing to provide documents to the public. They also have violated the franchise agreement by refusing to have an open BAVC board meeting at least twice a year.
BAVC Lies To SF Board Of Supervisors To Get $375,00 From City
http://blip.tv/file/3982837
BAVC Charged With Willful Violation of Sunshine Ordinance-Refuses To Provide Documents To Public
http://blip.tv/file/3996430
The next meeting of the BAVC board if it is not cancelled again is on September 23, 2010 for just one hour for the public to able to attend. People concerned about the future of San Francisco should attend and allow their voices to be heard.
Sunshine Compliance Policy - Bay Area Video Coalition (BAVC)-BAVC Board Meeting Moved To Sep 23, 2010
http://www.bavc.org/index.php?option=com_content&task=view&id=2169&Itemid=1920
Photograph of main studio at SF Commons/BAVC. The studio remains out of use because BAVC management refuses to use volunteers to staff the studio.
We are 100% volunteer and depend on your participation to sustain our efforts!
Get Involved
If you'd like to help with maintaining or developing the website, contact us.