From the Open-Publishing Calendar
From the Open-Publishing Newswire
Indybay Feature
Take Back Gandhi's 9/11 - Satyagraha - Truth Force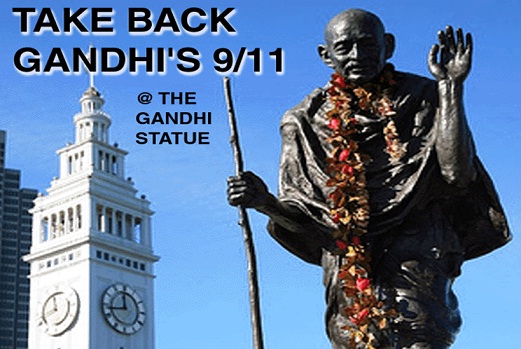 Import event into your personal calendar
Date:
Thursday, August 19, 2010
Time:
Event Type:
Radio Broadcast
Organizer/Author:
Carol Brouillet
Location Details:
Progressive Radio Network
---
Take Back Gandhi's 9/11 - Satyagraha - Truth Force is the theme of the upcoming Community Currency Radio show this Thursday, August 19, 2010, 2-3 pm on Progressive Radio Network. Arnie Passman and Carol Brouillet will discuss the birth of the non-violent movement, named Satyagraha by Gandhi which began on September 11, 1906 has since inspired the liberation of India from British rule, the Civil Rights Movement and the heroic Free Gaza Movement. Since 9/11/2001, the day has been used by the government to promote nationalism and war; Arnie and Carol hope to reframe the holiday to encourage global satyagraha to challenge militarism, imperialism, endless war.
Satyagraha - Truth Force was born when people gathered together, in their struggle against empire and racism in South Africa. On September 11, 1906, at a public meeting attended by 3000 people where Gandhi spoke, Sheth haji Habib, an old Muslim resident of South Africa, was inspired to consciously speak out and state his decision to act in defiance of an unjust law, that targeted the Indian population of South Africa. Habib declared his willingness to suffer the consequences in a spiritually-endowed fight for justice in the name of God. The theory of satyagraha sees means and ends as inseparable. The means used to obtain an end are wrapped up in and attached to that end. Therefore, it is contradictory to try to use unjust means to obtain justice or to try to use violence to obtain peace. Satyagraha is a synthesis of the Sanskrit words satya (meaning "truth") and Agraha ("pursuit of"). Gandhi believed that life itself is a the pursuit of truth. For Gandhi, satyagraha became strength in practicing non-violent methods, or in his words "the Force which is born of Truth and Love or non-violence."
On September 11, 2006, there were efforts to rekindle the strength of Gandhi's vision for peace. The award winning film, Gandhi was rereleased and shown in 64 venues, and a short film Satyagraha - 100 Years of Nonviolence debuted, followed a year later by a Choose Peace campaign.
This year, renewing the effort to nurturing satyagraha in the face of unwaning US militancy, we have seen courageous acts of non-violent resistance such as the Free Gaza Movement's Flotilla to breack the blockade against Gaza, simply speaking out taboo facts despite opposition from the corporate press and the US government, could be considered "satyagraha" on a whole range of issues. On September 11, 2010 in San Francisco, the poet/activist/writer Arnie Passman wants to Take Back 9/11 as a worldwide celebration of Peace and Love recognizing Gandhi's adherence to satyagraha. Satyagraha will also be the theme of the 9th Annual 9/11 Truth Rally/March to the 12th Annual Power to the Peaceful Festival in San Francisco.
Arnie Passman has been a peace activist for 45 years. For the past four years, he has been organizing poetry readings at the San Francisco Gandhi statue on the mahatma's birthday (october 2). He has also organized celebrating the peace symbol anniversary (February 21) in Berkeley for the last three years. He is the author of The Deejays (Macmillan, 1971, a history of the disc jockey) and two plays, If we told ya, we sold ya, about the 1st black disc jockey, Jack L. Cooper (chicago, 1929-59) and Soul Control/Control of Soul, a dialogue between an old black dj, Overjive, aka O.J., and a retired cia agent, Herbert Walker Luce Cannon. He created Arnie Passman's House of Cards in 1979 to present engaging satirists, which has included a 6 month series, conversations in comedia, interviews with s.f. mime troupe elders, and events at the Berkeley Arts Festival, such as Improv Day & the Berkeley Satirithon. He knows how to make people smile and laugh.
Carol Brouillet is a longtime activist who organized three conferences on Strategies to Transform the Global Economy and (the first) marches on her Senators and Congresswoman in January 2002 to Demand a Congressional Investigation of 9-11. She publishes the Deception Dollars, Perception Dollars, and Co-Founded the 9-11 Truth Alliance, and the Northern California 9-11 Truth Alliance . She organized premieres of films, educational events, marches, rallies for 9-11 Truth, the San Francisco International Inquiry into 9-11, and produced the film Behind Every Terrorist- There is a Bush. She is also a mother of three and held a weekly Listening Project in downtown Palo Alto from October 2001 to October 2007, now she holds it once a month on the 11th, in solidarity with other 9/11 Truth activists worldwide. She ran for Congress in 2006 and 2008 on the Green Party ticket on a 9-11 Truth, Peace, Impeachment platform. From April 2007 through September 2008 she hosted a radio show on We The People Radio Network entitled- Questioning War- Organizing Resistance.
Added to the calendar on Wed, Aug 18, 2010 3:50PM
We are 100% volunteer and depend on your participation to sustain our efforts!
Get Involved
If you'd like to help with maintaining or developing the website, contact us.