From the Open-Publishing Calendar
From the Open-Publishing Newswire
Indybay Feature
5th Deputy Assault on Peace Camp Fails to Drive Away Ailing But Determined Protesters
8 deputies arrived around 11 PM on Sunday night (8-8) to harass, interrogate, and falsely cite two more Peace Camp stalwarts--Curbhugger Chris Doyon and Collette Connally as they tried to sleep. The wet cold night held health problems for Doyon who said he'd picked up pneumonia after being held for 4 hours in handcuffs in a police van on Saturday morning, and then stripped of most of his clothes in jail. The City's homeless shelter has publicly acknowledged it will have no walk-in shelter from May through October.
On the 35th night of PeaceCamp2010's vigil, protest, and sanctuary against the City's Sleeping Ban, the mass of deputies nearly outnumbered the number of demonstrators who waited to support and video the harassment of Doyon and Connolly under PC 647e, an archaic state "Disorderly Conduct" law.
Instead of citing the protesters under the City's infamous Sleeping Ban (MC 6.36.010a), its Blanket Ban (MC6.36.0101b) or its Camping Ban (MC 6.36.010c), sheriffs were apparently instructed on August 1st to use the more deadly 647e, which mandates up to a year in jail and $1000 fine for "unlawful lodging".
"Lodging" can have numerous interpretations. Sheriffs decided that sitting on a sleeping bag was "lodging" in the case of Amber, a young woman visiting the protest on Friday night. (See "Midnight Busts at PeaceCamp2010 Renew Protest Determination" at
http://www.indybay.org/newsitems/2010/08/07/18655588.php
& "Deputies arrest five, cite 17 at homeless camp at county courthouse" at
http://www.santacruzsentinel.com/ci_15709169?IADID=Search-www.santacruzsentinel.com-www.santacruzsentinel.com
)
Lt. Plageman advised me in the early morning hours of Sunday August 8th, that his superiors had told him to send in the brownshirts beginning August 1st, stepping up the pressure on the only safe public place for homeless people to sleep in the City, and the only location with a 24-hour bathroom (actually a portapotty).
Other supporters tried to keep watch through the night on site, but most ended up falling asleep--laying them open to citation and trial.
The deputies made two sweeps during the night--one to give "warnings", the second to make "citations". An expected third sweep to arrest the two protest leaders did not materialize.
"We're still here," concluded a coughing and pale-faced Chris Doyon.
Nearby at mid-morning Monday a uniformed First Alarm Security guard stood across the concourse, maintaining a steady presence---perhaps to call the alarm if protesters dared to fall asleep again (legal under the city's law, perhaps not under the state code being used by the county).
The City may have taken away the "daytime sleeping" escape hatch which was Judge Tom Kelly's excuse in 1997 for finding the Sleeping Ban "constitutional" in a local court challenge that went no further than Municipal Court. "They can always sleep during the day, can't they?" was the now-retired Judge's glib rationale. Kelly upheld dozens of Sleeping Ban tickets for Dragonsheart Dan Hopkins--the mild-mannered homeless juggler whose 8 1/2 month-long nightly protest at City Hall in 1996 broke all local records.
On Sunday afternoon sympathetic members of the crowd watching the S.F. Mime Troupe in San Lorenzo Park provided encouragement and financial support to PeaceCampniks holding up signs. The sleep-logged signbearers may have provided at least a momentary glimpse of reality for those watching the politically-savvy Troupe.
Just think! A real live civil rights struggle almost within shouting range. The Mime Troupe, however didn't invite any of the rabble carrying signs onto the stage to advise folks of with real sheriffs making real arrests next to the very courthouse/county building complex where many of the theatergoers had parked their cars prior to the show
Updates at
http://www.peacecamp2010.blogspot.com/
.
Thanks to Brent, Linda, Ed, Crow, Red, Lee, Todd, Vamp, Orbit for braving the cold night and threat of deputy assault to provide support to Chris and Collette.
FUNDAMENTALLY CLUELESS OR HOSTILE MEDIA
Last Friday's Santa Cruz Sentinel editorial and the Monday Sentinel story by Cathy Kelly nowhere mention the specifics of the city's shelter emergency which makes ticketing homeless folks an futile, expensive, cruel, unconstitutional, and unusual exercise in harassment.
Friday anti-Peacecamp2010 Editorial:
http://www.santacruzsentinel.com/opinion/ci_15691658
Monday Story:
http://www.santacruzsentinel.com/ci_15708055?IADID=Search-www.santacruzsentinel.com-www.santacruzsentinel.com
Homeless protest camp shrinks after two nights of arrests, citations, but some plan to keep up demonstration By Cathy Kelly
Monday Story (later edition):
http://www.santacruzsentinel.com/ci_15714999?IADID=Search-www.santacruzsentinel.com-www.santacruzsentinel.com
KION Story from 8-8:
http://www.kionrightnow.com/global/story.asp?s=12945748
A poll taken by the Sentinel (as of mid-afternoon 8-9):
With regard to the homeless camp at the Santa Cruz County courthouse, which group has your sympathies?
Total Votes = 47
The homeless and their advocates 17.02 %
The city and county police 46.80 %
Neither 27.65 %
Both 8.510 %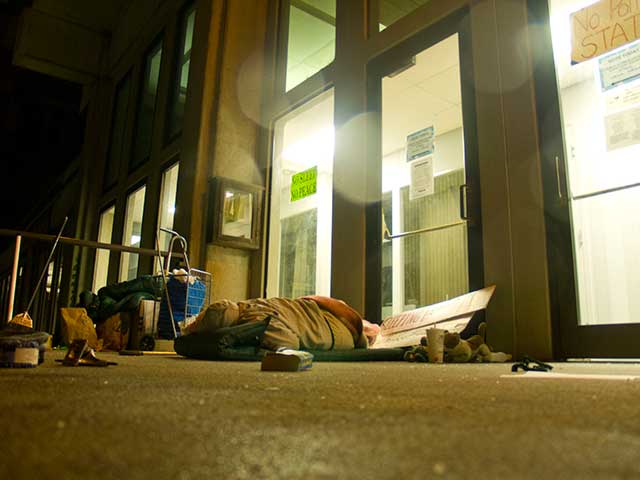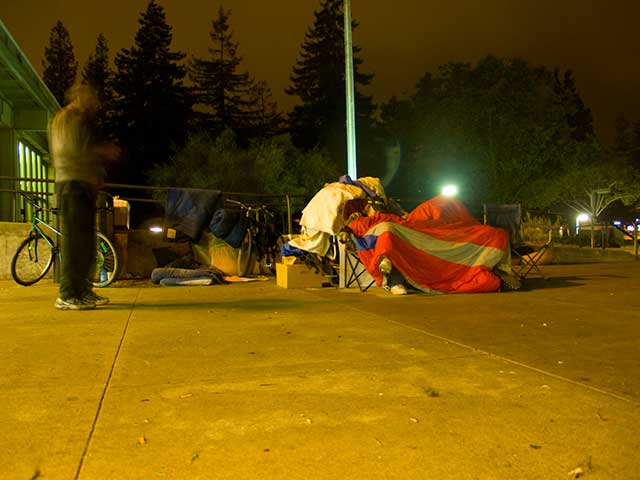 We are 100% volunteer and depend on your participation to sustain our efforts!
Get Involved
If you'd like to help with maintaining or developing the website, contact us.