From the Open-Publishing Calendar
From the Open-Publishing Newswire
Indybay Feature
Related Categories:

Santa Cruz Indymedia | Health, Housing & Public Services | Police State & Prisons
Santa Cruz City Permit Requirements Challenged as Unconstitutional
Santa Cruz City Parade Permit Requirements Challenged as Unconstitutional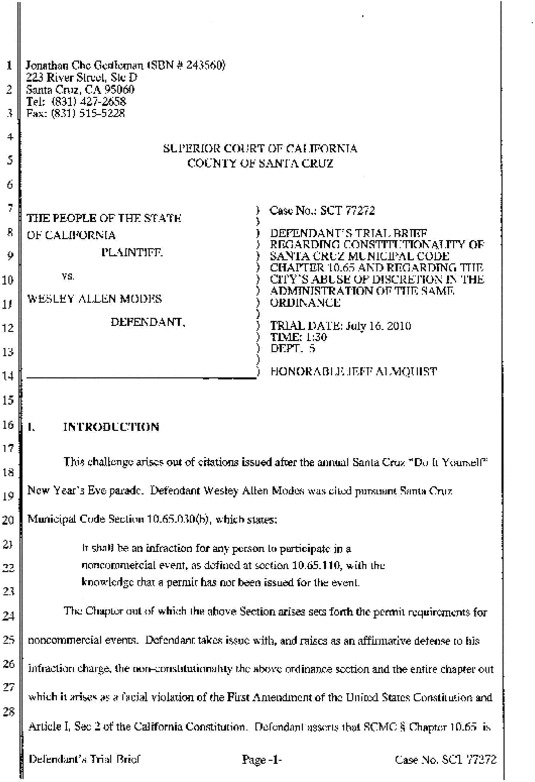 Download PDF (11.1mb)
Parade Group Challenges City Permits
Santa Cruz City Parade Permit Requirements Challenged as Unconstitutional
August 16th - Santa Cruz - Lawyers for Wes Modes, charged with participating in the 2009 Last Night DIY New Year's Parade, filed a brief with the court that challenged the constitutionality of City of Santa Cruz rules that require permits for first amendment activities, including parades.
In a brief filed with the court on August 2nd, Modes' attorney Jonathan Gettleman argued that the Santa Cruz City law requiring a permit for parade and protests is "an overbroad delegation of authority to government officials to control free speech and assemble" and that this is a violation of the First Amendment of the US and California constitutions. Additionally, the brief points out that the city administrators violate the restrictions of the city statute.
Before any group may legally conduct a parade or protest on public streets, the City of Santa Cruz requires a lengthy and expensive permit process amounting to dozens of documentation requirements and thousands of dollars in fees and services. The constitutional brief argues that this is a form of "prior restraint," a chilling of free speech, and a constitutional violation. The case closely resembles a case in San Luis Obispo in which the city's permit requirements for parades was found unconstitutional.
A favorable decision in this case may have wide-reaching implications for parade, demonstrations, and celebrations in Santa Cruz and other municipalities that have first amendment permit requirements.
The brief is a final stage of Wes Modes battle with the city over participation in the Last Night DIY Parade along with thousands of others. In the July 16th trial, counsel for the defense Jonathan Gettleman went head to head with Santa Cruz city attorney John Barisone before Judge Jeff Almquest. The trial was lively and spirited with both side objecting to the others arguments and questions. Due to court furlough, the trial was ended without a final verdict and both sides were requested to present final arguments in court briefs. A verdict is expected from Judge Almquest on August 16th.
Witnesses for the defense testified that they had participated in the parade were well known to local police and, in fact, after Modes received his citation in the mail months later, wrote and called the city attorney and city council to say they participated in the unpermitted parade as well and had received no citation.
Witnesses for the prosecution attempted to show that Modes participated in the parade with the knowledge that it was unpermitted, and included city special event coordinator Kathy Agnone who was unable to say for sure that she had talked with Modes about the parade in 2009.
According to Last Night participants, the new infraction is the latest in a series of police harassment that Wes has received since outing police infiltrators in 2005.
Background
Before the Last Night Do-It-Yourself parade, the city of Santa Cruz sponsored First Night Santa Cruz, an expensive New Year's Eve event that sputtered out in 2004 due to lack of funds. In 2005, Modes and some of friends decided to pick up where First Night left off--and do it cheaper. They put out a call for performers and announced a DIY parade that would meet at one end of Pacific and march to the other. They also eschewed the city permits, which accounted for half of the official First Night budget.
When the police caught wind of the plans for the event, they sent undercover officers to infiltrate the organizing meetings for three months. Records released after the incident revealed a pattern of abuses, including infiltrating parade organizers, monitoring other unrelated groups and first amendment activities, and compiling dossiers of organizers. The city's own police auditor concluded that police had violated the civil rights of citizens and, under pressure from Modes and the ACLU, the city adapted guidelines on SCPD undercover activities.
The celebration was a great success and Last Night quickly became a Santa Cruz tradition. Families line Pacific to watch the parade, which is filled with musicians, puppets, jugglers and unicyclers. The event provided a safe and free way for locals to enjoy downtown on New Year's Eve. The celebration has always been peaceful and joyous. In fact, in 2007, then Deputy Police Chief Patty Sapone commented on Last Night, saying "The city is very quiet. We haven't had any major problems."
Though in 2009, city council member Mike Rotkin and the SCPD have grumbled about the organizers not paying for permits, all the event details, including clean up and traffic control, is taken care of by the participants of the event. According to Modes, "The parade is an example of communities coming together to create a diverse and interesting celebration without the help of the city, businesses, or institutions."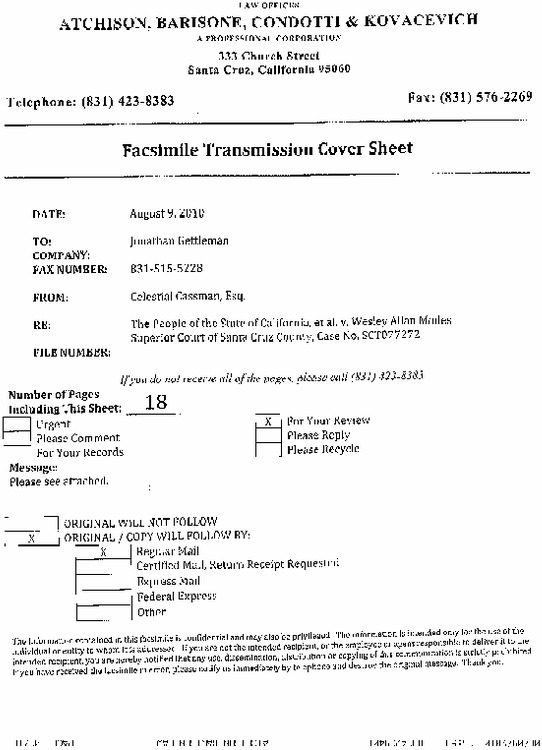 Download PDF (806.5kb)
On August 9th, the Santa Cruz City Attorney John Barisone filed a response to Modes' constitutional challenge.
We are 100% volunteer and depend on your participation to sustain our efforts!
Get Involved
If you'd like to help with maintaining or developing the website, contact us.