From the Open-Publishing Calendar
From the Open-Publishing Newswire
Indybay Feature
Socialism 2010: Legal Lynching in America, with Liliana Segura & Jack Bryson, Oakland, 7/1/10: audio
"Legal Lynching in America: Oscar Grant, Mass Incarceration, and the Death Penalty" was one of three sessions held on the first night of the 4-day
Socialism 2010 conference
sponsored by the International Socialist Organization and Haymarket Books. Cam Sturdevant introduced the main speakers, Liliana Segura, writer and board member of the Campaign to End the Death Penalty, and Jack Bryson, activist and father of two of Oscar Grant's friends with him on the Fruitvale station platform when he was shot in the back by BART officer Johannes Mehserle. Crystal Bybee and Pat Foley of the Campaign to End the Death Penalty also spoke, in addition to numerous conference attendees who join the discussion. Full audio of the session below.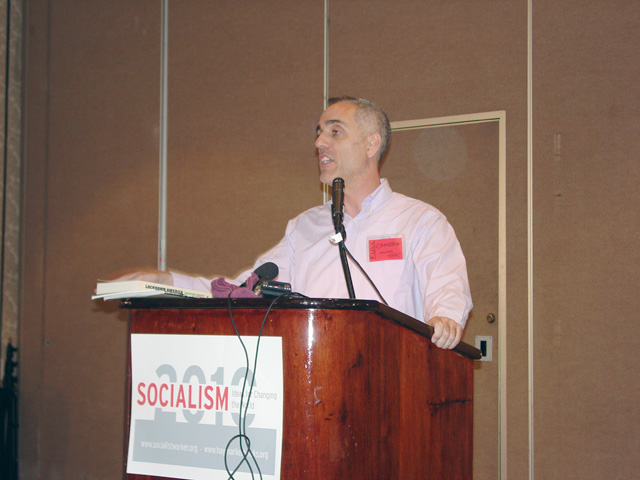 [pictured: Cam Sturdevant]
Announcements made by Cam Sturdevant about recent victories: After a four-decade struggle former Chicago police Commander John Burge found guilty last week of lying and conspiracy (no conviction for torture because of statute of limitations). Troy Davis has a hearing scheduled with the US Supreme Court to look at the problems in his case. Department of Corrections draft to reinstitute the death penalty in California, after problems were found with lethal injection, was rejected. Mehserle is on trial for the murder of Oscar Grant.
Crystal Bybee speaks first about Kevin Cooper. Kevin Cooper likely does not have an execution date only because of the moratorium while issues with lethal injection in California are sorted out. She urges people to get involved now before the death penalty might be reinstated in California.
http://www.savekevincooper.org
/
http://www.nodeathpenalty.org
Liliana Segura discusses Troy Davis and Kevin Cooper. She mentions a couple of specific cases of prisoners receiving brutally negligent medical care in prison, another sort of death penalty. She talks about a recent Nation magazine article that deals with the declining prison industrial complex, which is mostly occurring due to budget shortfalls rather than a new moral impetus on the cruelty and racism inherent in the system. Liliana points out one shortfall in the article, and that is the lack of a human face to the tragedy of our current prison system. The Campaign to End the Death Penalty has bucked other abolitionist groups by asserting the importance of highlighting the individual people in making the case against the death penalty. Other groups think that can be a distraction or too narrow for making the larger case that must be made. She also discusses that while other groups often focus on the budgetary inefficiencies of the death penalty, she and the CEDP push the moral arguments. She says that the CEDP is being proven right in its strategies, but that it is important to continue to watch which arguments are proving most effective and be willing to evolve them over time.
Jack Bryson, arriving late as he rushed from attending court for Johannes Mehserle's murder trial to Oakland to speak at the conference, describes what he has witnessed in the court room up to the defense's closing arguments which started that day. He talks about being disturbed by the jury selection process that led to a jury which includes not a single African American juror. He speaks of being incredibly proud of his son, Jackie, who testified and was not cowed by aggressive questioning from defense attorney Michael Rains. He said he was proud of Tim Killings who stood up in court and told Mehserle to "save those racist fuckin' tears for another time" when Mehserle appeared to be playing for juror sympathy. Jack Bryson also spoke about the disturbing testimony from the pathologist who conducted the autopsy on Oscar Grant, which included reporting Oscar Grant had evidence of blunt force trauma to the left side of his head, most likely at the hands of BART police officer Tony Pirone. This testimony led to Wanda Johnson, Oscar's mother, breaking down, having to leave the court room, and being rushed to the hospital to be examined. Jack says that all of the officers that testified should be charged for perjury because every last one of them obviously lied in court. He says that these officers wouldn't even be in Black and Brown communities if they weren't police, yet as police they come with guns and brutalize people. Jack Bryson closes with a note that he hopes for a victory in the trial in order to encourage people to keep fighting for justice.
Announcement:
http://www.indybay.org/newsitems/2010/06/28/18652139.php
(audio 1:45:28)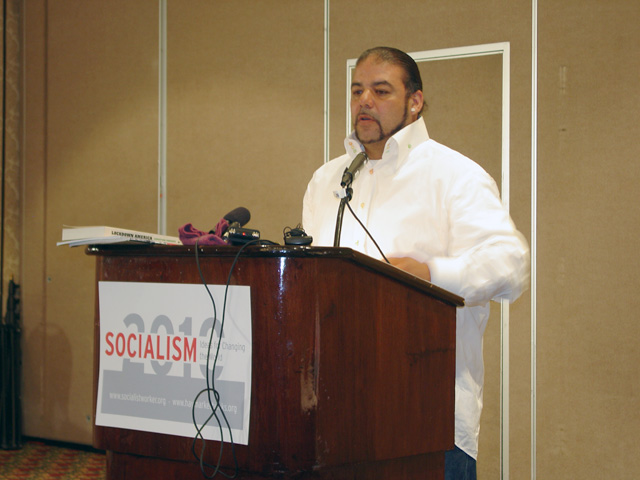 We are 100% volunteer and depend on your participation to sustain our efforts!
Get Involved
If you'd like to help with maintaining or developing the website, contact us.